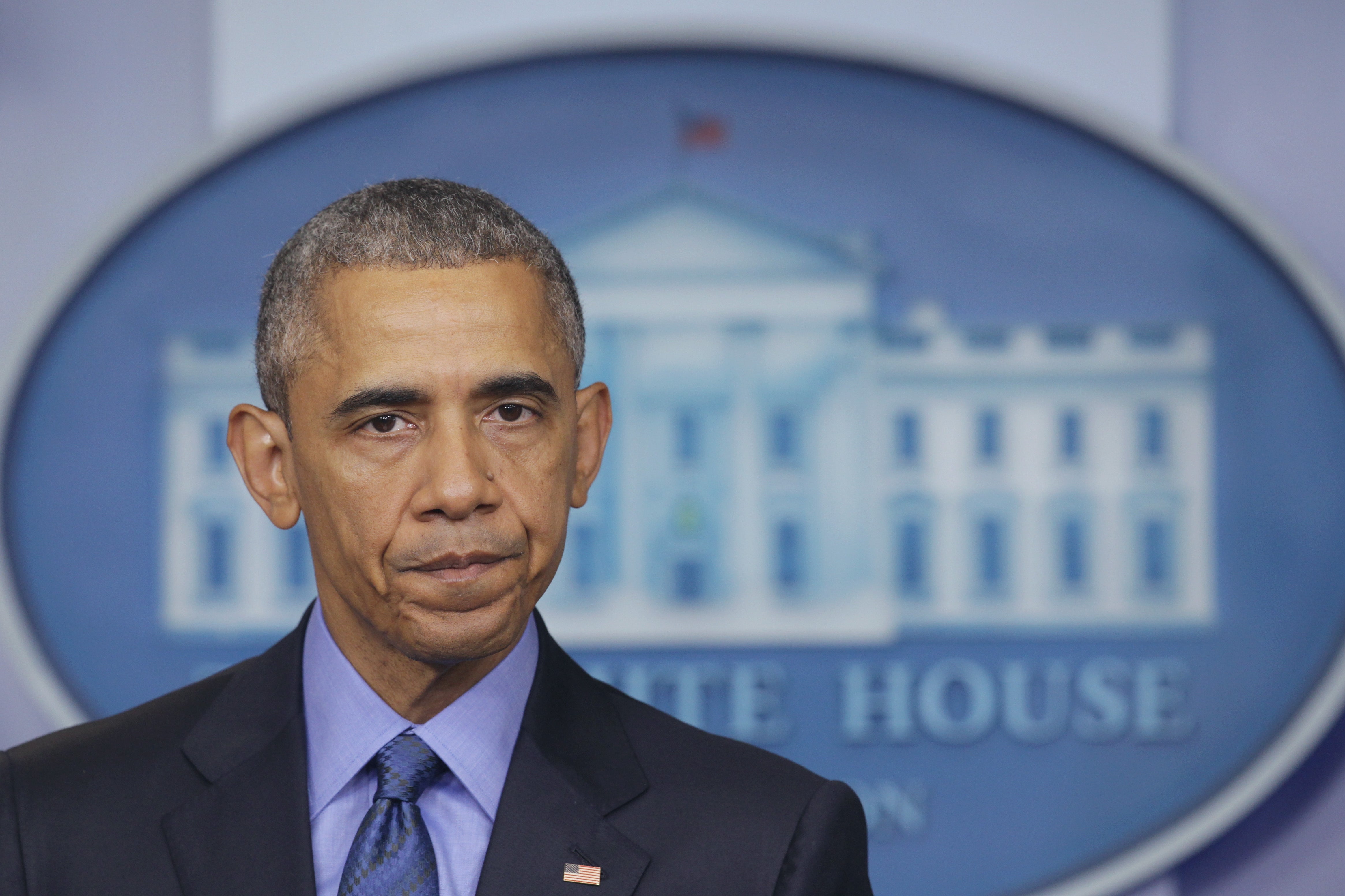 Obama on Charleston: America must reckon with gun violence, race
President Obama gave a somber address Thursday, offering his sympathies for the "senseless murders" in Charleston, South Carolina, and cautioning against ignoring wider issues of gun violence and race.
"I've had to make statements like this too many times. Communities like this have had to endure too many tragedies like this too many times," Mr. Obama told reporters Thursday. "We don't have all the facts, but we do know that once again, innocent people were killed in part because someone who had wanted to inflict harm had no trouble getting their hands on a gun."
"Now is the time for mourning and for healing, but let's be clear: at some point, we as a country will have to reckon with the fact that this type of mass violence does not happen in other advanced countries," the president continued. "It doesn't happen in other places with this kind of frequency and it is in our power to do something about it."
The president criticized Washington politics for "foreclos[ing] a lot of those avenues right now," but said that it would be "wrong for us not to acknowledge" methods to protect against gun violence. The president added that it would be important for America "to be able to shift how we think about the issue of gun violence collectively."
Addressing the issue of the church's historically black congregation, Mr. Obama warned that "hatred across races and faiths poses a particular threat to our ideals and democracy."
"The fact this took place in a black church raises questions about a dark part of our history," the president said. "I am confident the outpouring of love and unity across Charleston...indicates the degree to which those old vestiges of hatred can be overcome."
Calling the events in South Carolina "heartbreaking and deeply tragic," Attorney General Loretta Lynch also told reporters Thursday that the Justice Department is opening a hate crime investigation into the Charleston shooting.
"This is a crime that has reached into the heart of that community," Lynch said at a press conference Thursday, initially scheduled to discuss Medicare fraud. "We stand ready to offer every resource, every means, and every tool that we possess in order to locate and apprehend the perpetrator of this barbaric crime."
"Acts like this one have no place in our country and no place in a civilized society," Lynch continued. "The individual who committed these acts will be found and will face justice."
The attorney general also promised that the Justice Department "will do everything in our power to heal this community and make it whole again."
The shooting at Emanuel AME Church, a historic black church in downtown Charleston, left nine people dead Wednesday evening. Charleston police say they have arrested a suspect, 21-year-old Dylann Roof in Shelby, North California.
Several presidential candidates have been in and out of South Carolina, an early-voting state recently. Jeb Bush was supposed to appear in Charleston Thursday, but cancelled his planned town hall in Charleston after news of the shooting broke.
"Governor Bush's thoughts and prayers are with the individuals and families affected by this tragedy," a campaign spokeswoman said.
Hillary Clinton, who spent Wednesday in South Carolina and was attending a fundraiser at a home less than a mile from the church just hours before the shooting, called the news "heartbreaking."
Sen. Lindsey Graham, R-South Carolina, who was born and raised in South Carolina and declared his presidential candidacy there earlier this month, will return to South Carolina after appearing on ABC's "The View" Thursday. Graham said on the talk show that his niece had gone to school with the shooting suspect, Dylann Roof.
"My niece went to school with him in the eighth grade and went to the same high school," Graham said on ABC Thursday. "I don't know if he finished high school. But strange, disturbed man."
"This guy has got tons of problems," Graham added. "And to kill people in a church after sitting there with them for an hour tells you how whacked out this kid is."
After his television appearance, the South Carolina senator spoke with CBS News to answer whether or not anything be done to lower mass shootings from a legislative standpoint.
"Usually, this stuff is just a crazy guy with a gun," Graham said.
He issued a statement offering his prayers and condemning the perpetrator. "There are bad people in this world who are motivated by hate," his statement read. "Every decent person has been victimized by the hateful, callous disregard for human life shown by the individual who perpetrated these horrible acts."
He added, "[O]ur sense of security and well-being has been robbed and shaken."
CBS News Digital Journalist Sopan Deb contributed to this report.
Thanks for reading CBS NEWS.
Create your free account or log in
for more features.