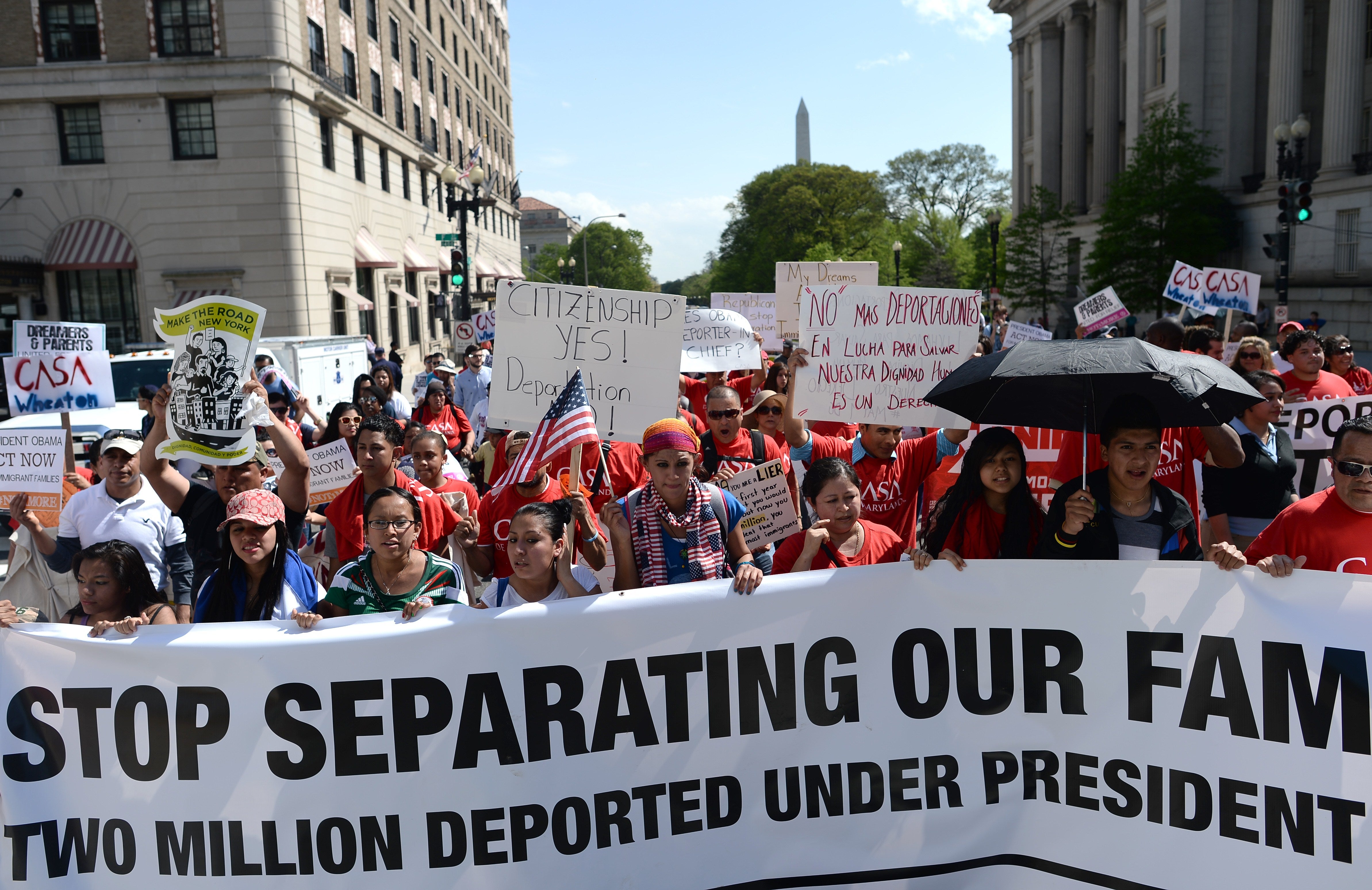 Obama may consider deferring deportation for millions
The White House is reportedly weighing unilateral steps President Obama could take to defer the deportation of anywhere from 550,000 to 4.4 million immigrants living illegally in the U.S., a move that would be sure to infuriate Republicans.
According to the Wall Street Journal, top White House officials have discussed the potential for executive action in a series of meetings with stakeholders who support such a move, including faith leaders and immigrant advocates and some lawmakers.
Two possibilities under discussion would protect people who have U.S. citizen children, the paper reports. Extending protection, and perhaps work permits, to anyone who has children who are legal U.S. citizens (usually because they were born here) could exempt about 4.4 million people from deportation, according to statistics from the National Foundation for American Policy. A more limited path would be to just include parents of children who have been accepted into the Deferred Action for Childhood Arrivals (DACA) program. Those children fall within a particular age range and length of residence in the U.S., so the number of parents is estimated at 550,000 to 1.1 million.
Other characteristics the administration might use are length of residence in the U.S. or employment status, and they might use a "parole in place" program
Another option is to include parents of existing participants in the deferred-action program, a group estimated to range from 550,000 to 1.1 million. Other options include defining the group based on length of U.S. residence or employment status, or using a legal approach called "parole in place" that could allow the government to provide illegal immigrants with work permits, the Wall Street Journal reports.
The president made it clear earlier this summer that he planned to move ahead with executive action since the Republican-led House had not taken up an immigration overhaul passed by the Democratic-led Senate and pledged it never would. He was coming under increasing pressure from immigration advocates who favor citizenship for the undocumented and have accused his administration of being unnecessarily aggressive in deportations.
But Republicans argue that past unilateral actions like DACA have spurred the recent wave of unaccompanied children crossing the southern border. In crafting their response to the crisis, some Republicans have demanded that any emergency funding also include a provision that bars the president from taking executive action.
"The president is saying that I have legislation and the House won't pass it, therefore I'm going to do it myself. It's one of the most pathetic excuses for abuse of power by a court or a president that you can imagine," Sen. Jeff Sessions, R-Ala., said on the Senate floor Wednesday morning. "The House considered it and rejected it. That's an action. That's a decision by the House of Representatives. The president has no power to go beyond that and I think this Congress, this Senate has a responsibility to speak to that question."
Despite Sessions' exhortations, less than two hours later the Senate voted to begin debate on Democratic proposal that would give $2.73 billion to the agencies struggling to deal with the crisis.
A proposal from House Republicans, that allocates just $659 million, also does not include a ban on future executive actions. But the House is voting today to authorize a lawsuit against the president for what they say is executive overreach.
A new Press-GfK poll found that Americans are divided on whether or not the U.S. has a moral obligation to offer asylum to people escaping violence or political persecution. Fifty-three percent said it does not; 44 percent said it did.
Additionally, just over half of respondents (52 percent) said the children who have come to the U.S. to escape violence in El Salvador, Honduras and Guatemala should not be treated as refugees. Forty-six percent said they should.
The responses tend to fall along partisan lines. Seven in 10 Republicans said the children should not be treated as refugees, while 62 percent of Democrats said they should. Democrats were also more likely than Republicans to say the U.S. has a moral obligation to help asylum seekers.
The poll was conducted July 24-28 using KnowledgePanel, GfK's probability-based online panel designed to be representative of the U.S. population. It included online interviews with 1,044 adults, and has a margin of sampling error of plus or minus 3.4 percentage points for all respondents.
Thanks for reading CBS NEWS.
Create your free account or log in
for more features.