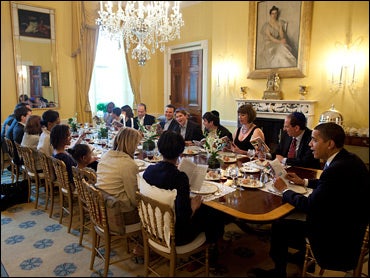 Obama Hosts Passover Seder Dinner
President Barack Obama hosted close friends and staff at a private White House meal Thursday evening to mark Passover, part of the new president's effort to reach out to Jewish voters.
The White House said the Seder meal was traditional, including matzo, bitter herbs, a roasted egg and greens in the family dining room in the executive mansion. The evening also featured the reading of the Haggadah, the religious text of the holiday.
Passover began at sundown Wednesday. It celebrates the Jewish exodus from Egypt after 400 years of slavery.
Among those invited was Valerie Jarrett, one of Obama's closest advisers, and family friend Eric Whitaker, who was visiting from Chicago and attended a Seder last year with the campaign. First lady Michelle Obama and the family's two daughters also planned to attend.
The staff guest list included aides from the campaign trail who marked last year's Passover at the Sheraton hotel in Harrisburg, Pennsylvania. Obama's personal aide, Reggie Love; Michelle Obama's deputy chief of staff, Melissa Winter; personal aide Dana Lewis and associate social secretary Samantha Tubman all received invitations.
Also on the guest list were Eric Lesser, a personal aide to senior adviser David Axelrod, and his family. Lesser worked during the New Hampshire primary and later handled baggage for traveling reporters. White House videographer Arun Chaudhary - a constant presence on the trail - landed invitations for his family.
Others in the exclusive group included Michelle Obama's counsel and friend Susan Sher; Herbie Ziskend, a staff assistant to Vice President Joe Biden's policy and economic advisers; and White House deputy director of advance and special events Lisa Kohnke.

Thanks for reading CBS NEWS.
Create your free account or log in
for more features.