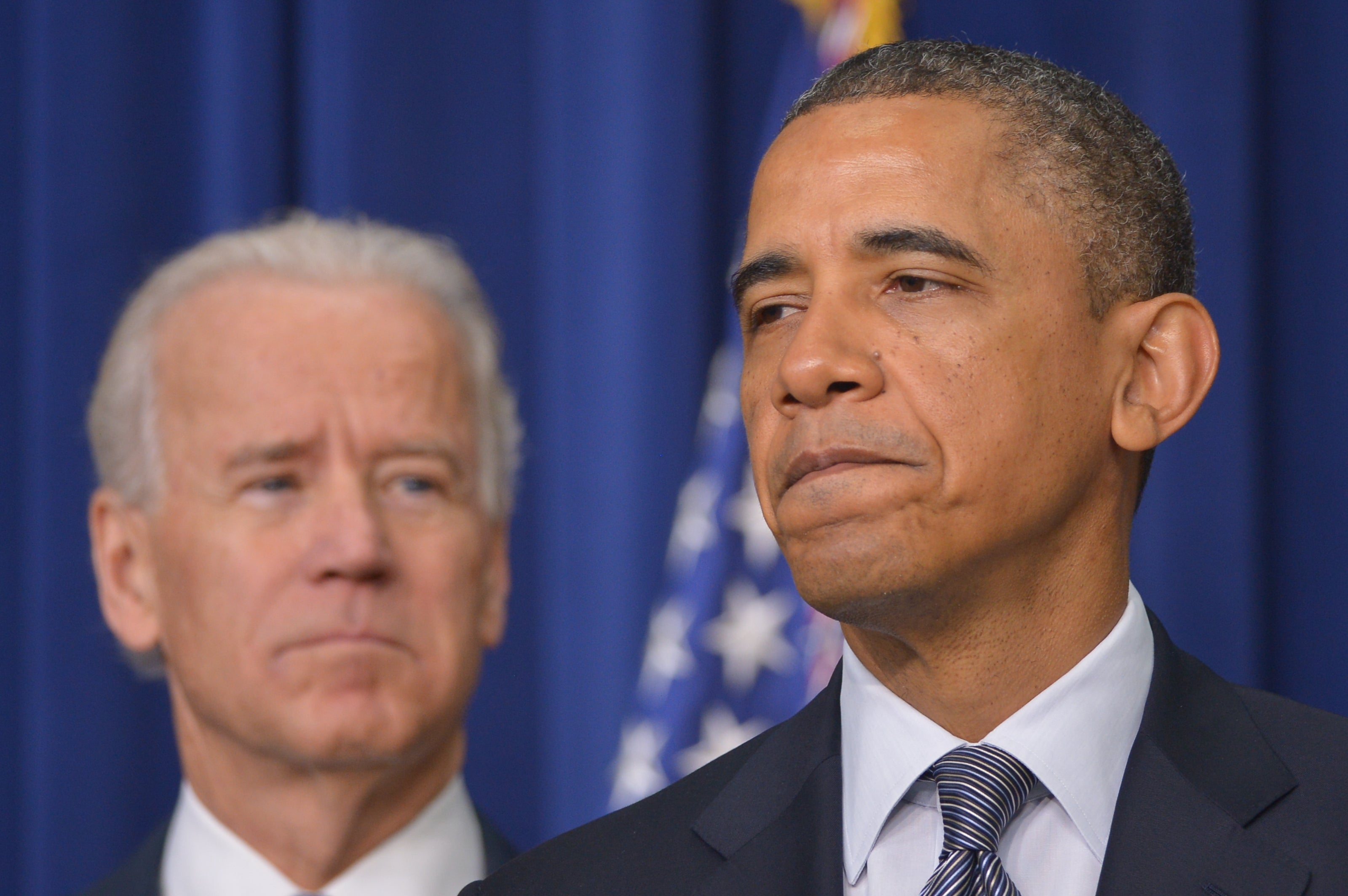 Obama calls for sweeping new gun laws
Updated: 3:10 p.m. ET

Setting the stage for what could be the most sweeping political battle over gun control in decades, President Obama today laid out a comprehensive package for reducing gun violence in America, a multi-part plan he says will not only "help prevent mass shootings" going forward but also "reduce the broader epidemic of gun violence in this country."
Speaking to an audience that included family members of those killed a month ago in the shootings at Sandy Hook Elementary School, as well as children who wrote to Mr. Obama in the wake of recent episodes of mass violence, the president outlined a series of steps both political and administrative he says would limit access to guns and certain types of ammunition, make mental health care more attainable, and increase federal funds for both research and law enforcement.
Accompanied by Vice President Biden onstage, Mr. Obama acknowledged the difficulties of pursuing stricter legislation on gun laws, but said he would use "whatever weight this office holds" to achieve his agenda.
"Because while there is no law or set of laws that can prevent every senseless act of violence completely, no piece of legislation that will prevent every tragedy, every act of evil, if there's even one thing we can do to reduce this violence, if there's even one life that can be saved, then we've got an obligation to try," he said. "This is our first task as a society: Keeping our children safe. This is how we will be judged. And their voices should compel us to change."
Among the initiatives outlined in Mr. Obama's plan include universal background checks for gun sales; the reinstatement and strengthening of the assault weapons ban; capping ammunition magazines to a 10-round limit; banning armor-piercing ammunition; providing schools with resource officers and school counselors; putting more police officers on the streets; creating serious punishments for gun trafficking, and ensuring that health insurance plans cover mental health benefits.
The president also outlined a series of 23 executive actions he can take without congressional approval, including measures aimed at making federal background check data widely available, accessible, and maximally effective; staying ahead of the curve on the newest gun safety measures; tracing seized guns and ensuring they don't go back into the hands of dangerous gun owners; making sure schools and other institutions are equipped and prepared for the possibility of shooter situations; aggressively prosecuting gun crime; and improving mental health resources and discourse. He signed directives enacting some of those directives immediately after his remarks.

But the president, making his case to Americans across the country, argued that substantive, wide-reaching change would not be possible without their help. He urged people who share his views to help him wage an uphill battle against the "pundits and politicians and special interest lobbyist" he said would be behind the scenes doing "everything they can to block any common-sense reform and make sure nothing changes whatsoever."
"I will put everything I've got into this -- and so will Joe -- but I tell you, the only way we can change is if the American people demand it," Mr. Obama said. "We're going to need voices in those areas and those congressional districts where the tradition of gun ownership is strong to speak up and to say this is important. It can't just be the usual suspects. We have to examine ourselves in our hearts, and ask yourselves what is important?"
Any effort on behalf of the White House to push new gun laws through Congress is sure to face immense opposition from the gun lobby, which has for years wielded its formidable financial and organizing power to prevent the passage of federal laws that would tighten restrictions on gun ownership. And groups like the National Rifle Association are clearly gearing up to fight the president's recommendations: Early this morning, before Mr. Obama had even unveiled his proposals, the group released an ad calling the president an "elitist hypocrite" because his daughters have Secret Service protection.
The majority of House Republicans, who will set the legislative agenda, have also shown little appetite for most of the new gun laws on the table.

"The assault weapons ban, the magazine limitations, does not solve the problem of gun crime," said Rep. Dave Reichert, R-Wash., a former sheriff, in an interview today with CBS News. "I think you really have to address the mental health issues and that's the first and foremost issue. And then secondly, the laws that we have in this land already need to be enforced."
In a statement following Mr. Obama's speech, Michael Steel, a spokesman for House Speaker John Boehner, R-Oh., said House committees of jurisdiction would review the president's recommendations, and that if the Senate passes a bill, "we will also look at that." But in the aftermath of the protracted political battle over the so-called "fiscal cliff," many question Boehner's willingness to give compromise on such an issue perceived in such intensely partisan terms.
"The most important changes we can make depend on congressional action," Mr. Obama said. "They need to bring these proposals up for a vote, and the American people need to make sure that they do. Get them on record. Ask your member of Congress if they support universal background checks to keep guns out of the wrong hands. Ask them if they support renewing a ban on military-style assault weapons and high-capacity magazines. And if they say no, ask them why not?"
Despite the obvious hurdles, some gun control advocates believe that a recent groundswell of support for stricter gun laws could exert enough pressure on moderate Republicans to force a vote in the House.
The White House has also pointed to the push for universal background checks as its central priority in this fight. Part of the reason for that, according to the administration, is what Biden recently called a "surprising" and near-universal emphasis on the subject in his meetings with stakeholders over the past few weeks. But many also believe the background checks could be a more palatable option for some on the right.
Reichert, though he dismissed the effectiveness of the assault weapons ban and caps on high-capacity magazines, called the idea of universal background checks "a part of the total package that should be examined that could make a difference."
"Local laws, gun crime laws, state laws and federal laws, we need to have more emphasis on enforcing those laws, holding people accountable who have committed crimes or about to commit crimes," he told CBS. "We need to gather that information and hold those people accountable that commit gun crimes."
In his remarks today, Mr. Obama reiterated his respect for the Second Amendment and America's "strong tradition of gun ownership," and he acknowledged the nation's law-abiding gun owners. But he argued that some modest limits on gun laws don't violate the Second Amendment rights of hunters and sportsmen, while the actions of mass shooters do infringe on the constitutional rights of their victims.
"Along with our freedom to live our lives as we will comes an obligation to allow others to do the same. We don't live in isolation. We live in a society, a government for and by the people. We are responsible for each other," he said. "We have the right to worship freely and safely; that right was denied to Sikhs in Oak Creek, Wisconsin. The right to assemble peacefully; that right was denied shoppers in Clackamas, Oregon, and moviegoers in Aurora, Colorado."
"Let's do the right thing," he continued. "Let's do the right thing for them and for this country that we love so much."
Following the president's remarks today, Sen. Patrick Leahy, D-Vt., announced a Jan. 30 Senate Judiciary hearing on issues relating to gun violence.
"The questions we face about our national gun policy extend beyond the tragic results of mass murder; they extend to how we care for those with mental illness, how we manage the exposure of children to violence in popular media, and simple matters of gun safety," he said in a statement. "In our hearings, we will ensure an open forum for a constructive discussion about how we can better protect our communities from mass shootings, while respecting the fundamental right to bear arms recognized by the Supreme Court."
In a statement this afternoon, the NRA defended its position on gun laws and suggested the president's proposals are "ignoring children."

"Attacking firearms and ignoring children is not a solution to the crisis we face as a nation. Only honest, law-abiding gun owners will be affected and our children will remain vulnerable to the inevitability of more tragedy," the organization said. "The NRA will continue to focus on keeping our children safe and securing our schools, fixing our broken mental health system, and prosecuting violent criminals to the fullest extent of the law. We look forward to working with Congress on a bi-partisan basis to find real solutions to protecting America's most valuable asset - our children."
Thanks for reading CBS NEWS.
Create your free account or log in
for more features.