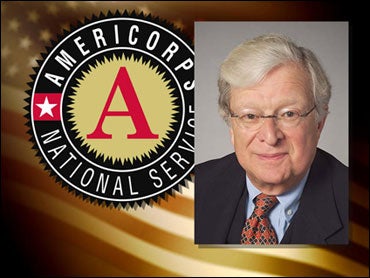 Obama Axes AmeriCorps' Inspector General
President Barack Obama says he has lost confidence in the inspector general who investigates AmeriCorps and other national service programs and has told Congress he is removing him from the position.
Mr. Obama's move follows an investigation by IG Gerald Walpin of Sacramento Mayor Kevin Johnson, who is an Obama supporter and former NBA basketball star, into the misuse of federal grants by a nonprofit education group that Johnson headed.
Walpin was criticized by the acting U.S. Attorney in Sacramento for the way he handled an investigation of Johnson and St. HOPE Academy, a nonprofit group that received hundreds of thousands of dollars in federal grants from the Corporation for National Community Service. The corporation runs the AmeriCorps program.
"It is vital that I have the fullest confidence in the appointees serving as Inspectors General," President Obama said in a letter Thursday to House Speaker Nancy Pelosi and Vice President Joe Biden, who also serves as president of the Senate. "That is no longer the case with regard to this Inspector General."
The president didn't offer any more explanation, but White House Counsel Gregory Craig, in a letter to Sen. Charles Grassley, R-Iowa, cited the U.S. attorney's criticism of Walpin to an integrity committee for inspectors general.
"We are aware of the circumstances leading to that referral and of Mr. Walpin's conduct throughout his tenure and can assure you that the president's decision was carefully considered," Craig wrote.
Grassley had written President Obama a letter pointing to a law requiring that Congress be given the reasons an IG is fired. He cited a Senate report saying the requirement is designed to ensure that inspectors general are not removed for political reasons.
Grassley said Walpin had identified millions of dollars in AmeriCorps funds that were wasted or misspent and "it appears he has been doing a good job."
Messages left for Walpin seeking comment were not immediately returned.
The IG found that Johnson, a former all-star point guard for the Phoenix Suns, had used AmeriCorps grants to pay volunteers to engage in school-board political activities, run personal errands for Johnson and even wash his car.
In August 2008, Walpin referred the matter to the local U.S. attorney's office, which said the IG's conclusions seemed overstated and did not accurately reflect all the information gathered in the investigation.
"We also highlighted numerous questions and further investigation they needed to conduct, including the fact that they had not done an audit to establish how much AmeriCorps money was actually misspent," Acting U.S. Attorney Lawrence Brown said in an April 29 letter to the federal counsel of inspectors general.
Walpin's office made repeated public comments just before the Sacramento mayoral election, prompting the U.S. attorney's office to inform the media that it did not intend to file any criminal charges.
The U.S. attorney's office reached a settlement in the matter. Brown cited press accounts that said Johnson and the nonprofit would repay half of nearly $850,000 in grants it received.
Kevin Heistand, chairman of the board of St. HOPE Academy, said in a statement it was "about time" Walpin was removed. "Mr. Walpin's allegations were meritless and clearly motivated by matters beyond an honest assessment of our program."
Ken Bach, who works in the inspector general's office at the corporation, will be acting inspector general until President Obama appoints someone to the position.
Walpin, a New York attorney, was appointed by then-President George W. Bush and sworn into office in January 2007 after being confirmed by the Senate, according to a news release on AmeriCorps' Web site. Walpin graduated from College of the City of New York in 1952 and received a law degree in 1955 from Yale Law School. He was a partner with the New York City law firm Katten Muchin and Rosenman LLP for more than 40 years.
Alan Solomont, a Democrat and the board chairman of the government-run corporation, and Stephen Goldsmith, a Republican and the board's vice chair, said they strongly endorsed President Obama's decision.
For more info:

Thanks for reading CBS NEWS.
Create your free account or log in
for more features.