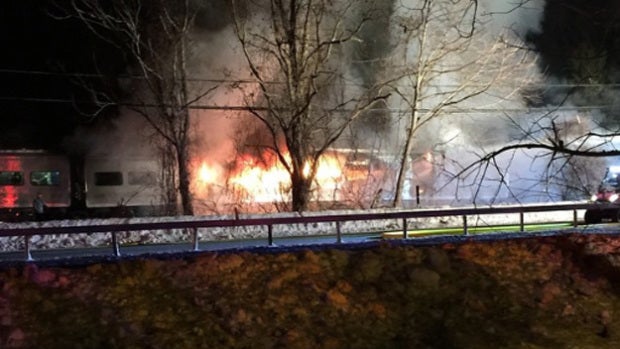 At least 7 dead after commuter train hits SUV near NYC
VALHALLA, N.Y. -- At least seven people were killed and a dozen injured when a Metro-North commuter train hit a vehicle during the Tuesday evening rush hour outside New York City, CBS New York reported.
The SUV was crossing at a crossing in Valhalla, in Westchester County, when it was struck by the train around 6:30 p.m., Metropolitan Transportation Authority spokesperson Marjorie Anders told CBS Radio station WCBS 880 in New York. The train had left Grand Central Station at 5:45 p.m.
Metro-North spokesperson Aaron Donovan said the driver of the Jeep Cherokee that was struck, a female, and six people on the train were dead. At least another 12 people were hurt.
"The gates came down on top of the vehicle, which was stopped on the tracks," Donovan said in a statement. "The driver got out to look at the rear of the car, then she got back in and drove forward and was struck."
The train shoved the Jeep about 10 train car lengths north, Donovan said. Initial reports that two vehicles had been hit by the train were later corrected.
The front train car and the SUV caught fire, Metro-North told CBS Radio station 1010 WINS. Cell phone video recorded by passengers showed flames and billows of black smoke, which continued to pour from the train car for hours after the fire was extinguished. The inside of the train car was visibly scorched.
New York Governor Andrew Cuomo said the force of the collision drove the track's third rail up into the first car of the train. He said after looking at the damage, it was surprising more people weren't killed.
"I saw the front of the car. It was horrific," Westchester County Executive Rob Astorino told CBS New York. "It totally had been engulfed in flames, so the front car was, everything was melted inside."
Astorino said he was "utterly amazed that anyone got out alive" from the first train car. Of the 12 injuries, Astorino said he was told 10 people were seriously hurt.
Approximately 800 to 850 people were on the train at the time, Anders said.
"The train came to a pretty good halt -- like, I wouldn't say a slap on the brakes, but pretty abrupt stop. And the first thing I noticed was there was an aroma, as if there potentially could have been a mechanical malfunction," passenger Dan Soloway told CBS New York. "I was sitting in the last car, so there was no jolt from impact, and after a few minutes at like 6:30, there was an announcement that there was a car that was struck."
Passengers Ray Pierce and Matt Lucas, both from New Fairfield, Connecticut, told CBS New York they felt something they described as a thud, followed by a relatively quick deceleration of the train.
At one point, an announcement was made that a train had hit a vehicle, and the passengers were told to evacuate, the men said. The passengers said Metro-North employees tried to keep people calm and get them out in an orderly fashion. Because of the electrified third rail, it would have been dangerous to evacuate the train before the rail was shut down.
"You get out of the train. It's freezing cold out, and then you realize how fortunate you are," Pearce said, "because it could be a lot worse than having to walk up here a couple miles in the cold."
An investigation into the incident had already begun late Tuesday, Astorino said.
"The investigation has begun. The National Transportation Safety Board has been called, they are on their way from Washington to investigate this," he told WCBS 880.
About 400 people were taken to a nearby gym to wait for buses to take them to the Pleasantville station. There was no sign of a derailment, the MTA said.
Following the accident, service was shut down on the Harlem Line between North White Plains and Pleasantville. Other lines were unaffected. Parts of the nearby Taconic State Parkway were also closed in both directions near the scene.
Astorino expected service on the Harlem Line to be disrupted at least through the Wednesday morning commute.
Metro-North is the nation's second-busiest railroad, after the Long Island Rail Road. It was formed in 1983 and serves about 280,000 riders a day in New York and Connecticut.
Metro-North has been criticized severely for accidents over the last couple of years. Late last year, the National Transportation Safety Board issued rulings on five accidents that occurred in New York and Connecticut in 2013 and 2014, repeatedly finding fault with the railroad while also noting that conditions have improved.
Among the accidents was a Dec. 1, 2013, derailment that killed four people, the railroad's first passenger fatalities, in the Bronx. The NTSB said the engineer had fallen asleep at the controls because he had a severe, undiagnosed case of sleep apnea.
The NTSB said in the other accidents:
A May 17, 2013, derailment and collision in Bridgeport, Connecticut, was caused by broken joint bars, which are used to join rails of different sizes. At least 65 people were injured.
A track foreman was fatally struck by a train in West Haven, Connecticut, on May 28, 2013, probably due to a mistake by a student rail traffic controller.
In a similar accident in Manhattan on March 10, 2014, a worker was killed by a train while trying to re-energize tracks that had been out of service for maintenance.
The derailment of a freight train on Metro-North tracks in the Bronx on July 18, 2013, was caused by deteriorated concrete ties and other problems compounded by deferred maintenance. No one was injured.
Last March, the Federal Railroad Administration issued a stinging report on Metro-North, saying the railroad let safety concerns slip while pushing to keep trains on time. Railroad executives pledged to make safety their top priority.
U.S. Sen. Richard Blumenthal, D-Conn., has been a strong critic of Metro-North, and recently called for an investigation after two derailments last week. He said the Valhalla accident is more evidence of the need for better safety.
"The immediate question is what caused this horrendous, probably preventable incident that reflects further on the need for safety and reliability in this railroad," he said. "Whatever the cause is found out to be, the focus has to be on improving safety and reliability on this railroad."
Blumenthal said he has heard the accident Tuesday night may not have been the first problem at the Valhalla site.
"Apparently, there have been other accidents at this site, which leads me to think the incident could have been preventable," he said.
U.S. Senator Charles Schumer, D-N.Y., also a frequent critic of Metro-North, released a statement.
"Our hearts go out to those lost, we pray for those injured and our hats are tipped to the brave first responders who came to the scene of this tragic crash so quickly. I have spoken to (MTA President) Tom Prendergast, who has assured me that a full and thorough investigation has already begun," Schumer said in the statement. "At this early stage, it is premature to point any fingers of blame, but there are many important questions that must be answered in the coming days."
But Schumer said it was too early to "point any fingers of blame."
"Obviously, there are a whole lot of questions that I and many others will ask in the days to come," he told CBS New York.
Thanks for reading CBS NEWS.
Create your free account or log in
for more features.