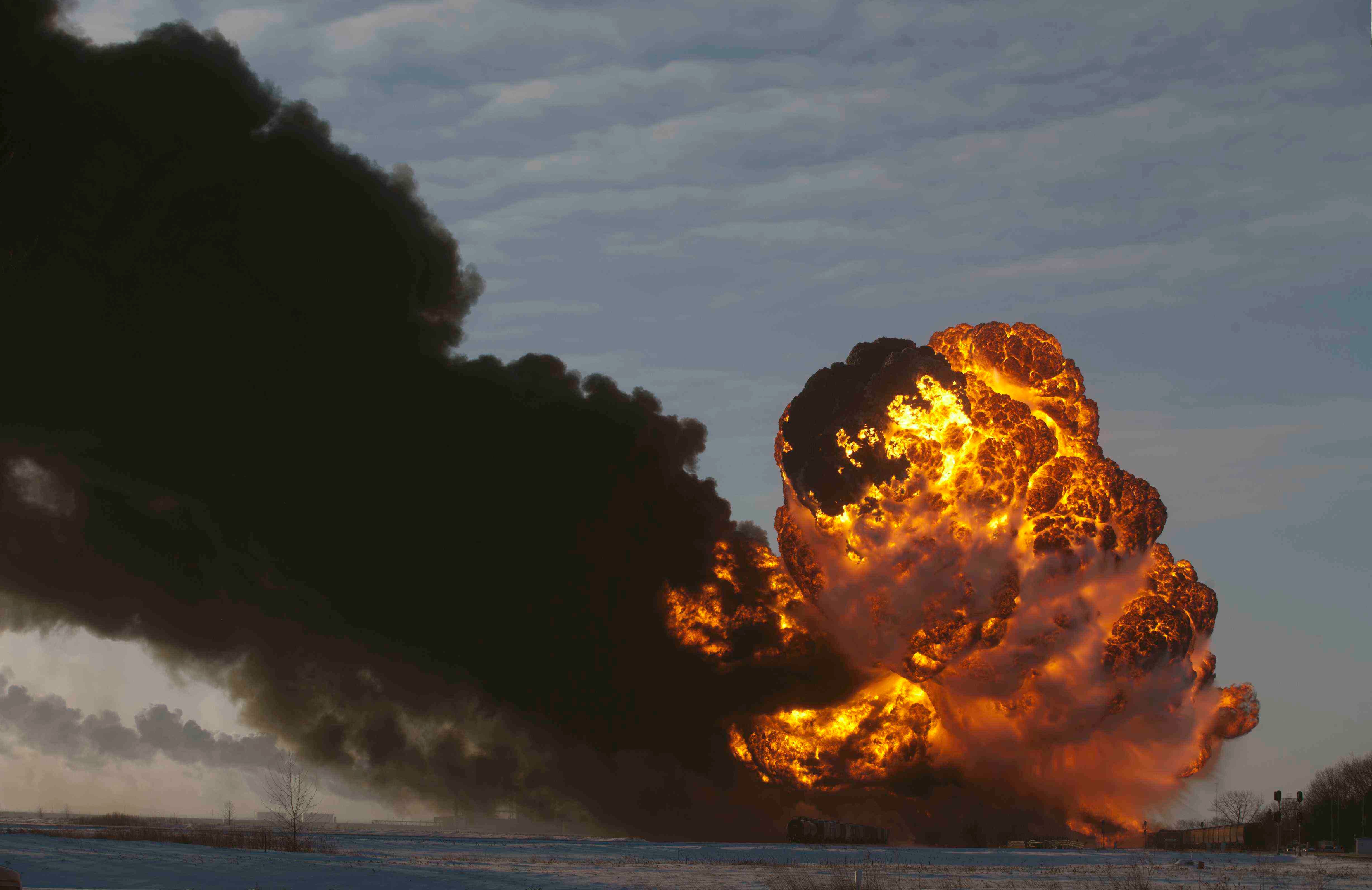 Fiery oil train accident raises new safety issues
Written by Bruce Kennedy
Officials are taking a hard look at safety issues surrounding the growing transportation of crude oil by rail following this week's fiery train derailment in eastern North Dakota.

A 106-car BNSF freight train carrying crude oil from the state's Bakken oil field went off the tracks Monday in a spectacular and devastating accident. The accident caused violent explosions and a hazardous plume of smoke in the region, although no injuries were reported.
The derailment was the fourth major accident of 2013 involving a freight train transporting oil.
Forty-seven people were killed in July when a crude oil train derailed and exploded in a town in Canada's Quebec Province, just across the border from Maine. Another derailment occurred in October in Alberta, Canada, and yet another a month later, when a train carrying about 2.7 million gallons of crude oil exploded and burned in Alabama.
Despite the string of accidents, America's railroads boast an impressive record when it comes to transporting hazardous freight, and especially oil. The Association of American Railroads (AAR), says 99.99 percent of all hazardous materials shipped by rail reach their destination safely
and that, over the past decade, the total amount of railroad crude oil spills were less than 1 percent of total pipeline spills during that same time period.

But railroads are having to contend with a soaring rate of crude oil transport, coupled with a fleet of oil cars that are, for the most part, outdated and not up to current safety standards.

Development of the Bakken shale formation in North Dakota has made the state second only to Texas when it comes to oil production. North Dakota oil production grew from around 81,000 barrels per day in 2003 to an average of 900,000 barrels daily by mid-2013.

Oil pipelines also are in short supply in and around the Bakken field in North Dakota and in other developing oil fields in western Canada. Although oil companies are working to remedy that situation, the railroads remain the best method for transporting crude oil.

According to the AAR, the amount of crude oil moved by rail has skyrocketed, from around 9,500 carloads in 2008 to nearly 300,000 carloads during the first three quarters of 2013 alone (One tank car can reportedly hold anywhere from 600 to 750 barrels of crude.) Most of those oil cars are by the railroads' customers or leasing companies, with the railroads themselves owning less than 1 percent.

In recent months, the AAR has been calling on the U.S. Department of Transportation to improve federal tank car regulations. The Association estimates about 78,000 of the roughly 92,000 tank cars currently used to move oil and other flammable liquids need to be retrofitted or phased out altogether.

"We believe it's time for a thorough review of the U.S. tank car fleet that moves flammable liquids, particularly considering the recent increase in crude oil traffic," AAR chief executive Edward Hamberger said in November. "Our goal is to ensure that what we move, and how we move it, is done as safely as possible."

In the meantime, CBR, or "crude by rail," is here to stay, at least in the short term, analysts say. According to Ernst & Young, the oil industry will continue to rely on the speed, geographic reach and logistical flexibility of CBR, making trains a strong oil transportation competitor with pipelines for some time to come.
Thanks for reading CBS NEWS.
Create your free account or log in
for more features.