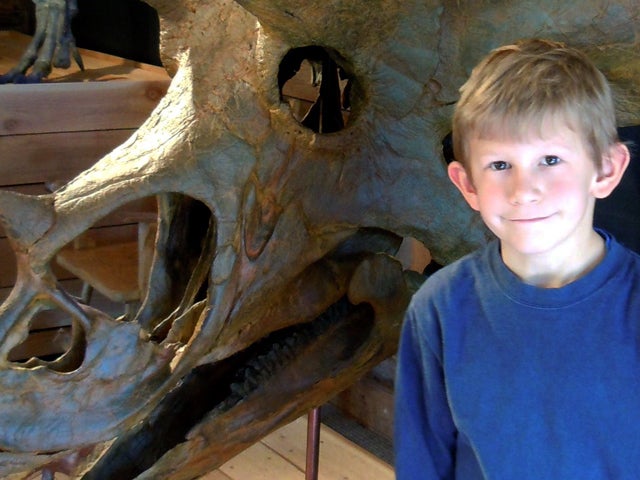 Nine-year-old scientist plays curator for a day
(CBS News) DENVER -- A lot of kids are into dinosaurs, but few are as into dinosaurs as 9-year-old Eli Navant.
He knows so much that he could write a book about dinosaurs -- in fact, he already did.
"I'm working on my second," Eli says.
His books, which he self-publishes, are pretty impressive. But those are nothing compared to what he's setting his sights on now.
One of Eli's heroes was the head curator at the Denver Museum of Nature and Science. So when it was announced a few months ago that that guy was leaving for a job at the Smithsonian, Eli's first priority was to wish him well. His second was to take his job.
Museum CEO George Sparks says along with all the resumes he got from Ph.D.s there was one applicant with just a third-grade education -- a third grader named Eli Navant.
Along with his hand-written, three-page cover letter, he attached a letter of recommendation from his teacher.
"He was absolutely serious," George says. "And he's still absolutely serious."
Eli says that when it comes to dinosaurs, at least, he has the knowledge and the experience. He's even been on some digs.
"Most of them were in my backyard, but once I found, like, this -- it looked like a chicken bone, but it didn't look new. It almost looked prehistoric," he says.
Eli's dad admits he may have played a role in that find.
"Throw 'em in the oven, brown 'em a little bit," John Navant says of chicken bones. That makes them look prehistoric.
Behind every kid like Eli there are parents like John and Shalene Navant. Since he was three years old, they have gone to Supersaurus lengths to satisfy Eli's Velociraptor-sized appetite for dinosaurs. And it probably will pay off.
"These are the kind of people that grow up to win Nobel prizes or find a cure for cancer, and you want to encourage that," George Sparks says.
George says he wanted to encourage that too, which is why he actually called Eli in for an interview.
"So tell me about yourself, why should we hire you?" George asked in the interview.
"I just have a great passion for prehistoric life," Eli responded.
Eli did so well, he was awarded the newly-created position of Curator for a Day. That day was last week.
He began by making one of his employees bring him hot chocolate. Later, he learned everything he could from every expert they had and finally delivered a 10-minute lecture on his formative years.
"I would like to talk to you about how I got interested in prehistoric life," he said.
For Eli, the only disappointment was that it was only a day and that the full-time position will have to wait.
"And don't forget, the past is your future!" he concluded to applause.
To contact On the Road, or to send us a story idea, e-mail us.
Thanks for reading CBS NEWS.
Create your free account or log in
for more features.