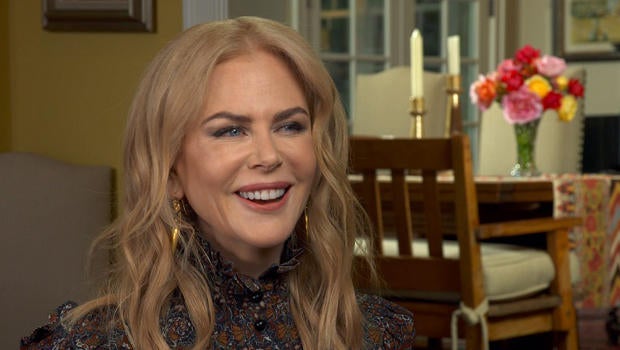 Nicole Kidman on a mother's love
Nicole Kidman is an actress who seems to master almost any kind of role. Tracy Smith has our Sunday Profile:
You might say Nicole Kidman is larger than life.
While walking with the actress in Nashville, Tracy Smith said, "I was watching an interview from 'Far and Away' days, 2002. And you said, 'Yeah, well, I walk funny.'"
"I do walk funny," Kidman said. "I have a little bit of a knock-knee, and then I have a little bit of scoliosis. Okay, we're gonna get my whole medical history here!"
She's nearly six feet without shoes, so she kind of stands out even on a quiet street in her Nashville neighborhood.
But as a kid growing up in Sydney, Australia, she didn't always like being the tallest girl in the room.
"I think maybe when I was little I would try to -- there's a way where you can look shorter where you put your hip out and you stand like that. Which I sort of started doing when I was a teenager, to look the same height as the boys. But then I just started to go, 'No, I'm gonna stand up -- pull my shoulders back, and stand up straight, and hold my head up high.'"
And now, if it's possible, she stands even taller on film.
Kidman can play anyone, and she often has -- like the doomed song girl Satine in 2001's "Moulin Rouge":
She was a Civil War heroine in 2003's "Cold Mountain"; and she was the icy villain in last year's teddy bear fantasy, "Paddington."
But Nicole Kidman's latest role just might be closest to home. In the movie "Lion," she plays fellow Australian Sue Brierly in the heartwrenching true story of a couple who adopt a lost Indian boy, and help him find his birth mother.
Why did Kidman connect so deeply with Brierly? "Because I have adoptive children," she said. "But she's also a mother. She's an unconditional-love mother, if that makes sense.
"That love brings you to your knees. That love has you crawling over hot coals. That love has you laying down on a train track and giving up your life like that if you have to."
It seems that love, and the pursuit of it, has been a constant in her life.
She met her first husband, Tom Cruise, on the set of her first big Hollywood movie, 1990's NASCAR epic "Days of Thunder." They instantly became one of the most famous -- and photographed -- couples in the world.
"It was pretty sudden," Kidman said. "But, you know, when I fell in love, everything else was like, ehhh!"
And, she adds, "I was distracted!"
She still won't say exactly why, but after 10 years and two adopted children, Kidman and Cruise went their separate ways.
Kidman channeled her personal anguish over the breakup, and put on a prosthetic nose, to play the role of a lifetime: British author Virginia Woolf, in 2002's "The Hours."
Smith said, "As a viewer I found it hard to shake the sadness of that movie. Did you find that difficult?"
"Yeah. I mean, I was deeply sad at the time. So then I sort of just kind of got lost in her. And it all sounds sort of mumbo-jumbo crazy stuff, but it kind of saved my life."
"So when you say saved your life, what do you mean?"
"I mean, let me feel like, 'Oh, I can keep going. It's okay. Life goes on.'"
And on it went: She won the 2003 Oscar for Best Actress, with most of her family, including mother Janelle, by her side. She gave her Academy Award to her mother -- and then took it back.
"I did! I gave it to her. And then it was sitting on the mantle. I'm like, 'Why is it sitting there?' So she had it for a little while -- I'll give it back to you, momma! -- but I suddenly went, 'Actually now I want it back.'"
She found another keeper in 2005: country singer (and fellow Aussie) Keith Urban, whom she met at an event in Los Angeles. They were married the following year, and now have two daughters.
"We just had chemistry," Kidman said of their mutual attraction. "I never underestimate the power of chemistry."
And she knows good chemistry when she sees it: her own parents were married 50 years, until 2014, when her beloved dad, Dr. Tony Kidman, died suddenly of a heart attack.
Understandably, Nicole was a wreck.
"When my father passed away, I literally was down saying, 'Please, give me the strength just to be able to wake up tomorrow.' Because I was shattered beyond belief at that. I didn't even know how to get up from this."
"How did you get up?"
"Because I had a husband that came right back. I called him screaming and crying. And he was about to go on stage. And he walked off stage and he got on a plane -- he had just gotten there. He flew six hours and he was right back there. And he literally picked me up and pretty much carried me through the next two weeks. And I also had, you know, my children going, 'It's gonna be all right, Momma.'"
"Is that what they said?"
"Well, it's interesting the way children view things, 'cause they're like, 'You still got your mommy.'"
And her children have her: When she's not working, the 49-year old Kidman spends most of her time in Nashville, where both girls were born. "My little girls are Southern girls -- they say 'y'all,'" Kidman said.
She's already racking up award nominations for "Lion," but you get the sense that what Nicole Kidman really wants more than any trophy is time.
"I would just like to -- it makes me sad -- I would just like to be here long enough to have my children grow up and for me to see them thriving. Right? So that's all I ask. And that my husband and I are with each other. Simple! Simple requests."
"Why does just the idea of the kids getting older, why does it get to you?" Smith asked.
"Just wanting to be here. I'm an older mother, so, you know…"
"It's that prayer of, 'Gosh, let me be here.'"
"Oh, please. Yeah. Please. Please. But, hey, what will be will be."

For more info:
Thanks for reading CBS NEWS.
Create your free account or log in
for more features.