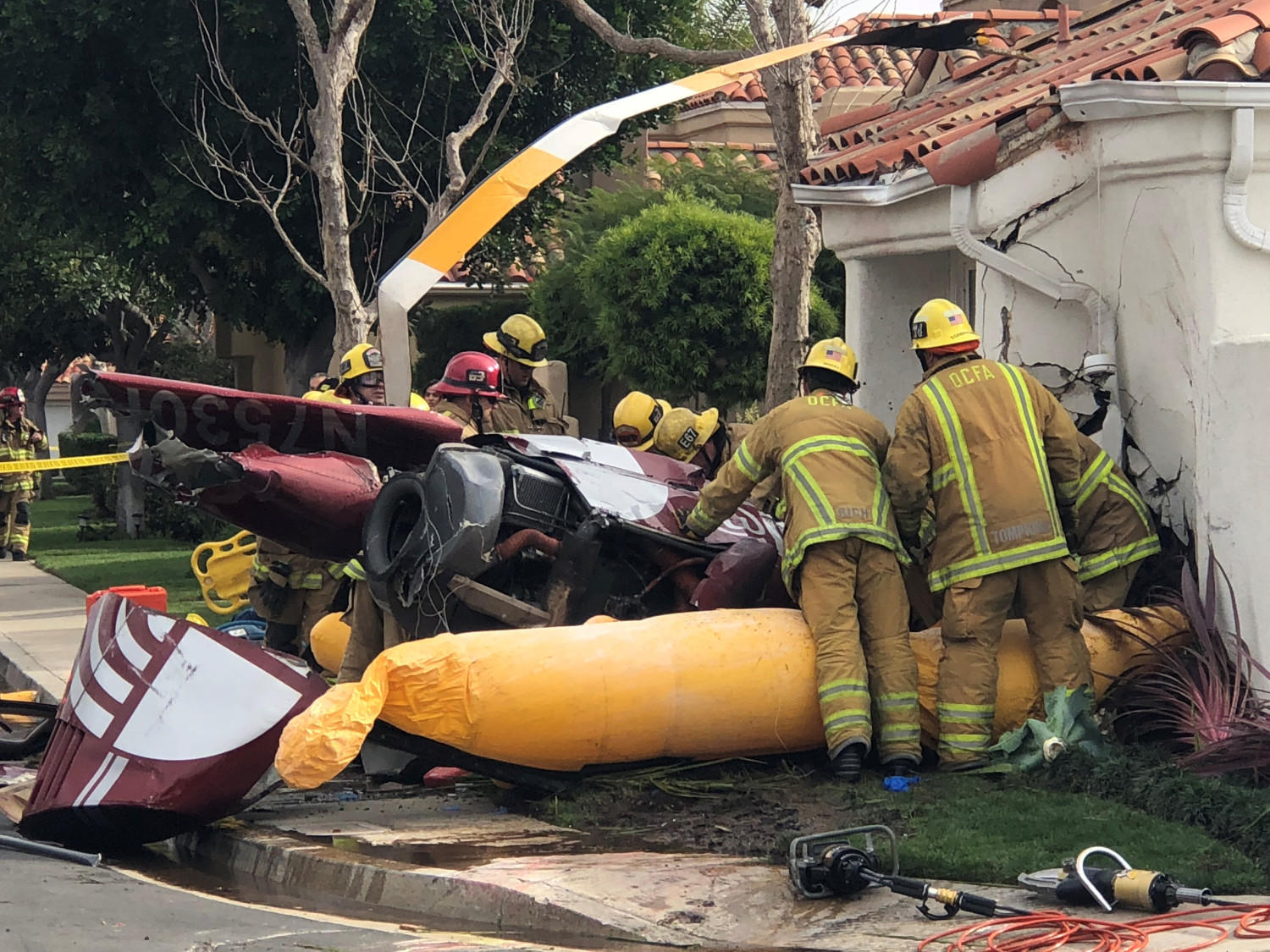 Newport Beach helicopter crash: 3 dead, 2 injured in Southern California
A helicopter crashed into a house in a Newport Beach, California, neighborhood Tuesday, leaving at least three people dead and two others injured, the Newport Fire Department said. Fire Chief Chip Duncan confirmed the fatalities.
CBS Los Angeles reports that one of the deceased was a person on the ground.
Newport Beach Police said four people were believed to be onboard when the chopper went down.
Residents of the home that was struck were inside the home at the time of the crash, police say none of the residents appeared to be hurt.
Two people were rushed to the hospital. Their conditions are unknown at this time.
A witness who spoke to CBS Los Angeles said he saw the chopper "drop like a rock." He also mentioned that he allegedly saw the pilot lying injured -- but alive -- on the grass. It's unclear if it was indeed the pilot.
"We tried to pry them out but we didn't want to touch them," the neighbor said, who was not identified. "We didn't want to take a chance of hurting anybody. The three people were all crunched in there together," he said. "One I could see moving an arm."
There was no fire after the incident, but plenty of fluids on the ground. The helicopter is reportedly a Robinson R44 owned by Revolution Aviation, according to CBS Los Angeles.
Revolution Aviation has been offering pilot training and sightseeing trips since the 1960s. The company's website claims to have a 100 percent safety record.
Marian Michaels, who lives behind the house that was struck by the chopper, told The Associated Press her house shook when the crash happened.
"There was no fire," she told AP. "It looked like they were trying to land in the street but clipped the roof across the street and didn't make it."
The house that was hit was for sale and she saw the owners talking to firefighters, she told AP.
The cause of the crash is under investigation. The FAA and NTSB will handle the case.
The incident happened just before 2 p.m. local time about a mile away from John Wayne Airport in Orange County where the helicopter had taken off, according to FAA spokesman Ian Gregor.
Newport Beach is about 45 miles southeast of Los Angeles.
Thanks for reading CBS NEWS.
Create your free account or log in
for more features.