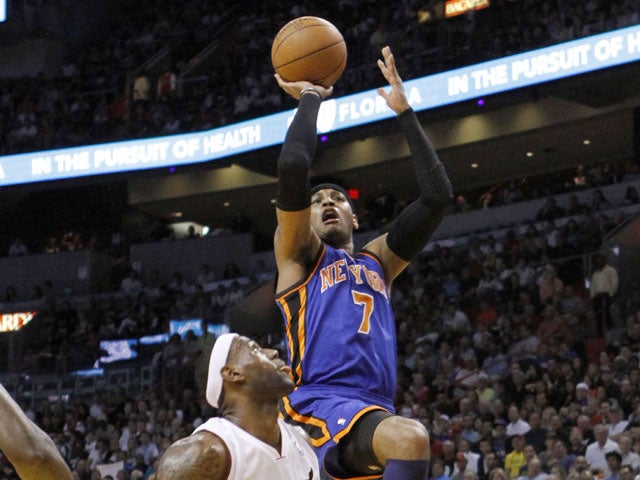 New look Knicks win over Heat's big three
MIAMI - With the game on the line, LeBron James got past Carmelo Anthony.
Not Amare Stoudemire, however.
And just like that, the New York Knicks - with defense, no less - knocked off the Miami Heat.
Chauncey Billups made the go-ahead 3-pointer with 1:01 left, Stoudemire blocked James' layup try with 7 seconds remaining to protect a one-point lead, and the Knicks beat the Heat 91-86 on Sunday night.
Anthony scored 29 points and Stoudemire added 16 points and 10 rebounds. Billups had 16 points for the Knicks, who rallied from a 15-point, first-half deficit and improved to 2-1 since the megatrade with Denver that dramatically changed their roster.
James scored 27 for Miami, which had won seven straight at home. Chris Bosh added 20 points and 12 rebounds, and Dwyane Wade finished with only 12 points for the Heat.
James had a chance to tie it, but missed a 3-pointer with 2 seconds remaining, and the Knicks leaped in celebration.
Miami is now tied with Chicago in the loss column, each with 17 in the tight race in the East. The Heat do have three more wins, but fell a half-game behind Boston for the top spot in the conference.
And it was there for the Heat's taking, after holding an 82-76 lead with 4 minutes left.
Billups was charged with a technical after the Knicks argued Wade knocked the ball out of bounds, and Mike Miller hit the free throw. On the same possession, James had the ball knocked away by Anthony as the shot clock was expiring but still managed to muscle an attempt to the rim.
Bosh got the rebound, quickly tossed the ball to James for a layup and a six-point Miami lead.
New York, as it had all night, came back quickly.
A 9-2 run over the next 3 minutes, capped by Billups' 3-pointer over Wade's outstretched arm with 1:01 left, gave the Knicks an 85-84 edge - and few people in the sellout crowd remained seated at that point.
Billups added a steal on the next Miami possession and set up Shawne Williams for two free throws and an 87-84 lead. James answered with two free throws, getting the Heat within one again.
Bill Walker turned the ball over with 12.7 seconds left when he was unable to handle an inbounds pass, and with that, Miami had its chance. James drove on Anthony down the left side of the lane, but Stoudemire swatted the two-time reigning MVP's try away.
Miller scored 10 for Miami. Walker had 10 for the Knicks, who won despite shooting 39 percent.
It was the fourth and final regular-season meeting for the Knicks and Heat, and Wade could only point to one reason why Sunday night seemed so different.
"Melo," he said before the game.
True, but the scene was anything but mellow.
Predictably, it was a double-feature of sorts - part showdown, part show.
Knicks superfan Spike Lee was having a conversation with Landry Fields during pregame warmups. Actor Michael Clarke Duncan and soccer star Thierry Henry had prime seats, tennis star Venus Williams appeared and Miami's notoriously late-settling crowd was in place in plenty of time to lustily boo New York's starters as they were introduced.
Oh, there was a game, too.
And from the get-go, James was in big-game mode.
Williams blocked Erick Dampier down low 2 minutes into the game. No problem - James simply knocked the ball away from Stoudemire, then threw a no-look, backward-over-his-head pass to Dampier for a dunk. A minute later, James dribbled behind his back to get clear of Billups, slapped the ball to Wade, then received an alley-oop pass back and slammed it with his left hand.
How good was that one? Someone posted the clip to YouTube within 8 minutes.
Miami's lead was all the way to 51-36 when Bosh scored with 4:25 remaining in the half, and with the building roaring, Wade attempted a 24-footer in transition on the next Heat possession.
It missed, and the game changed.
New York scored the final 16 points of the half, starting when Billups made a 3-pointer, the first of four by the Knicks before intermission, including another by Billups and a falling-down, beat-the-clock version by Walker at the buzzer to give New York a 52-51 lead at the break.
Another drought to close the third quarter proved costly to Miami.
Up 66-60 when Miller made a 3-pointer with 3:30 left, the Heat went cold for the rest of the period. Anthony elevated over James Jones for a layup with 1:13 left, added a 3-pointer 34 seconds later, and the Knicks were within 66-65 going into the fourth.
NOTES: Miller had missed the previous four games after taking several hits to the head, then battling a cold and ear infection. ... Carter appeared in only 14 games with the Nuggets this season, never playing more than 16 minutes. He logged 19 on Sunday in his first outing with the Knicks, a day after coach Mike D'Antoni told him he was still trying to figure out how to get him into the rotation.
Thanks for reading CBS NEWS.
Create your free account or log in
for more features.