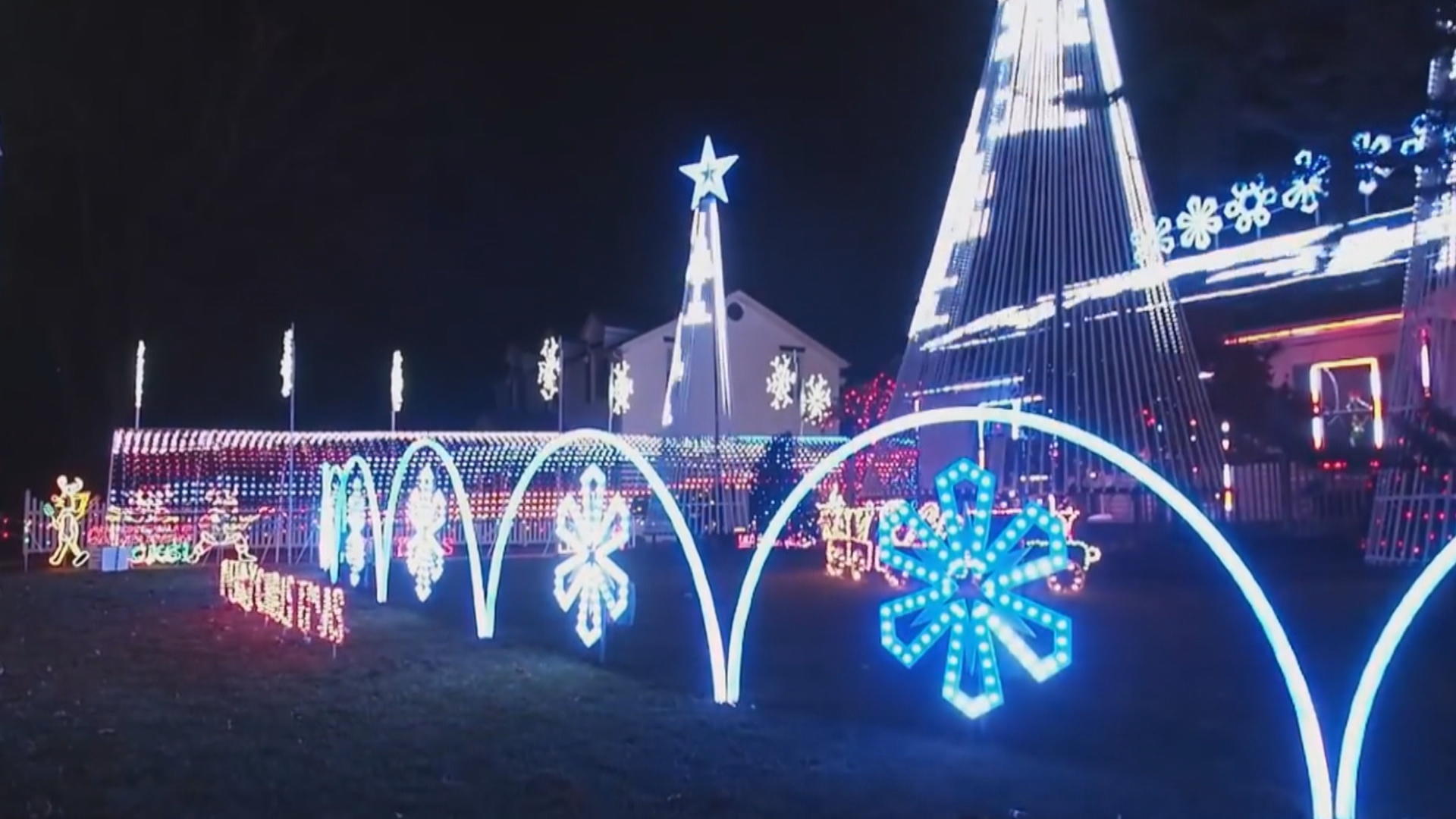 New Jersey family faces thousands in fines for Christmas light spectacle
OLD BRIDGE, N.J. — A New Jersey family is in a holiday battle with officials over an extravagant Christmas display that attracts hundreds of tourists. Every December for the past 15 years, the Apruzzis have decorated their house with tens of thousands of dazzling lights.
It's a tradition like no other for Tom Apruzzi. The Christmas holiday is his time to shine. "I just love Christmas," Apruzzi told CBS News correspondent Don Dahler.

But this year, the love is not shared with some members of his own community, who've taken their fight to the mayor. Some neighbors argue the spectacle creates chaos.

"We have to make it safe. I don't have a choice," Old Bridge Mayor Owen Henry said.
Henry said the Apruzzis' neighbors have safety concerns, like heavy foot traffic, minimal street parking, and accessibility for first responders.

"They actually had the street all blocked off," one visitor said.
Apruzzi told us he's paid nearly $150,000 to put on these lights over a decade. But the price of spreading joy is skyrocketing, and the homeowners are facing fines. The lights don't just hike the electricity bill. City officials said the Apruzzis must pay a $3,000 fine every night he set up a light show for visitors.

"They want me to pay for the police, they also want me to pay for shuttle service from a private parking lot and bus people in that they want me to pay for… and I'm not doing it," Apruzzi said. He said some of his neighbors like it, some don't.
"I think it's fantastic, what he does for the community and everything. It's great," neighbor TJ Seals said.
The attraction gained national attention in an episode of "The Great Christmas Light Fight" where families deck out their homes to compete for cash.

The Apruzzis said it's never been about fame or money. The family collects visitor donations to fundraise for a charity that houses severely injured veterans.
"We started taking donations probably around six years ago, so we've probably had, probably over $30,000," Apruzzi said.

But if the Apruzzis refuse to pay the fines, taxpayers — their own neighbors — may have to foot the bill, which could force Old Bridge to pull the plug on the show.
"Do you think they're going to be able to shut you down though?" Dahler asked Apruzzi.
"If they shut me down, they're going to have to talk to my attorney," he responded. "This is my First Amendment right."
"Free speech?"
"Free speech and free religion," Apruzzi said.

The Appruzzis plan to pay for the first couple of light shows out of pocket. A GoFundMe page was launched to help pay for the fines. Even if the family doesn't reach their $75,000 fundraising goal, Appruzzi said the show will still go on — kicking off this Saturday.
Thanks for reading CBS NEWS.
Create your free account or log in
for more features.