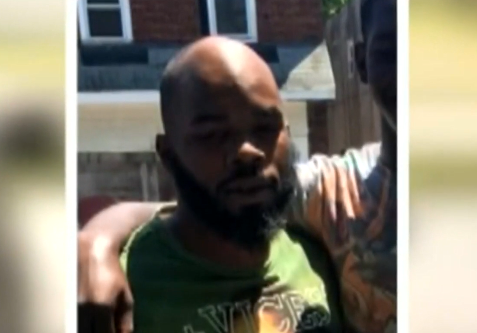 Cop placed on leave after video of deadly shooting posted live on Facebook
VINELAND, New Jersey -- A New Jersey police officer who fatally shot a 37-year-old black man has been placed on administrative leave pending the outcome of an investigation into the incident in Vineland, New Jersey, that was caught on camera. The name of the officer who pulled the trigger on Saturday morning has not been released, CBS Philly reports.
The entire ordeal was posted live on Facebook as it unfolded, according to the station.
Witnesses say police officers let a K-9 dog bite the man, Rashaun Washington, several times as he bled out and eventually died. Washington was clearly unarmed, according to half a dozen witnesses.
Now, his family is demanding answers and begging the prosecutor's office to conduct a thorough investigation.
"Please do not push this case to the side ... and let it go," said Dawn Fisher, Washington's cousin. "We need justification for Rashaun."
Fisher and other family members said the cellphone video of the shooting shows that officers could have used less deadly force to subdue Washington, who was pacing outside of a home.
"Y'all could've shot him in the leg and took him down in handcuffs," said Washington's mother, Georgette Washington.
Rashaun Washington had an outstanding warrant in Camden County, according to the family, but they are asking the prosecutor's office and the public not to use that to justify the shooting.
"I don't want them to try and justify this by defaming his character, because my brother was a very good person. Everybody makes mistakes," said Tiffany Harris, Washington's sister.
At least one march and protest at the Vineland Police Department has been held since the incident, and the family is planning another one on Thursday.
"We are going up there in Vineland and going to march on Thursday at 7 o'clock. Anybody that can come out and support us, please come out. We need justice for my brother, please. It is not right with these police are doing to us. It's not right," Harris said as she cried on her mother's shoulder.
Family and friends gathered for a vigil on Monday night to remember Washington.
"That was a very unnecessary killing. It wasn't justified," said Washington's uncle, Cornelius Williams.
"We love my nephew. He was a family man," another family member said.
Washington leaves behind a son and daughter.
"I don't understand how this could happen," said his girlfriend, Lahtefa Key. "How could anybody treat a human being like this."
Thanks for reading CBS NEWS.
Create your free account or log in
for more features.