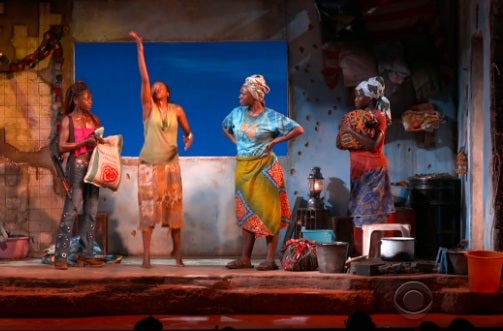 Broadway show makes history both on and off the stage
NEW YORK -- A history-making Broadway show is about women surviving war.
The play and its Academy Award-winning star have just been nominated for prestigious Drama League Awards.
The setting for "Eclipsed" is a hut in Liberia during Civil War, where three women are held as sex slaves by a rebel commander. The lead role, the character of a young girl, is played by Oscar-winning actress Lupita Nyong'o.
Writer Danai Gurira, an actress herself known for the television show "The Walking Dead," says the genesis for the play was the photos she saw of women in the Liberian civil war.
"I had never seen images of African women standing there clad, with little jeans, little tops, cute hairdos, little berets and AK 47s," she said.
So Gurira traveled to Liberia to learn more
"It really was rooted in almost a rage," she said. "Why don't we know these women's stories? Why don't we hear the narratives of women in war?"
For Liesl Tommy, the play's director, it's about survival.
"It's about the incredible capacity for human beings to survive the most unbelievable circumstances and retain their humanity," she said.
It's not just about women. For the first time, a Broadway play features an all-female cast plus female writer and director.
Gurira and Tommy said they didn't realize they were making history.
"Well I did plan an all female cast," said Gurira.
"But we didn't know we'd be making history," said Tommy.
Their passion extends to the audience with a plan to bring 10,000 girls from three Northeast states to see the show.
As both an American and a Zimbabwean herself, Gurira hopes her play helps close the gap between two worlds.
"So the otherness of African girls and war disappears, and they become people that you feel connected to," she said.
A world where war endures, and women still struggle to survive.
Thanks for reading CBS NEWS.
Create your free account or log in
for more features.