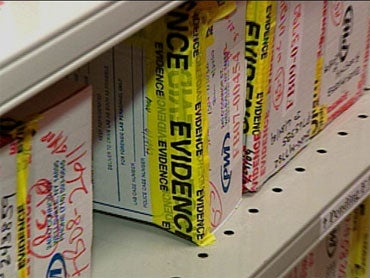 Nevada lawmakers allocate $3.7 million to test 7,500 rape kits
LAS VEGAS -- Nevada lawmakers have agreed to allocate almost $3.7 million to test 7,500 sexual assault evidence kits languishing in police vaults around the state, including some in Las Vegas dating back 30 years.
State Attorney General Adam Laxalt told the legislature's Interim Finance Committee on Wednesday the state is just getting started digging through the backlog.
The money includes $1.7 million from a settlement this summer with JPMorgan Chase in a debt collection practices case toward the rape kit effort.
About 6,300 of the untested evidence collection kits are in Las Vegas.
Police forensic lab director Kimberly Murga says full funding could get every one of them tested by 2020.
Funding is also coming from the U.S. Justice Department and a New York City-based Sexual Assault Kit Backlog Elimination Program. In September, the White House and New York City's district attorney pledged $79 million to clear backlogs of untested rape kits.
Nevada is not the only state with a massive backlog of untested rape kits. In 2009, a five month CBS News Investigation found a staggering number of rape kits had never been sent to crime labs for testing.
The five month investigation looked at 24 cities and states and found more than 6,000 rape kits from active investigations waiting months, even years to be tested. On average at that time in 2009, it was six months in Rhode Island, Alabama and Illinois. It could take nearly a year in Missouri. Up to three years in Anchorage, Alaska. One state, Louisiana, had rape kits dating as far back as 2001 waiting to be tested.
In one of those cities, Cleveland, once the kits were analyzed, they revealed 225 men were potentially serial rapists.
The Florida Department of Law Enforcement said in November that nearly 11,000 rape kits have not been submitted for analysis.
Thanks for reading CBS NEWS.
Create your free account or log in
for more features.