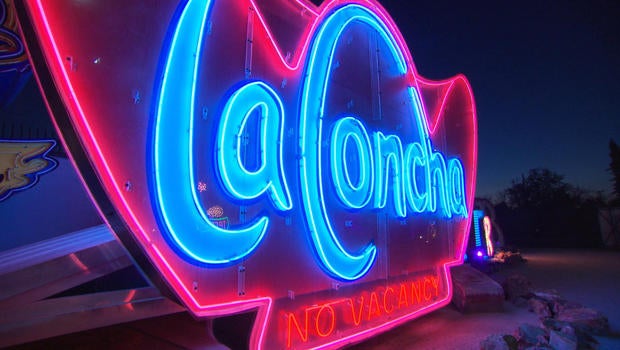 Saving the bright lights of Las Vegas
Las Vegas has been lighting up the Nevada desert since the 1930s, but many of its most memorable signs have been replaced with LEDs. So where did the famous filaments go? Lee Cowan takes us to a place preserving the city's legacy in lights:
There are few cities as infinitely bright as Las Vegas, but there are also few cities as glaringly temporary.
Despite its youth, Vegas always seems to be getting a facelift. Out of the dust of imploded buildings always rises something new. But lost, perhaps, is what made us look in the first place.
"You really can't remember the buildings, but you can remember the signs," said Jeff Young. "Isn't that crazy?"
The signs! Since the 1930s, they have lit up the desert like a giant welcome mat. The Sands, the Mint, the Pioneer … just a few of the stars of the city's Golden Age of neon, gone dark.
Back in 1993, "Sunday Morning"'s Jerry Bowen found a few famous survivors, gathering dust in the back lot of the Young Electric Sign Company (YESCO), the firm best known for giving Vegas its neon vibe.
Jeff Young is the third generation of Youngs to lead his family business; his grandfather founded it back in 1920. "We just didn't have the heart to throw a lot of these signs away because the people that work for us love the signs," he said.
To this day, Young still tries to save some signature pieces from being devoured by developers. "It's hard to find a sign in Las Vegas we haven't been involved with in some way," he said.
Young, however, is a businessman, not a museum curator, and storing signs that were often bigger than the buildings they advertised was becoming a real estate challenge.
"They were running out of space, and so the city got together and said, 'We need to save these signs. Let's think about a museum," said Rob McCoy.
In 2012 a dusty two-acre lot became just that, with McCoy as president and CEO of the Neon Museum.
"This is the bone yard," he said. "Great bones!"
It now has more than 200 artifacts, including the skull from the old Treasure Island casino. That one's so big you can see from space.
"It was a status symbol," said Cowan. "If you had the coolest, biggest sign, you must have the coolest, best casino."
"Size matters!" McCoy replied.
Last year the museum enjoyed record attendance. Around 100,000 people took one of the several daily tours.
"Each sign tells a story and a history," McCoy said. "America in the 20th century: Big, bold, brash. And in Las Vegas we were big bold and brash on steroids. And we still are!"
Bold and brash, yes, but also elegant, like the graceful script for the Moulin Rouge. Built in 1955, it was the country's first interracial hotel-casino -- for a time the only place in Vegas Sammy Davis Jr. was allowed to sleep.
Until the Chairman of the Board spoke up. "Frank Sinatra said, 'You know what? If Sammy can't walk through the front doors of these hotels like I do and perform, then I'm not going to perform,'" McCoy said.
And then there's the Stardust, with its huge Atomic Age lettering. It was historic, too. At 188 feet, it was one of the largest freestanding signs in the world at the time.
Salvaging that was no easy task. "It had to be cut up into multiple pieces and then transported here," McCoy recalled. "It was a quarter of a million dollars just to deliver the sign to us."
Now, at night, these ghosts of a bygone era sparkle back to life -- even those whose bulbs can flash no more.
"Nothing will ever top that sign," said Frank Defrancesco -- a Las Vegas native who leads some of the nighttime tours -- of the Stardust sign.
"We're a young town, a little over a hundred years old," he said. "This is the history we have. Let's save it, let's talk about it, let's keep it. That's important to me."
Resurrecting the past isn't always easy. Bending the fragile glass tubes is in many ways a dying art. But the results are almost always worth the work.
Remember those signs rusting away in Yesco's lot back in the '90s -- the Hacienda Sign, and the not-so-Silver Slipper next to it? Well, today they are sparkling again on Las Vegas Boulevard -- signposts to the museum that helped fund their restoration for generations to come.
"As a population, and maybe as a culture, we don't appreciate history as much as we should," said Jeff Young.
But maybe Las Vegas is beginning to start. Yesco's most famous sign -- the one that welcomes everybody -- is now listed on the National Register of Historic Places, giving it (and by extension other twinkling treasures) a renewed place in Las Vegas lore.
Young said, "I ran into a guy at the airport who had a tattoo of the Welcome to Las Vegas sign on his shoulder, and I said, 'Hey, I like your tattoo. That's forever!' And so's that sign because it's not going anywhere!'"
A forever welcome, indeed.

For more info:
Thanks for reading CBS NEWS.
Create your free account or log in
for more features.