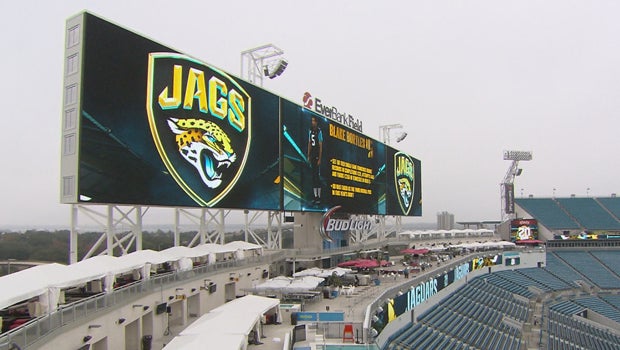 ​Keeping score on the world's largest video displays
When it comes to the Big Game being played later today, everybody wants to see the BIG PICTURE. And Lee Cowan knows just the people who can make that happen:
Here on the plains of South Dakota, being a football fan can be a bit lonely. The closest NFL team is a four-hour drive from here.
And yet, the town of Brookings, South Dakota, has a big stake in tonight's Super Bowl -- because this is where the NFL goes up in lights.
The town is the home of a company called Daktronics, which, in the late 1990s, entered what's become an arms race to build the biggest and most vivid video scoreboards in football ... including one that will be used at tonight's big game in Arizona.
If you're surprised that something that big comes from such a small place, don't worry -- Daktronics CEO Reece Kurtenbach is pretty used to that. He says it's one of the "mental hurdles" they've had to overcome: "We're here in South Dakota, we have a high-tech company - 'Where's South Dakota?'" he laughed. "And you have to kind of position it on the map for some people, even in the U.S.!"
It all started back in 1968 on the campus of South Dakota State University with two friendly engineering professors.
Al Kurtenbach (Reece's father) and fellow professor Duane Sander were looking for a way to help their students find local jobs.
"We were seeing our students leaving the state and thought we should try to do something to keep our students here," said Sander.
They rented space in a tire repair shop just off Main Street in Brookings, and never really planned to leave.
"When you talk to startup companies, talk to venture capitalists, those kind of people, they always talk about the exit strategy -- 'What's your exit strategy?'" said Al Kurtenbach. "And my exit strategy for the company was no exit!"
His first hire was a graduate student named Jim Morgan. He went on to become Daktronics' CEO years later, but back in those days he didn't even know what the company was supposed to make.
"Basically, we really didn't have a product when we started," said Morgan, "so every accomplishment you celebrated in those days!"
They finally put their engineering minds together to build a scoreboard for wrestling matches. It may look simple, but at the time it was revolutionary.
And they've never looked back since.
"If somebody was interested in having us build another scoreboard, we were willing to do that," said Sander.
They were soon building scoreboards for high schools, colleges, you name it.
In 1980 Daktronics was even asked to ply their trade at the Winter Olympics in Lake Placid. It was a turning point for them, to have a worldwide audience for what they were building in Brookings. "Yeah, it was fairly good advertising!" laughed Sander.
Back then, they were timing world records. Today, they're making them. Daktronics holds the distinction of building the largest video displays in sports, installed at the home of the Jacksonville Jaguars.
Each is bigger than the field the Jags plays on -- 362 feet long, six stories high.
And with a price-tag to match. The scoreboards come in at nearly $9 million a piece.
To really appreciate their size, you've got to see them in person. There's almost 22,000 square feet of screen. With Cowan's face displayed, that makes Lee's face big enough to be on Mount Rushmore. His eyeballs are about 11 feet across.
The NFL is counting on bigger being better, a way to entice fans off their comfy couches to buy tickets to see the spectacle in person.
"You have many great reasons to stay home," said Larry Rosen, executive producer of the Jaguars' big screen entertainment. "You have your 62-inch HD in your man cave or whatever. Those are great reasons to stay home. I need to provide you with a different kind of experience that you can only get in a venue."
The resolution is four times better than what one could get at home. The screens are a constellation of millions of LEDs -- about the size of a small thumb tack -- spaced about a half an inch apart. Standing near them, it's hard to actually picture a picture; all your eyes focus on are clusters of red, blue and green lights.
The panels undergo brutal testing to make sure they can withstand the elements -- everything from the steamy heat of Sun Life Stadium in Miami, to the pounding rain and snow of Chicago's Soldier Field. Some are even submerged in water.
But perhaps the biggest test for Daktronics has been the students at SDSU, where Al Kurtenbach -- long since retired as a professor -- still rarely misses a Jackrabbits game (under HIS scoreboard, of course).
In the early '80s, only 22 percent of Engineering graduates here actually found work near Brookings, S.D. Today, that number is closer to 62 percent. Many of Daktronics' would-be employees now attend class in the university's Daktronics Engineering Hall.
"I felt we always had to show them exciting work, demonstrate that there was exciting work right here in Brookings," said Kurtenbach.
Daktronics, of course, isn't the only manufacturer of stadium big screens. Mitsubishi turned heads years ago with a massive display at the home of the Dallas Cowboys.
But it's Daktronics that has just been awarded the contract to build the biggest scoreboard to date. Called a "Halo Board," it will ring the top of the new Atlanta Stadium. The only way for this screen to get any bigger is for the stadium itself to grow.
"How big can these displays get?" asked Cowan. "I mean, are we approaching sort of the biggest they're gonna be?"
"I think it depends on how large the checkbook is," said Kurtenbach. "That would certainly be a factor. If the checkbook is larger, we'll sure try to build it!"
And we, undoubtedly, will watch.
For more info:
Thanks for reading CBS NEWS.
Create your free account or log in
for more features.