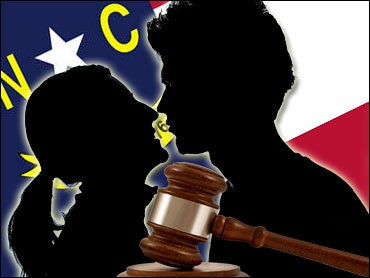 N.C. Cohabitation Law Struck Down
A North Carolina Superior Court judge has issued a formal ruling declaring that the state's law barring unmarried couples from living together is unconstitutional and blocked state officials from enforcing it.
But the exact reach of the ruling remained unclear Wednesday. The state chapter of the American Civil Liberties Union said the decision puts an end statewide to a law that many believe is outdated and intrusive, while legal experts had varying opinions about who would have to comply with the judge's order.
Neither the state Attorney General's office nor Attorney General Roy Cooper, a defendant in the case, would comment.
The ACLU sued last year to overturn the law on behalf of Debora Hobbs, 42, a former Pender County sheriff's dispatcher who said Sheriff Carson Smith told her to get married, move out or find another job after he found out she and her boyfriend had been living together for three years. The couple did not want to get married, so Hobbs quit in 2004.
The law, passed in 1805, says "If any man and woman, not being married to each other, shall lewdly and lasciviously associate, bed and cohabit together, they shall be guilty of a Class 2 misdemeanor."
Pender County Superior Court Judge Benjamin G. Alford wrote in a ruling filed Tuesday that the law violates the Fourteenth Amendment of the U.S Constitution, as well as the state constitution.
Dan Pollitt, professor emeritus at the University of North Carolina School of Law, said he wasn't sure whether Alford could stop district attorneys, sheriffs and elected judges outside of his judicial district from enforcing the law.
Added Shannon Gilreath, who teaches sexuality and the law at the Wake Forest University School of Law, "It looks like Judge Alford thinks he's issued an injunction binding the state. Whether he's done it, or could do it, is less than clear to me."
It's possible that a Superior Court judge in another district could decide Alford's ruling is not binding and issue a contrary decision in a different cohabitation case, Gilreath said.
"Then we would have a problem that an appellate court would have to deal with," Gilreath said.
The uncertainty among experts didn't stop the ACLU from praising Alford's ruling.
"He could not have made this more clear," said Jennifer Rudinger, executive director of the ACLU of North Carolina. "There is no question anymore. (North Carolina) cannot enforce the cohabitation law in any manner."
Rudinger said ACLU attorneys have found about three dozen instances since 1997 of charges being filed under the law. She doesn't know how many resulted in convictions. Rudinger said the law also comes into play in divorce and custody cases, as well as in parole situations.
"There are people right now, today, that are being told by their probation officers they're not allowed to live together," Rudinger said.
About 144,000 unmarried couples live together in North Carolina, according to the 2000 census.
Thanks for reading CBS NEWS.
Create your free account or log in
for more features.