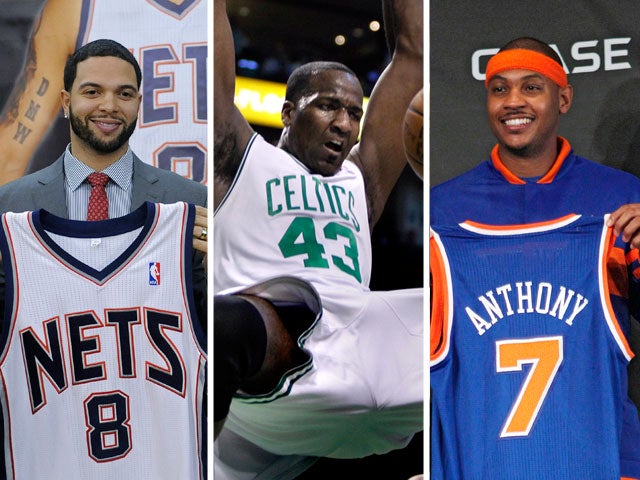 NBA trade deadline: Winners and losers
With close to a dozen trades before the 2011 NBA Trade Deadline, CBSSports.com's "Eye on Basketball" staff breaks down the winners and losers in each division.
---
CBSSports.com: Complete NBA Coverage
NBA Trades: Perkins, Green, Davis packing bags
Atlantic Division
Winner: New Jersey Nets
Plenty of good arguments to be had for the New York Knicks snagging Carmelo Anthony and the Boston Celtics nabbing Jeff Green, but no other team in the entire league changed its fortunes like the New Jersey Nets, who acquired the single best player who moved during this year's trading season: point guard Deron Williams. The price New Jersey paid was meaningful but not crippling, and Williams sets them up to win and build far better than rookie big man Derrick Favors would have. We already saw how far point guard Devin Harris could carry them the last two seasons. Williams will hopefully breathe some new life into big man Brook Lopez, help maximize the production from New Jersey's many role players and serve as an attraction to other marquee names in free agency. Nobody else made a bigger leap into relevancy that the Nets did, and that's worthy of the winner title. -- Ben Golliver
Loser: Toronto Raptors
Speaking of struggling with relevance, allow me to introduce the Toronto Raptors, who moved a first round pick for James Johnson, a seldom used forward who has failed to deliver on his draft promise during his two years in the NBA. It's not a terrible move but it's one that comes with limited upside, leaving the Raptors to continue to churn below mediocrity. Blowing things up was probably the way to go -- unloading Jose Calderon's contract would have been a great start -- but asset collection would have also inspired some hope among the Raptors diehards. Instead, the cynical wait for Jay Triano's firing marches on. - BG
Northwest Division
Winner: Oklahoma City Thunder
I don't think there could possibly be a bigger winner than the Oklahoma City Thunder. They won a Pulitzer, a Grammy, a Nobel Prize and an Oscar all in one swoop.
Not only did two of the division's very best players in Deron Williams and Carmelo Anthony get moved, opening the door for OKC to stay at the top of the Northwest for years to come, the Thunder did a little of their own maneuvering, picking up Kendrick Perkins and Nazr Mohammed to fill the biggest gap in the team's depth chart.
Giving up Jeff Green stings as he was one of the original long term pieces that the Thunder was building with. But he was a restricted free agent and indications were that he wasn't going to be re-signed for the price OKC was comfortable with. So the Thunder flips him and Nenad Krstic (an expiring contract) for the Celtics starting center (and Nate Robinson). Perkins is an unrestricted free agent himself this summer, but not only does OKC get him for two months, it also has the cap space and desire to re-sign him over the summer.
So let's recap that real quick: Some of the main competition got worse and the Thunder got better. That's a good haul. -- Royce Young
Loser: Utah Jazz
Any time you give up a superstar, you aren't going to get equal value. It's just reality. And while the Jazz received a nice return for Deron Williams (Derrick Favors, Devin Harris, two first-round picks) it's really not even close to enough.
The Jazz still had the rest of this season and a whole other year with Williams. They wanted to strike preemptively to avoid any welling Derondrama of taking place next season. But is that really worth just shipping out one of the league's best point guards, just like that?
In the past 30 days, Utah has lost its coach and its face. Those are big blows. The Jazz are moving on and will try and rebuild a winner around younger players while creating cap space and stockpiling picks, but there's no denying that this isn't the same team without Williams.
The Jazz will be lucky to stumble into the postseason this season and will likely be a lottery team next year. And to think, they could've had at least another full season with Williams, but instead they chose to jump at the best offer they might get. I understand the thinking of trading a player that won't re-sign, but still, is what you get back worth the time you're giving up? -- RY
Southeast Division
Winner: Charlotte Bobcats
It took some time for Michael Jordan to realize it, but the best maneuver for the Bobcats was simply to set fire to the roster. The team was never going anywhere with its existing pieces so it just made all the sense in the world to start over.
What the Bobcats received on deadline day was a couple expiring contracts (Joel Przybilla, Morris Peterson) while also finding two first-round drafts picks and not a bad young big man in D.J. White. They lost Gerald Wallace, which hurts, but that's the price for rebuilding .
Going into the summer, the normally financially strapped Bobcats will have some room to look around, while also being able to build around the cheapest talent available -- rookies. The forthcoming draft classes aren't that excellent, but there are good players to be had if you look hard enough.
It's odd to see a team that threw away a chance at the postseason as a winner, but the Bobcats did the right thing. This has been in the cards for months and while they didn't get Stephen Jackson moved, they sent a good chunk of the roster off. -- RY
Loser: Orlando Magic
Orlando did all of its dealing more than a month ago and didn't really have much left to pursue. The Magic wanted a big man to help inside, but they never did find a suitable deal.
But on top of that, they are now kind of that idle ship in the East. They have the talent to win, but Otis Smith's blockbuster hasn't worked out well at all. Gilbert Arenas isn't scoring, Hedo Turkoglu isn't creating and Jason Richardson is mainly just a shooter. Dwight Howard wanted more help inside and the Magic didn't get it.
(Where they did win was Kendrick Perkins getting moved. Perkins was always one of the best defenders for Dwight Howard and with him out of the picture, the Celtics aren't nearly as formidable inside and will likely struggle guarding Howard. So that's one plus for them.)
Again, not that they really had to pieces to make a big splash, but maybe Smith jumped the gun on a trade. Maybe if he waits for the deadline, he's a player for some of the bigger fish like Gerald Wallace or even Deron Williams. That's speculation, but if Orlando's not going anywhere, it would've been worth it, right? - RY
Southwest Division
Winner: Houston Rockets
The Rockets needed to do something, and it's hard to criticize what they came up with. Turning Shane Battier's expiring contract into a decent high-risk, maybe-reward project in bust-to-date center Hasheem Thabeet was solid. Moving point guard Aaron Brooks, who the Rockets clearly weren't willing to commit big dollars to long-term, for productive and cheap point guard Goran Dragic of the Suns, bought the Rockets a year to sort out their long-term point guard situation. Together, the trades serve as value plays for a franchise that has spun its wheels since Yao Ming's abrupt decline into the injury abyss. There wasn't much competition for the "winner" tag in this division, as it was fairly quiet and devoid of major division-altering moves. While playoff contention might get tabled until next year, the Rockets plunge ahead with their smarter-than-average, flexibility-oriented approach. - BG
Loser: Memphis Grizzlies
Any time you try valiantly but can't complete a trade of a player who has started a fight on your team plane and been suspended for violating the league's performance enhancing drugs policy, you are the automatic loser. That's just a default rule of the NBA. When the Grizzlies failed to complete a deal that would have shipped O.J. Mayo to the Indiana Pacers for Josh McRoberts, they added another dramatic chapter to an already difficult situation, sending a message to a troubled player that he isn't really wanted but, hey, he is still welcome to show up for practice tomorrow. Awkward. Mayo still has tons of promise, but this disaster area clearly isn't the right location for him to realize it. - BG
Central Division
Winner: Cleveland Cavaliers
It wasn't a huge win. It wasn't even a considerable win. But the Cavaliers needed to make efforts to go young, and they have done so. The Cavs sent off Mo Williams and Jamario Moon's expiring contract for Baron Davis and a first round pick from the Clippers. The initial reaction is revulsion, because they were forced to acquire Baron Davis' massive contract, knee problems, and laziness. But two things. One, Davis has shown with Blake Griffin that he can be a not-terrible player. The Cavs aren't looking for a guy to be a difference maker next year. Davis will have considerably more value next season at the deadline with a 2013 expiring contract (if he doesn't opt-out). It's a large chunk of change with nearly $29 million left on his deal, but if they're able to flip him at some point, buy him out, or get some level of production, it's worth it. Why? Because two, that draft pick is the gold mine, here. The Clippers are not going to make the playoffs this year, will be in the lottery, and can end up with a valuable draft pick. As a result, the Cavs get what they need most. A high draft pick. That's what they needed to do.
In a second deal, the Cavaliers picked up Semih Erden and Luke Harangody from the Celtics. Neither are going to set the world on fire, but both have shown flashes of talent for the Celtics, and can be valuable role players or added to offseason trades. For the price of a second round pick, that's a near-steal. The Cavaliers missed out on a big opportunity when a deal with Golden State fell through, but in the end, they at least moved forward with rebuilding instead of standing pat. It wasn't a great deadline, but it wasn't a disaster. That's what this season is. --Matt Moore
Loser: Indiana Pacers
Drat! Foiled! The Pacers were this close to landing O.J. Mayo in a trade sending Josh McRoberts and a draft pick to Memphis. It's a bigger loss for the Grizzlies who now have to deal with the fallout, but a lost opportunity for Indiana. Brandon Rush has vanished in the rotation and the Pacers need a true 2-guard to make them a better scoring team on the perimeter. Mayo would have fit that bill perfectly. But as always should be the lesson with the Grizzlies, if you give them an opportunit to screw something up, that's what they'll do. This time it backfired on the Pacers and they're stuck, despite McRoberts being a more-than-serviceable forward, without Mayo. Plus it looks embarassing to have agreed to a deal and have the deadline pass. But perhaps the biggest reason they lost was their insistance on not trading their expiring contracts. They had Mike Dunleavey Jr. and Jeff Foster both available and both expendable and failed to get on the market. They could have brought in a legitimate addition to push them into a solid middle-playoff-seed team. Instead, they're left with the same squad, playing well, but contending cores are not built on three-week win streaks. If they can't do anything with the money they'll clear, they may regret having been so quiet on this very loud day. -- MM
Pacific Division
Winner: Sacramento Kings
Marcus Thornton's career is probably going one of two ways. He is likely not going to end up as just an average NBA player. He's either going to blow up and be a household name where he plays in terms of scoring capacity, or he's going to flame out horribly and be an inefficient malcontent. Odds are much more on the former. I'm not saying he'll be a star in this league, but he can be very good and part of a core that helps the Kings contend, if they keep him. Moving Landry clears space, clears someone who was unhappy, clears money the team can't afford to spend. Thornton is a young asset, and one that can fill the bucket up. That's especially important for them this season with Tyreke Evans on the bench due to injury. But when he gets back, Evans-Thornton-Cousins? That's a phenomenal balance of talent. Just because this season has been a disaster doesn't mean next year has to be. Great move for the Kings. I'm not going to dignify the Marquis Daniels trade with a response. -- MM
Loser: Phoenix Suns
Bear in mind, Aaron Brooks is a good player. He really is. The Rockets hardballed him because they understand his limitations and never overcommit to a player who's not truly great . That's just not what they do. And Brooks is not a great player. Furthermore, Brooks fits with the Suns only to the degree that it's nice to have nitro-boost on the fastest car in the world. You're already fast. Why are you spending more to get faster? Brooks will struggle to get time behind Steve Nash, who's kept himself in such good condition he won't be going anywhere any time soon. Brooks was acquired for a talented guard in Goran Dragic and a first round pick. That pick wasn't going to be super-valuable and the Suns bleed first-rounders like they're nothing, but still, for a team that's struggling to find an identity after the loss of Stoudemire, this move seemed at best superfluous and at worst a step backwards. Brooks kind of fits the role of the departed Leandro Barbosa, but was that really what the Suns needed? This was a strange trade, and not one that helped them. -- MM
Thanks for reading CBS NEWS.
Create your free account or log in
for more features.