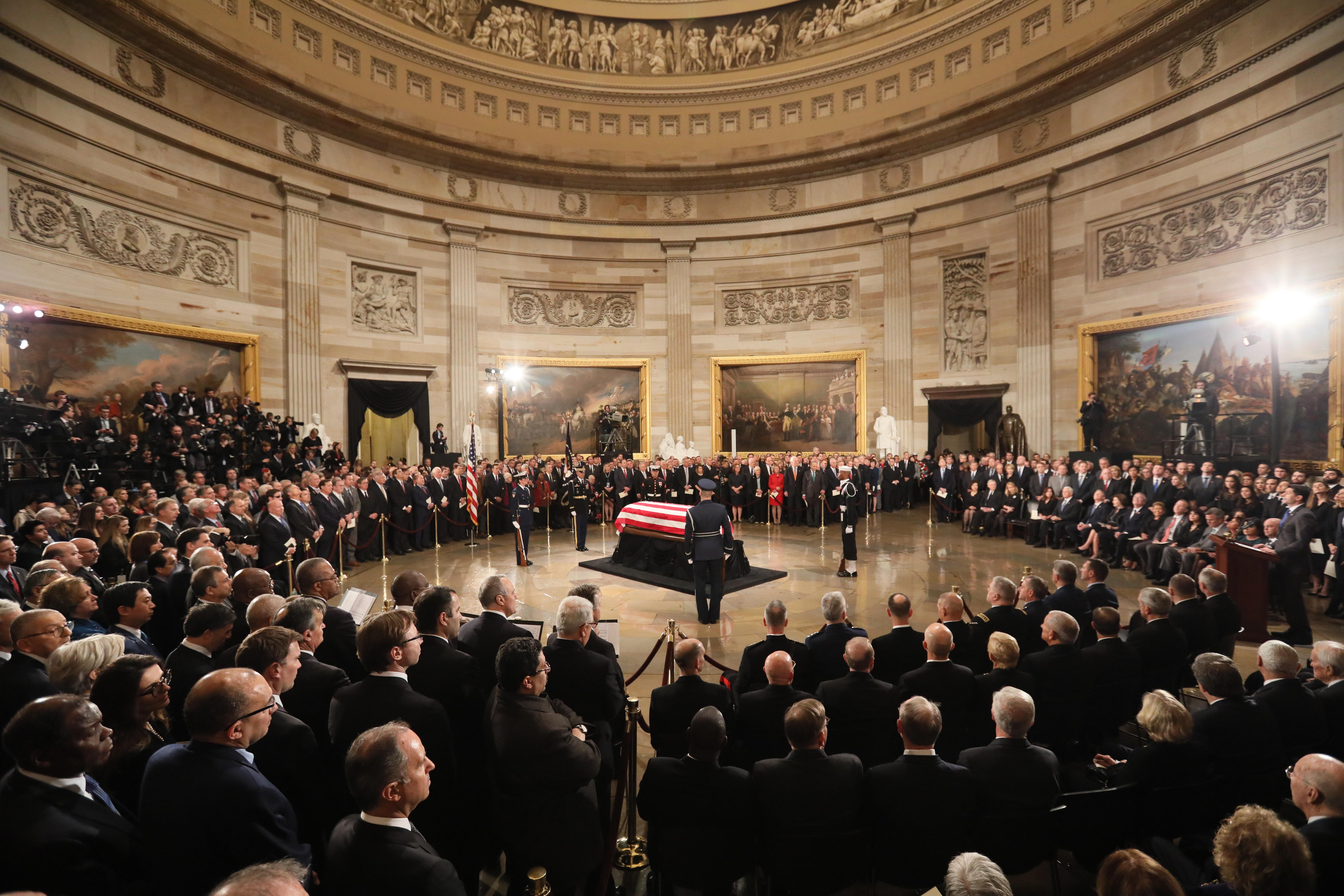 Here's what's closed for former President George H.W. Bush's funeral on Wednesday
Wednesday will be an effective federal holiday as the nation mourns the death of former President George H.W. Bush. President Donald Trump declared it a National Day of Mourning, meaning that nearly all federal workers would be excused from work and their agencies would be closed.
The former president will be given a state funeral Wednesday at the National Cathedral in Washington, D.C. After the ceremony, his body will be moved to Texas, where he will be buried at his presidential library. Mr. Bush died Friday evening at the age of 94.
National Day of Mourning: Post offices closed
Even though it's busy time of year for mailing holiday cards and gifts, United States Postal Service locations will be closed on Wednesday to "honor [the former President's] vast contributions to our country during his lifetime," the USPS said in a statement. The post office will also suspend regular mail delivery and administrative office activities on Wednesday.
But some packages still may be delivered. USPS plans to provide limited package delivery on Wednesday to stay ahead of the busy holiday season.
Major U.S. stock markets closed
Major U.S. markets, including the New York Stock Exchange, NASDAQ and the Dow Jones Industrial Average, will be closed on Wednesday in observance of the National Day of Mourning. SIFMA, an influential financial trade group, also recommended that bond markets close on Wednesday, which would include Treasury bonds, corporate debt, and municipal bonds.
The New York Stock Exchange said it would lower its American flag to half-staff to and U.S. traders held a moment of silence on Monday prior to the market open. The last time U.S. markets were closed to honor a late president was on January 2, 2007 for the funeral of former President Gerald Ford.
Most federal employees will be excused from work
The U.S. Office of Personnel Management announced that most federal workers will be excused from work on Wednesday "to allow Federal employees to join their fellow citizens in remembering our 41st President of the United States." However, employees whose absence would undermine national security, defense or essential public business will still report to work.
Nearly all federal offices will be closed
As part of President Trump's executive order, nearly all federal offices will be closed on Wednesday, with limited exceptions for national security purposes.
Thanks for reading CBS NEWS.
Create your free account or log in
for more features.