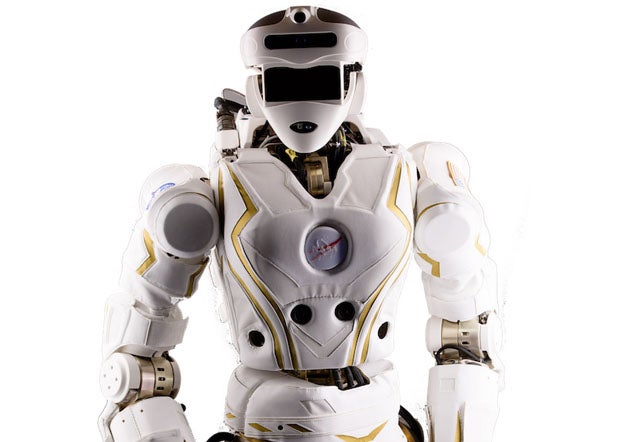 Meet NASA's new humanoid robot Valkyrie
NASA has a new humanoid robot. Nicknamed Valkyrie, it stands six feet two inches tall and bears a glowing NASA logo in its chest. And just like the humans it (sort of) resembles, it only took nine months to make.

Designed for the DARPA Robotics Challenge, Valkyrie -- officially named R5 -- is expected to aid disaster relief efforts. It's a role that could require driving vehicles, cleaning up debris and cut through walls. It will have a chance to show off its skills during the DARPA Robotics Challenge, held Dec. 20-21 in Homestead, Fla.

"We want to get to Mars," team leader Nicolaus Radford said in an IEEE Spectrum video about the robot. "Likely, NASA will send robots ahead of the astronauts to the planet. These robots will start preparing the way for the human explorers, and when the humans arrive, the robots and the humans will work together in conjunction building[habitats], laying foundation and just working together in that tight relationship. Technologies such as Valkyrie are going to really lead into the type of robotic systems that will one day be the precursor missions before the astronauts go to Mars."

Valkyrie comes from the same team that worked on the Robonaut, NASA's first humanoid robot to travel to the International Space Station.

"We really wanted to design the appearance of this robot to be one that when you saw it, you were going to be like, 'Wow, that's awesome," Radford said. "It's . . . very capable, very strong, completely self-contained. We have a two-kilowatt-hour battery, lots of onboard computing."

The international DARPA Robotics Challenge features 17 teams.

The team leaders are expected "to guide their robots through eight individual, physical tasks that test mobility, manipulation, dexterity, perception, and operator control mechanisms," according to the website. They are competing for a spot in the overall finals, slated for late 2014, where a $2 million grand prize will be awarded.

Thanks for reading CBS NEWS.
Create your free account or log in
for more features.