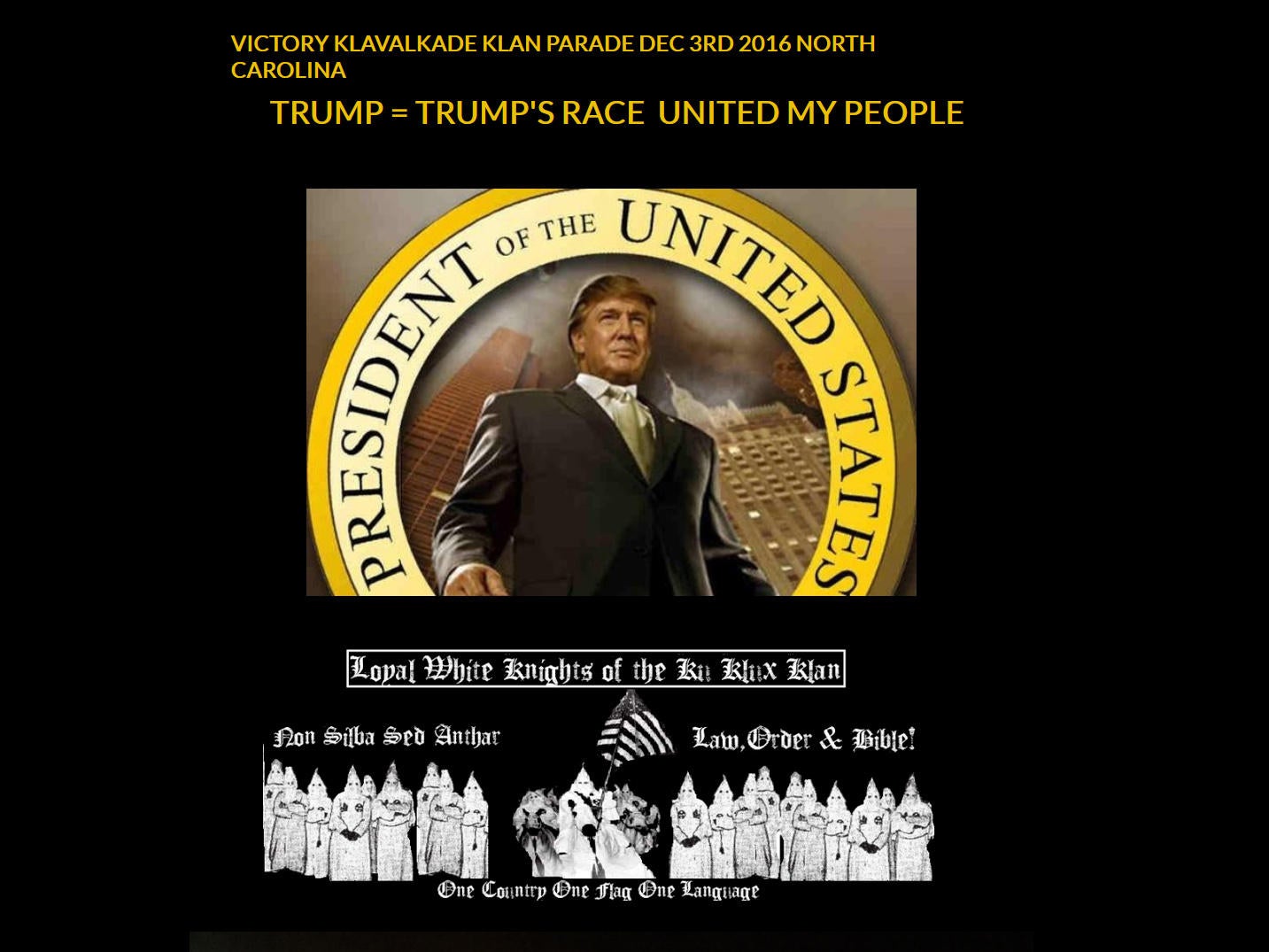 N.C. KKK chapter plans Trump victory parade
A North Carolina chapter of the Ku Klux Klan announced that it will hold a victory parade celebrating the election of Donald Trump to the presidency of the United States.
The Loyal White Knights of the Ku Klux Klan, based in Pelham, N.C., near the Virginia border, announced on its website that a "Victory Klavalkade Klan Parade" would be held on December 3. No specific site was revealed.
The website also advertised, in all caps, "TRUMP = TRUMP'S RACE UNITED MY PEOPLE."
The victory celebration comes amid a climate of reports of hate crimes and vandalism by purported Trump supporters (including attacks on women, Muslims and other minorities, and the arson of a black church), as well as reports of attacks on Trump supporters and the firebombing of a GOP office in North Carolina.
The Loyal White Knights chapter was behind a 2015 South Carolina rally protesting the removal of the Confederate flag from that state's Capitol.
Trump, the Republican Party's nominee, was endorsed by the KKK during his campaign against Democrat Hillary Clinton. The Klan's official newspaper, The Crusader (one of two newspaper endorsements Trump received) called for his election to "Make America Great Again."
The Trump campaign rejected the Crusader's support. "Mr. Trump and the campaign denounces hate in any form," a spokesperson said.
According to the website trackingterrorism.org, the Local White Knights chapter of the KKK was formed near the end of President Barack Obama's first term in office.
"We will wake America up to the evils which are in our Government. We will unite proud white Americans to our cause because we have the LORD on our side," their website said.
Thanks for reading CBS NEWS.
Create your free account or log in
for more features.