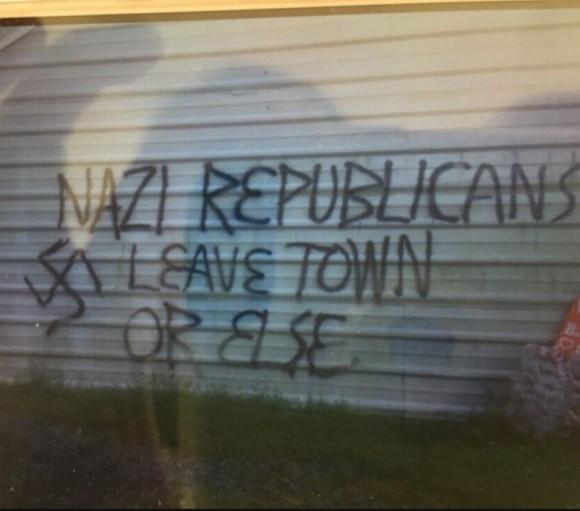 Police: Local GOP office in N.C. vandalized, firebombed
HILLSBOROUGH, N.C. -- A local Republican Party office in North Carolina has been damaged by fire and someone spray-painted an anti-GOP slogan referring to "Nazi Republicans" on a nearby wall, authorities said Sunday.
CBS affiliate WNCN reported that the building was hit with graffiti and "flammable material" was thrown through a window at the Orange County Republican Party headquarters overnight starting a fire inside, police said in an email.
A news release said an adjacent building was spray-painted with the words: "Nazi Republicans leave town or else."
State GOP director Dallas Woodhouse said no one was injured, but a security alert is being sent to party offices around the state.

The North Carolina Republican Party released a statement Sunday afternoon calling the incident a "vicious attack" and "hate crime" and said they would increase security at events and offices, WNCN reported.
Democratic presidential nominee Hillary Clinton tweeted Sunday afternoon condemning what she also called an "attack."
Later Sunday, Republican presidential nominee Donald Trump took to Twitter, saying: "Animals representing Hillary Clinton and Dems in North Carolina just firebombed our office in Orange County because we are winning @NCGOP"
"Whether you are Republican, Democrat, or Independent, all Americans should be outraged by this hate-filled and violent attack against our democracy," said Dallas Woodhouse, executive director of the North Carolina Republican Party.
WNCN reported that N.C. Governor Pat McCrory also released a statement Sunday afternoon in which he vowed to make solving the firebombing a priority of his office.
"The firebombing of a local political headquarters in Orange County is clearly an attack on our democracy," said McCrory, a Republican. "Violence has no place in our society -- but especially in our elections. Fortunately no one was injured; however, I will use every resource as governor to assist local authorities in this investigation."
North Carolina Democratic officials also denounced the incident, calling it an "attack," with a statement Sunday afternoon, according to WNCN.
"The North Carolina Democratic Party strongly condemns this attack. Violence has no place in our political system. We hope the perpetrators of this attack are brought to swift justice, and we are thankful that no one was hurt. Our deepest sympathies are with everyone at the North Carolina Republican Party," said North Carolina Democratic Party Chairwoman Patsy Keever.
Democrats started a GoFundMe campaign to help rebuild the GOP office. By early Monday, in only 9 hours, it had already exceeded its $10,000 goal, drawing more than $13,000.
Thanks for reading CBS NEWS.
Create your free account or log in
for more features.