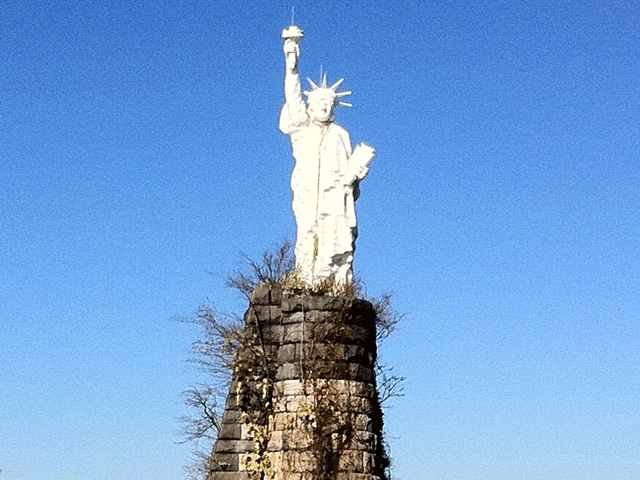 Mystery builders of Lady Liberty replica revealed
DAUPHIN BOROUGH, Penn. - The statue appeared in the middle of the Susquehanna River, near a town in the middle of Pennsylvania called Dauphin Borough.
According to news reports at the time, drivers got so distracted, they started running into each other.
As CBS News correspondent Steve Hartman reports, it wasn't just any statue. The huge edifice, that seemed to just emerge from the river that morning and still greets commuters today, was none other than Lady Liberty herself.
How on Earth did it get here? No one would claim responsibility at the time. But now, 25 years later, it is a mystery no more.
Lady Liberty turns 125, gets high-tech gift
"Kept it quiet," said Gene Stlip. "That was part of the fun of the whole thing."

Stilp was a local lawyer who built the statue in a friend's garage to honor the New York Statue of Liberty. "It was going to be the 100th anniversary and it'd be nice to do something here," Stlip said.
Made from plywood and Venetian blinds, to cut down on wind resistance, Stlip put it together himself and then recruited a handful of accomplices to sneak it onto an old railroad pier in the middle of the night.
"I still want to know," Ed Chubb asked, "is the statute of limitations up for anything we might have...?"
"The statute of limitations is passed," Stlip replied.
What they did was not only technically illegal, it was also highly ill-conceived. Steve Oliphant was concered about how dangerous that part of the river was. "I begged you not to go," Oliphant told Chubb.
"But when we got it up and saw it from the highway," Chubb replied, "It was like, 'wow, that wasn't a bad idea, it worked.'"
The statue stood for six years until a strong gust of very unpatriotic wind blew her off her pedestal. That could have easily been the end of this story, but by 1992, folks in Dauphin Borough had grown so fond of the idea of having their own Statue of Liberty that they collected $25,000 to build a replica of their replica.
This newer statue -- sturdier, taller and eight times heavier -- has been able to hold her ground for 14 proud and glorious years.
"Liberty, you know, the community rallied around it," Chubb said.
If these guys have their way, she'll continue to reign over the Susquehanna River as long as freedom itself.
Thanks for reading CBS NEWS.
Create your free account or log in
for more features.