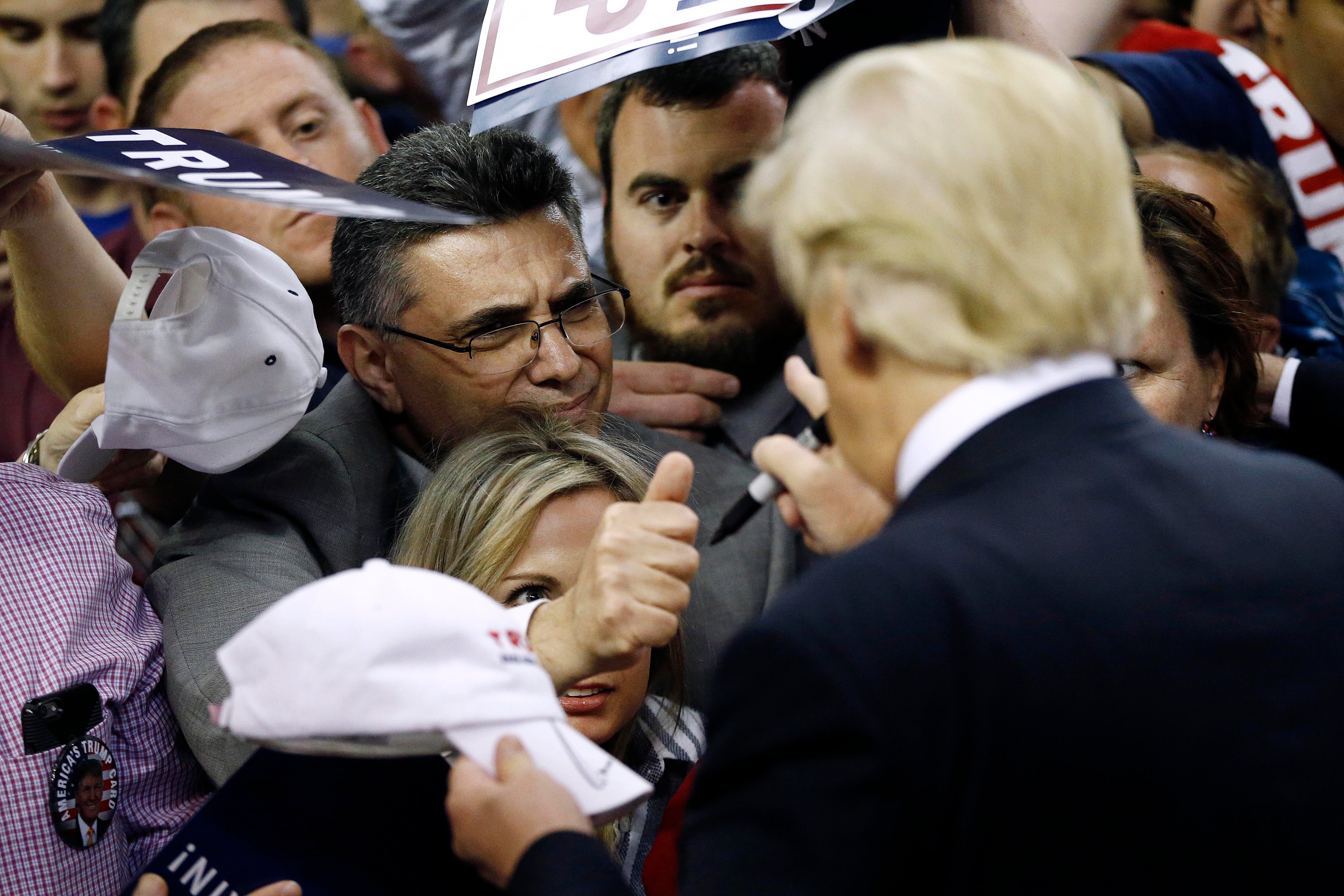 Most think Trump will bring change, but most also think he'll divide the nation
By Sarah Dutton, Jennifer De Pinto, Fred Backus, Kabir Khanna and Anthony Salvanto
Just under half of Americans -- 46 percent -- are excited or optimistic about the presidency of Donald Trump, and just over half are either concerned (31 percent) or scared (22 percent) about what Mr. Trump will do as president. A new CBS News poll shows what the optimists are most excited about and what most worries those who are concerned or scared about Mr. Trump's presidency.
Thirty-six percent of Americans who are at least optimistic about a Trump presidency volunteer an improved economy or bringing back jobs as the thing they are most excited or optimistic about, by far the top choice. Other reasons for optimism are the prospect of deporting illegal immigrants (5 percent), making America great again (4 percent), the way Mr. Trump will handle foreign policy (4 percent), bringing change to Washington, (4 percent), and getting rid of Obamacare (4 percent).
For those concerned with the prospect of a Trump presidency, Mr. Trump's potential handling of foreign policy and the prospect of starting an international incident or getting the U.S. involved in a war is the top worry (22 percent), followed by his immigration policy 8 percent), his overall temperament and personality (6 percent), that he'll hurt the economy and job creation (6 percent), bigotry (6 percent), and his lack of qualifications and experience (5 percent).
Approach toward Russia and China
Amidst concerns from segments of the intelligence community about the role Russia may have played in the 2016 presidential campaign, more than a third of Americans think Donald Trump will be too friendly toward Russia when he becomes president. Just 9 percent think he will be too hostile, while nearly half – 48 percent - think his approach will be about right. Views are largely partisan: eight in 10 Republicans think his approach will be about right and six in 10 Democrats think he will be too friendly toward Russia.
In comparison, 32 percent of Americans think Mr. Trump will be too hostile toward China, while just 9 percent think he will be too friendly. Here again, half think his approach will be about right.
Managing the Issues
Majorities are confident in Donald Trump's ability to handle some of the most important issues facing the nation: 61 percent are very or somewhat confident in how he will manage the economy, and 55 percent are confident in how he will deal with the threat of terrorism. About half are confident in his ability to make the right decisions about illegal immigration and foreign policy.
Views are highly partisan; roughly nine in ten Republicans are confident in how the president-elect will manage the economy, terrorism, illegal immigration and foreign policy, while most Democrats are not confident.
Racial Harassment in the U.S.
Americans are divided as to whether incidents of racial harassment have become more frequent since Donald Trump won the presidency – 48 percent say they have, 44 percent say there isn't much difference. But four in five agree that now that he has been elected president, Mr. Trump has a responsibility to condemn incidents of racial harassment that might occur.
Democrats (66 percent) are far more likely than Republicans (25 percent) to say such incidents have become more frequent.
Majorities of Republicans, Democrats and independents agree that now that he has been elected president, Mr. Trump has the responsibility to condemn these events.
Fifty-eight percent of Americans think that the way Mr. Trump conducted his campaign has encouraged racial division; 29 percent think that has had no effect. Views are highly partisan.
Trump's qualities
The poll finds mixed views of other specific qualities for the president-elect. Fifty-two percent say Mr. Trump does not share their priorities. Forty-five percent think he will make the U.S. image in the world worse, while 36 percent expect him to improve it. There is more agreement about his leadership: six in ten think he has strong leadership qualities. Republicans hold much more positive views of Mr. Trump than Democrats.
Overall, just over a third of Americans – 36 percent - say the election of Donald Trump as president makes them feel proud. Partisanship affects views: most Republicans feel proud (70 percent), while most Democrats (87 percent) and independents (58 percent) do not.
Opinions of the Incoming President and Vice-President
Overall opinion of Donald Trump remains more negative than positive, though fewer registered voters view him unfavorably than did so right before the election, and more are now saying they are undecided at this point. Vice President-elect Mike Pence is viewed more favorably than unfavorably, though more than a third are undecided.
After Donald Trump is sworn in as president, the Republican Party will control both the executive and legislative branches of government. Asked, in general, whether it is better to have the president and Congress from the same or different parties, Americans have a slight preference for control of both branches by the same party.
But as has been the case historically, pragmatism trumps principle here: most Republicans now support same-party control, while Democrats prefer the presidency and Congress be controlled by different parties. During Mr. Obama's second term - when Congress was under Republican control - Republicans wanted the White House and the Congress to be controlled by different parties.
Party Unity
Majorities of Americans describe both major political parties as divided, not united. More view the Republican party as divided --partly because their own rank and file see the party that way. Democrats, despite losing the presidency and their failure to take control of Congress, are more likely to describe their political party as united than Republicans are to say that about theirs.
The Media
Half of Americans now say that, compared to how they have treated other candidates, the news media has been harder in its treatment of Donald Trump. That is up from 40 percent of registered voters in June, before Mr. Trump became the Republican nominee. Republicans are especially likely to say the media has been harder on their candidate.
Few Americans report having a great deal of trust and confidence in the news media to report the news fully, accurately and fairly; just 11 percent say they do. Half have not much or no confidence in the news media; that rises to 68 percent of Republicans.
Trade
President-elect Trump recently announced that the company Carrier would keep hundreds of jobs in the U.S. instead of moving them to Mexico in exchange for financial incentives. More than two in three Americans – 69 percent -- including majorities of Republicans, Democrats and independents – favor a general policy that would provide tax breaks to companies that agree to keep U.S. manufacturing jobs from moving overseas. Twenty-seven percent oppose providing those tax breaks.
Forty-eight percent think that trade with other countries loses more jobs for the U.S., while 29 percent think it creates jobs.
The Affordable Care Act
Republicans have said that among the first things they will do after Donald Trump takes office next month is to repeal the Affordable Care Act. Now, 45 percent approve of the 2010 health care law, and 50 percent disapprove.
Still, just one in ten think the ACA is working well and should be left as it is. Sixty-three percent think there are some good things in the law, but changes are needed, and 25 percent want the law repealed altogether. The percentage that supports repealing the law is down 10 points since January.
Global Warming
Donald Trump's choice for head of the EPA, Scott Pruitt, is skeptical that climate change is occurring. That contrasts with the public's views: most Americans think climate change is either affecting the environment now (56 percent) or will do so in the future (23 percent). Just 17 percent of the public thinks global warming won't have a serious impact, and 1 percent thinks it doesn't exist.
---
This poll was conducted by telephone December 9-13, 2016 among a random sample of 1,259 adults nationwide. Data collection was conducted on behalf of CBS News by SSRS of Media, PA. Phone numbers were dialed from samples of both standard land-line and cell phones.
The poll employed a random digit dial methodology. For the landline sample, a respondent was randomly selected from all adults in the household. For the cell sample, interviews were conducted with the person who answered the phone.
Interviews were conducted in English and Spanish using live interviewers. The data have been weighted to reflect U.S. Census figures on demographic variables.
The error due to sampling for results based on the entire sample and the sample could be plus or minus three percentage points. The error for subgroups may be higher and is available by request. The margin of error includes the effects of standard weighting procedures which enlarge sampling error slightly.
This poll release conforms to the Standards of Disclosure of the National Council on Public Polls.
Thanks for reading CBS NEWS.
Create your free account or log in
for more features.