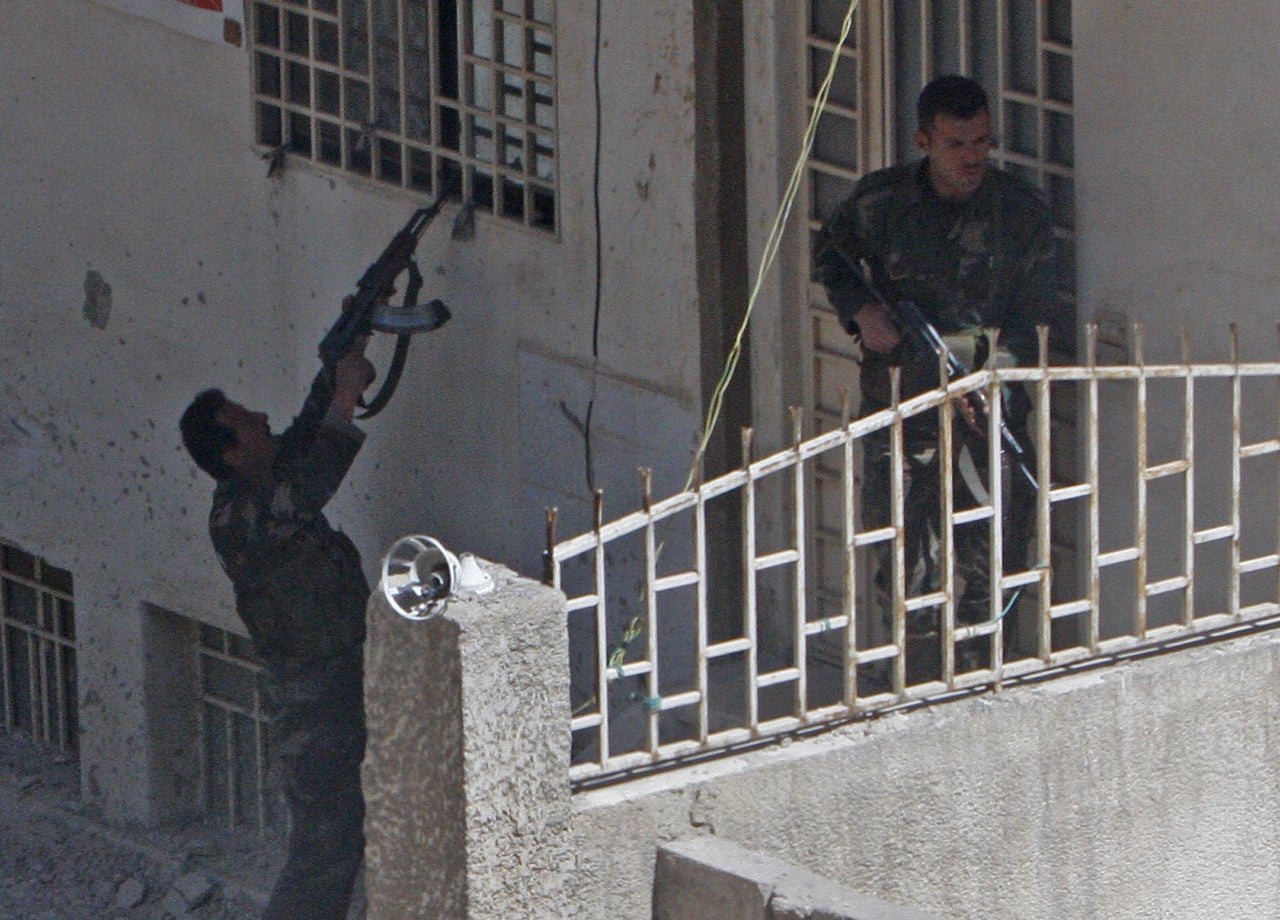 More embassy closures amid ongoing Syria violence
(CBS/AP) BEIRUT - Norway and Turkey have announced they are closing their embassies in Damascus, the latest two nations to withdraw diplomatic staff as the conflict in Syria enters its second year.
The Norwegian Foreign Ministry said it has decided to close down its embassy in Damascus due to security concerns, but that a Norwegian diplomat will continue to work in Syria through the Danish embassy, in order to "uphold contacts with political actors and report" on developments in Syria.
Also on Monday, Turkey closed its embassy in Damascus and recalled its ambassador as relations between the former allies continue to deteriorate. Ankara, once close to Damascus, is now one of Syria's most vocal critics.
About 17,000 Syrian refugees who have fled the violence are now in Turkey, many in temporary refugee camps. Turkey is also allowing Syrian civilian and army defectors to shelter and regroup on its territory.
Activities at the Turkish embassy are being "temporarily suspended," but Turkey's consulate in Aleppo will remain operational, a brief statement posted on the embassy's website said Sunday night.
The embassy is being closed because of the poor security situation in Syria, a ministry official said on condition of anonymity in line with ministry regulations. The Turkish ambassador and other diplomats will be returning to Turkey, he said.
Other countries - including the U.S., France, Saudi Arabia and Qatar - have also closed embassies. This and other forms of diplomatic pressure have left Damascus isolated, but have so far failed to stop the year-old Syria crisis, in which more than 8,000 people have been killed, according to the U.N.
Countries which have cut diplomatic relations with Syria:
The following nations have either closed their embassies in Damascus, or have recalled their ambassadors or diplomatic staff due to security reasons:
Bahrain
Canada
Egypt
Finland
France
Italy
Japan
Kuwait
The Netherlands
Norway
Oman
Qatar
Saudi Arabia
Spain
Switzerland
Turkey
United Arab Emirates
United Kingdom
United States
Activists: Syrian troops storm NW town
Russia: We'll back Annan's Syria peace plan
Meanwhile, on Monday Syrian troops continued its shelling of rebel-held neighborhoods in Homs, the latest barrage in a bombardment that has lasted several days and appeared to be the groundwork for an assault to push the fighters out of the country's third largest city.
The Britain-based Syrian Observatory for Human Rights and the Local Coordination Committees have been reporting shelling in Homs for days as Assad's forces appear to be preparing for an operation to retake rebel-held neighborhoods in Syria's third largest city. The Observatory said that mortars were fired on the central neighborhood of Warsheh.
The LCC said 19 people were killed in Syria Monday, nine of them in Homs. The Observatory said 10 people were killed Monday, including the five in the Homs shelling.
Amateur videos posted online by activists showed smoke billowing from several areas in the city center amid sounds of explosions. A resident said at some points the area was being hit by an average of four shells an hour.
Homs has been one of the cities hardest hit by the government crackdown on the uprising that began last March. Assad's forces overran the rebel-held Baba Amr neighborhood on March 1 but face resistance from other districts.
The outlawed Muslim Brotherhood also announced that if President Bashar Assad were overthrown it would work for a "modern" democratic state. The Brotherhood statement was an overture by one of the largest organizations representing the country's Sunni Arab majority, which also dominates the Syrian opposition, toward placating Syrian minorities who have until now gravitated towards the regime.
In Damascus, the state-run news agency, SANA, said Syrian troops foiled an attempt by an "armed terrorist group" to infiltrate the country from Turkey. The troops killed and wounded some of them and seized their weapons, SANA said.
It said Turkish medical teams transferred the killed and the wounded into Turkey.
Assad's forces meanwhile kept up a series of offensives that over the past two months have seen the recapture of several rebel strongholds, although centers of resistance remain.
The Observatory also said that the body of activist Khalaf Mohammed al-Shab was found Sunday night hours after he was abducted near the predominantly Kurdish northeastern town of Derbasiyeh. Al-Shab was a nephew of late Kurdish leader Mashaal Tamo who was assassinated in October.
On Sunday, Syria's outlawed Muslim Brotherhood held a conference in Turkey where it announced that if Assad is removed from power, the group will not try to dominate politics and will work for a democratic state.
The move appeared to be a step to reassure the country's minorities, mostly Alawites, the sect to which the Assads belong, and Christians, many of whom fear that Sunni majority rule will bring to power radical Islamists.
The Brotherhood is one of the most influential Syrian opposition groups. In 1982, Assad's father and predecessor, Hafez, ordered the military to quell a rebellion by the Brotherhood movement in the central city of Hama, sealing off the city in an assault that killed between 10,000 and 25,000 people. Since then the movement has had no official presence in Syria, where membership in it is punishable by death.
"The regime now is accusing the Muslim Brotherhood of trying to control Syria alone and of having aims of being the only rulers of Syria in the future," said Ali Bayanouni, a Brotherhood official. "We are here today to reassure everyone that we will cooperate with all the other partners in the Syrian opposition to build a new Syria, a free Syria, a democratic Syria and we will not attempt to the be the only ruling party in Syria."
A statement outlined 10 points that the Brotherhood said it would abide by in a future Syria. They included a modern state based on a constitution that represents the will of the people and guarantees representation of all Syrian ethnic and religious groups, equality among all citizens, and respect for human rights and law.
Thanks for reading CBS NEWS.
Create your free account or log in
for more features.