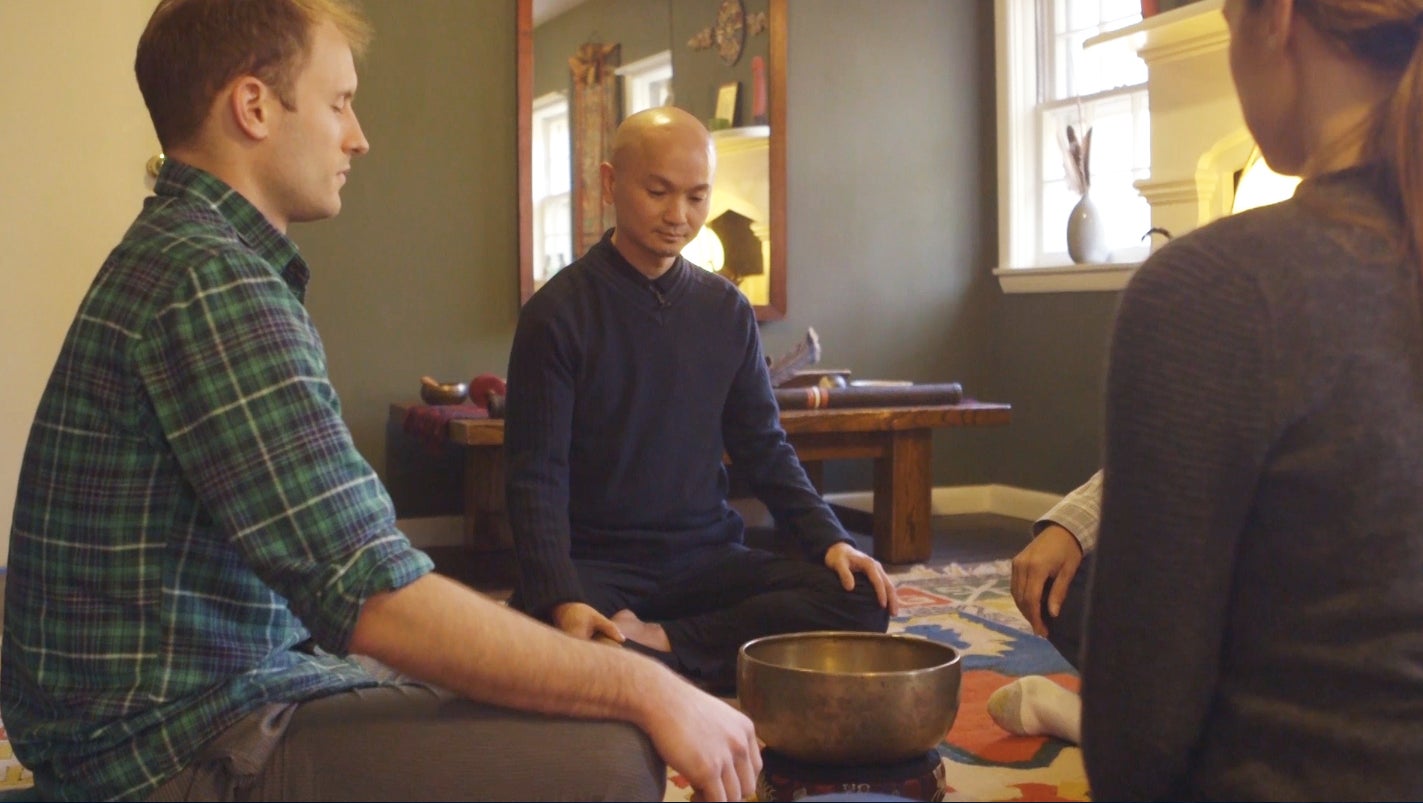 Mindfulness meditation melts away work-related stress
Work-related stress is reaching epidemic proportions in America. It has a negative effect on our health, our relationships and our lives. Studies have found that 30 to 40 percent of workers consider their job extremely stressful. Could mindfulness meditation be the answer to the problems of the modern workplace?
Since its introduction to the West in the late 1970s, mindfulness meditation has been drawing devotees seeking peace and balance in their lives. At its core, mindfulness is about focusing on the present moment, clearing your mind of the stresses and distractions of a typical, frenetic workday.
Home Nguyen is a mindfulness meditation master and executive coach who teaches mindfulness to students at Columbia Business School and offers personal coaching to CEO's and business leaders across the U.S. He believes that practicing mindfulness isn't just about feeling relaxed -- it can actually help future business leaders make a greater global impact.
"When the leader is mindful, he or she has a ripple effect throughout the business. [Mindfulness] helps the leader have a sense of clarity, a sense of purpose and also a kind of calmness and peace of mind when they approach any situation, whether it's chaos at work or a personal relationship," says Nguyen.
"I never thought I would learn a spiritual practice like meditation at business school, but that's where I learned it," said Peter Harris, a recent graduate of the Columbia MBA program. "I realized I could start in the moment being the person I wanted to be and doing the things I wanted to do."
Adherents say mindfulness has many other benefits. It has been used to help treat and alleviate chronic pain and the many symptoms associated with obsessive-compulsive disorder, anxiety and depression. Now, the ancient Buddhist practice has become more mainstream with people like Anderson Cooper giving it a try on "60 Minutes," Goldie Hawn creating the MindUp program for children, and Congressman Tim Ryan bringing the practice to politics.
As Cooper reported on "60 Minutes," Ryan has written a book about mindfulness and secured a million dollars of federal funding to teach the practice at schools in his Ohio district. "I've seen it transform classrooms. I've seen it heal veterans. I've seen what it does to individuals who have really high chronic levels of stress and how it has helped their body heal itself. I wouldn't be willing to stick my neck out this far if I didn't think this is the thing that can really help shift the country," he said.
Many can agree that this country is in dire need of a shift. According to a report from the American Institute of Stress, a non-profit dedicated to research and education on the subject, 35 percent of Americans say their jobs are harming their physical or emotional health.
America's businesses are becoming more interested in mindfulness as a tool to help stressed-out employees. Some companies are offering free training programs in mindfulness, including a number of prominent Fortune 500 companies: Raytheon, Procter & Gamble, Monsanto, General Mills, Comcast and Google.
Nguyen says that at the root of our stress lies an untrained mind. The anticipation of some future event or the memory of something from the past takes us out of the moment. Therefore, he says the way out of stress comes from settling into the moment and allowing the connection between our body and mind to happen. This all starts with being conscious of our breathing.
"The breath is constantly there, so you make use of the breath that is in this present moment. So you notice that the moment you breathe you are instantly in the present moment," says Ngyuen.
"At the same time, because you're breathing you are releasing the stress. You're not anticipating some fear. You are just being present. That allows you to interact with people more productively and more effectively."
Many work environments demand rapid decision-making and responses from leaders. Being mindful allows for people to remain clear and calm within the chaos, and it only takes a second when you know what to do. "Before responding to a difficult situation, take one full breath," says Nguyen.
As you develop a mindfulness practice, you gain access to intuition and emotion and develop self-awareness that allows you to choose the best action in the moment.
Nguyen's tips for beginners:
Choose why you want to practice. Do you want to be more productive, healthy, or more powerful at work? Be intentional about the reason you want to begin mindfulness meditation.
Get inspired. Once you have a sense of why you want to practice, find a teacher, a guide, and read a few books.
Give it a shot. Try practicing mindfulness for a few weeks. If possible, immerse yourself in a 10-day course or a weekend retreat. If the time commitment scares you, don't worry, Nguyen says that for some other people just a few minutes at a time each day is enough.
Find a meditation group. Meeting other practitioners can lead to stronger networks and help to deepen your practice. In many cities there are meditation groups that meet in the mornings before work. Check online to find a group near you.
Thanks for reading CBS NEWS.
Create your free account or log in
for more features.