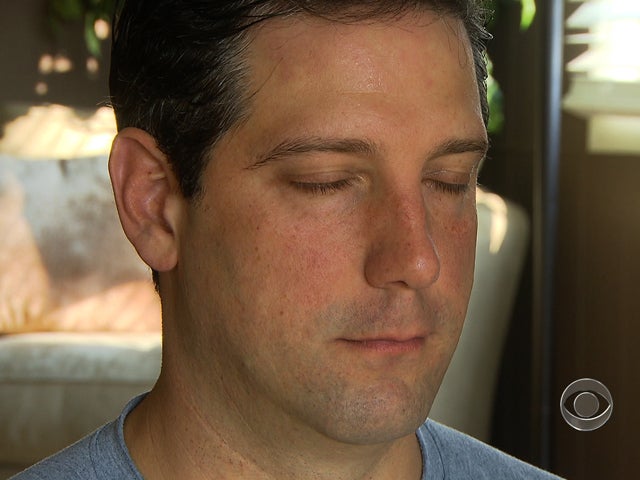 Ohio congressman's meditation crusade
(CBS News) YOUNGSTOWN, Ohio - In the challenge of slowing down the hectic pace of life, it can often seem as though we've squeezed out any time for thoughtfulness and contemplation as we go about our daily lives. But one man's got an idea how to change that and perhaps the power to do so.
In the tranquility of his living room in Youngstown, Ohio, 39-year-old Tim Ryan is conducting his 30-minute morning ritual. He is meditating: slowing his breathing and clearing his head of clutter.
"How much faster literally can we go, until you are so distracted all the time that you're actually missing your life?" he asked.
If this all looks and sounds a bit New-Agey, guess again. Congressman Tim Ryan will tell you the New Age is now. "It's a quiet revolution that's happening," he said.
Ryan is a former high school football hero from a shot-and-a-beer district who's now written a book on mindfulness. The group he thinks could benefit most from reading it? His colleagues on Capitol Hill.
"Yeah, that's true. It's a problem," he said about Washington, a city that is probably less introspective. "And I think if you look back at our country to the big mistakes that we made, it seems to me that we weren't seeing things quite clearly."
Ryan is pushing a curriculum called S.E.L. -- social emotional learning -- that teaches kids to relax, calming themselves into a state where they are better able to learn.
Juanita Rodgers uses it in her kindergarten classroom in a tough neighborhood in Youngstown. "They have no control of where they come from," she said. "They have no control of where they live. When they close their eyes, they can actually see themselves even doing well in school. And when you can see it, it will happen."
In the last three years, they've seen reading levels improve by double digits. But 10-year old Alissia Thomas is focused on other benefits not measured by test scores.
Asked if she and the other kids need to find other ways to be calm, Thomas said: "Yes. A lot of them do because of the anger." She added: "We've had some fights and when they get angry they go after the people they are angry at. They need to be able to sit down and think of their happy place."
Ryan will be introducing a bill that will help states implement S.E.L. standards and promote mindfulness in medical schools, teacher-training programs , and to help treat veterans.
"It's happening now in the military, in the prisons," he said. "I think at some point the more we understand about how the brain works, the more this is going to catch on."
According to the magazine "Psychology Today," somewhere near 10 million Americans are practicing some sort of meditation.
Thanks for reading CBS NEWS.
Create your free account or log in
for more features.