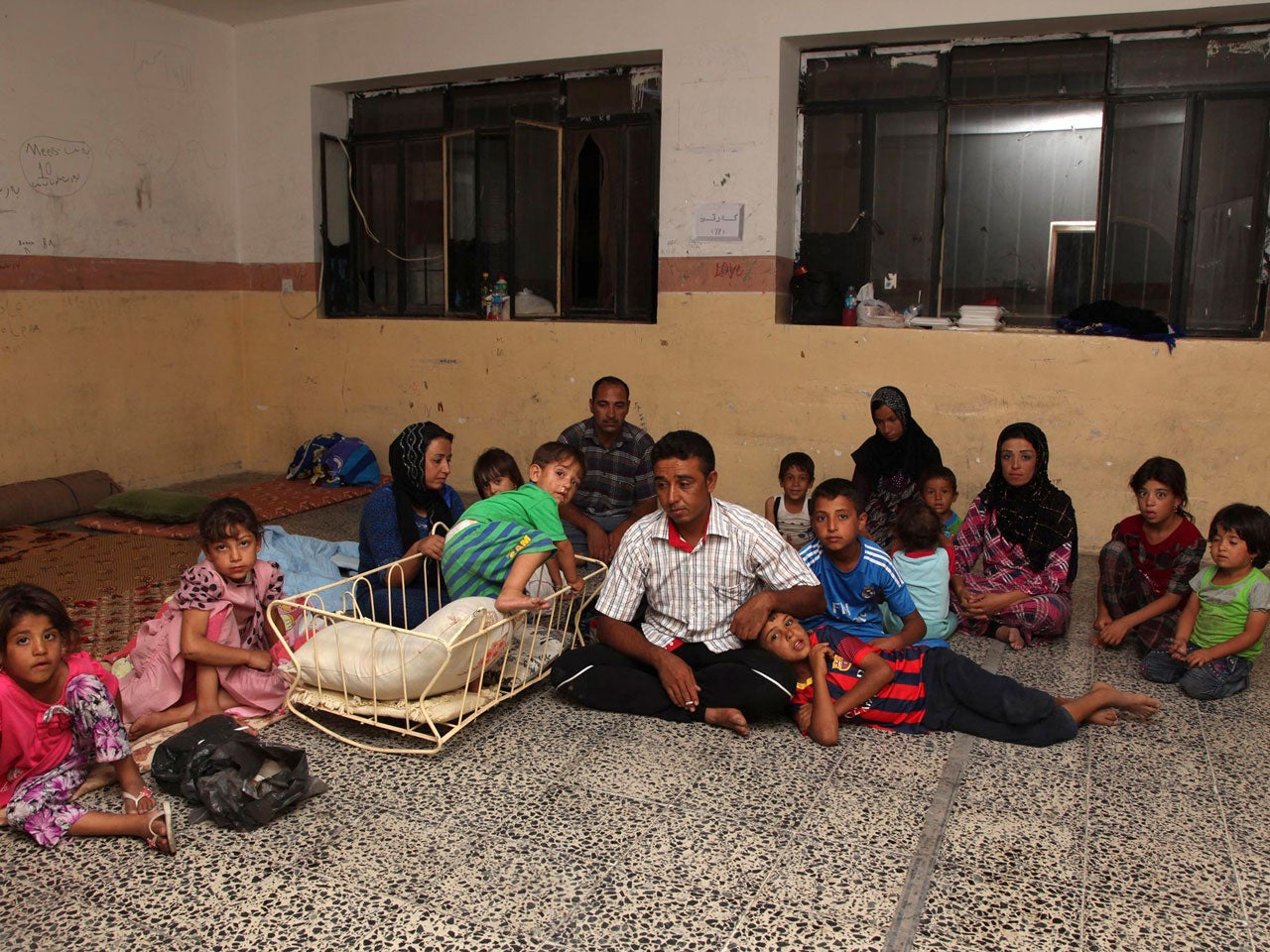 Militants execute hundreds of minorities in Iraq, official says
BAGHDAD - Members of the Yazidi ethnic minority group in northern Iraq have been the target of indiscriminate slaughter, an Iraqi minister said Sunday.
Iraq Human Rights Minister Mohammed Shia al-Sudani said the Islamic State of Iraq and the Levant (ISIS, also known as ISIL) has in some cases buried alive Yazidi as they fled their occupied homeland in northern Iraq, Reuters reports.
"We have striking evidence obtained from Yazidis fleeing Sinjar and some who escaped death, and also crime scene images that show indisputably that the gangs of the Islamic States have executed at least 500 Yazidis after seizing Sinjar," Sudani said in a telephone interview, in his first remarks to the media on the issue.
Sinjar is the ancient home of the Yazidis, one of the many towns captured by the Sunni militants who view the community as "devil worshipers" and tell them to convert to Islam or face death, Reuters reports.
Sudani also said hundreds of Yazidi women have been taken as slaves. Faced with starvation and dehydration, more than 50 children have already died, reports CBS News correspondent Holly Williams.
A deadline passed at midday on Sunday for 300 Yazidi families to convert to Islam or face death at the hands of the militants. It was not immediately clear whether the Iraqi minister was talking about the fate of those families or others in the conflict.
Scholars say Yazidi teachings are a mix of several traditions, borrowing from Christianity and Islam, and including some practices resembling ancient traditions in Persia.
Islamic State fighters have rampaged across northern and western Iraq, and their advance on Erbil in recent days has prompted the U.S. to launch airstrikes for the first time since troops withdrew at the end of 2011 following eight years of war.
The U.S. military said a third round of four airstrikes carried out by fighter jets and drones took out Islamic State armored carriers and trucks being used in an attack on civilians. U.S. Central Command said the Islamic State militants were firing indiscriminately on members of the Yazidi minority taking shelter in the mountains outside the town of Sinjar.
CBS News correspondent David Martin reports three strikes from U.S. forces occurred around Erbil during Sunday morning local time. The targets were mortars and armored trucks.
U.S. and Iraqi aircraft have also dropped aid for the Yazidis, thousands of whom have been stranded on a scorching mountaintop since the Islamic militants seized Sinjar last week.
President Barack Obama warned Americans on Saturday that the latest U.S. military campaign in Iraq will be "a long-term project," the extent of which would depend on how soon Iraq's feuding leaders can set aside their differences to confront the insurgency.
"I don't think we are going to solve this problem in weeks," Obama said.
The lighting advance of the Islamic State group across Iraq in June plunged the country into its worst crisis since U.S. troops withdrew at the end of 2011.
France's foreign minister said during a visit to Iraq on Sunday that Paris will provide "several tons" of aid to hundreds of thousands of internally displaced people and called upon leaders in Baghdad to unite against Sunni militants who have seized large parts of the country.
Speaking at a press conference with Iraq's acting Foreign Minister Hussain al-Shahristani, Laurent Fabius said his visit is aimed at boosting humanitarian efforts in northern Iraq.
"The marching order is solidarity," Fabius said in Baghdad. He called on Iraqis to form a "government of broad unity so that all Iraqis feel represented and together lead the battle against terrorism."
The French diplomat also met with Iraq's embattled Prime Minister Nouri al-Maliki before arriving in the Kurdish regional capital Erbil.
Al-Maliki is under mounting pressure to step aside despite his bloc's winning the most votes in April elections. Critics say the Shiite leader contributed to the crisis by monopolizing power and pursuing a sectarian agenda that alienated the country's Sunni and Kurdish minorities. He has, however, insisted on remaining in his post.
U.S., Iraqi and British cargo planes dropped tons of food, water, tents and other equipment to the refugees Friday and Saturday. Iraq's defense ministry released a video showing people in the Sinjar mountains rushing to collect food and water as Iraqi C-130 cargo planes dropped 20 tons of aid at a time.
The video shows aerial views of hundreds of cars on top of the mountain and men rushing to collect the deliveries.
For weeks Kurdish peshmerga fighters managed to slow the advance of the Islamic State militants in the north, but in recent days their overstretched and increasingly outgunned forces were forced to pull back, in part because of Baghdad's delayed response.
As the Kurdish forces fell back and the Islamic extremists seized Sinjar, the Kurdish-speaking Yazidis had nowhere to go but uphill, into the Sinjar mountains, where their ancient religion holds that Noah's ark came to rest.
British officials estimated Saturday that between 50,000 and 150,000 people could be trapped on the mountain.
The Islamic State group views Yazidis as apostates and has vowed to kill all who do not convert to Islam.
Syrian Kurdish officials told The Associated Press that thousands of Yazidis fled across the border from Iraq into Syria after coming under attack by Islamic extremists.
Ekrem Hasso and Juan Mohammad said Saturday that the Yazidis fled after Kurdish fighters were able to open a safe passage into Syria following clashes with the Islamic State group, allowing them to loop back into Iraq at a safer northern crossing.
Thanks for reading CBS NEWS.
Create your free account or log in
for more features.