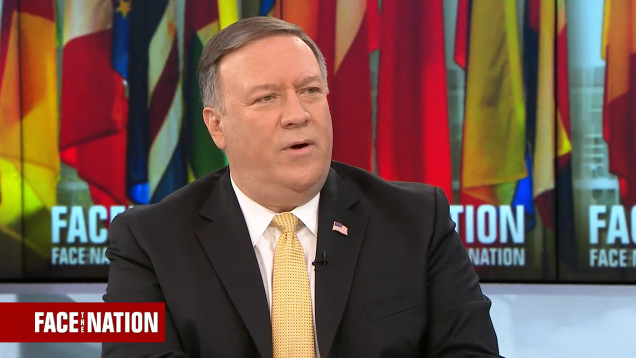 Pompeo says N. Korea to receive sanctions relief in exchange for "total" denuclearization
Secretary of State Mike Pompeo says that North Korea will receive sanctions relief should they follow through with total denuclearization of the Korean Peninsula. Pompeo, speaking on CBS News' "Face the Nation" on Sunday said that the regime will benefit from private investment, not assistance from U.S. taxpayers, in exchange for abandoning its nuclear weapon program.
"If we get if we get denuclearization, of course there will be sanctions relief. Certainly. There will be more than that. There'll be -- the president has a commitment and he will make this commitment to Chairman Kim, I am confident, that says if you do the things we need to do so that America is no longer held at risk by your nuclear weapons arsenal and that you get rid of your [chemical and biological weapons] program and missiles that threaten the world, we will ensure that your people have the opportunity for the greatness that I know Chairman Kim wants them to have," Pompeo said.
He added, "We can create conditions for real economic prosperity for the North Korean people that will rival that of the South, and that is our expectation. It won't be U.S. taxpayers. It will be American know-how, knowledge entrepreneurs and risk takers working alongside the North Korean people to create a robust economy."
His comments on Sunday mirror what he told reporters at a news conference with South Korean Foreign Minister Kang Kyung-wha on Friday. Pompeo said that the U.S. was willing to help the impoverished North boost its economy to levels like those in prosperous South Korea.
"If North Korea takes bold action to quickly denuclearize, the United States is prepared to work with North Korea to achieve prosperity on the par with our South Korean friends," he said Friday.
Pompeo told "Face the Nation" that his most recent trip to North Korea was designed to lay the groundwork for President Trump's upcoming summit with Kim. It was following that trip that Pompeo returned home with three Americans who had been imprisoned in North Korea.
The secretary said however, that while the administration's eyes remain open about the Kim regime's past, "we're hopeful that this will be different. That we won't do the traditional model where they do something, and we give them a bunch of money, and then both sides walk away."
Pompeo called Kim "very knowledgeable," saying that during their meetings "he's very capable of engaging in complex set of discussions."
"When I ask him a question about something that's a little off he answers it. There's no notecards. It is Chairman Kim in this case interacting with me directly, having a robust discussion about what the outlines of a successful negotiation between our two countries might ultimately be," added Pompeo.
Thanks for reading CBS NEWS.
Create your free account or log in
for more features.