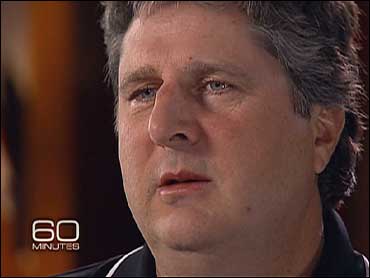 Mike Leach: The Mad Scientist Of Football
Geniuses march to a tune others don't hear, and often the stranger the character, the greater the innovation. Turns out it can be true even in football.
Last month the nation's college football coaches elected Mike Leach as coach of the year. Leach led Texas Tech to the top ten this season. He was competitive with the heavyweights with a middleweight budget and a fraction of their recruiting power.
As correspondent Scott Pelley reports, Leach is one of the few college coaches who has never played college ball - he's a lawyer by training. Even his biggest fans don't know quite what to make of him. That's why sportswriters have taken to calling Mike Leach the "mad scientist of football."
---

On Saturday nights in west Texas, all roads lead to Lubbock, the home of Texas Tech University, 28,000 students, one masked rider, and the Red Raider football team, the powerhouse that shouldn't be.

This was the best season in the school's history: 11-1, the most passing yards in the nation, and a ranking that rose to number two before settling at number seven. All of this came, with a budget a fraction the size of its rivals and little pedigree in a game where tradition is everything. How did they do it?

The answer is in the mind of Mike Leach. 60 Minutes came to Texas to talk football. Instead, we met a man who wanted to do card tricks, show us his cabinets, and his walls, pointing out photos.

Even his players have to listen to lectures on subjects from Apaches to pirates.

They are lectures, which eventually, improbably, wind their way back to football, like this one did: "I brought this sword in, this pirate sword replica and I talked about how are you gonna swing this sword. Are you gonna swing it out of control where you're. And maybe hit a few people then they'll hit you? Or are you gonna go like this? Or practice precisely and swing it like that. And I said they sharpen their swords, they polish their swords. Even the most derelict pirates will do that, just like you do in the weight room with your body. Your body is your sword."

"One sportswriter called you a "football madman" directing a sideshow," Pelley told Leach.

"Yeah, well, I don't know," he replied. "I mean, I don't have any disagreement with it really."

Leach seems fascinated by the world around him, but indifferent to how the world sees him. He's disheveled, tends to mumble, and talks in circles that only add to his mystery. He's known as a football intellectual. But, his eyes really light up when he talks about the simple, brutal collision of the offensive and defensive lines.

"I mean the reason they have football is because of the big guys and the, you know, when O Line D Line go one on one and you just get incredibly violent I mean that's what it's all about," he told Pelley. "And you get to see those guys just to war, you know? And it's got all the things that football entails. There's shouting, there's blood, there's boogers, there's a whole thing. I mean, there's spitting, there's fighting, there's ripped jerseys. There's someone grabbing someone's throat. I mean, it's why you have football."

"If you look at what Mike Leach has done for players, what he has gotten out of players, it's like magic," writer Mike Lewis said.

Lewis wrote "Moneyball," a book about how disadvantaged teams succeed in elite sports. "It's as if when he walks into a football program and grabs the quarterback, he sprinkles fairy dust on him, because the quarterback becomes a different human being," he said.

The "fairy dust" is Leach's inventive offense. It's a high speed aerial assault. Most teams run 70 plays in a game; Tech runs 90. Still, the most remarkable thing is not what Leach has, but what he's missing.

"When you're a superstar high school football player in that region, do you think 'Oh, I'm going to go to Texas Tech?' You got to Texas Tech after Texas and Oklahoma and Nebraska and even Texas A&M have passed on you and not offered you a scholarship. So this coach was taking athletes that had been kind of rejects of the big schools and using them to beat the big schools," Lewis said.

"Hurry, don't talk very much," Leach told his players. "Ok, here, listen, listen, listen, listen here. I got [a] former Red Raider. I want to introduce himself and say a few words."

"Hey guys, I'm Scott Pelley with 60 Minutes and I grew up in this town. One of my producers came in and said you know we've got to do the Texas Tech football team. And 'I said, I can't do that, I went to Texas Tech.' And we got in an argument and she won. So here we are. Now I'm going to ask a quick question and I need you guys to shoot this for me: how many of you guys are from Texas?" Pelley asked.

Most of the players indicated they were from the Lone Star State.

Leach gets his players wherever he can: when he needed a kicker, he didn't go to Florida or Oklahoma, he went to the stands.

Matt Williams was just a fan at a Tech Game until he volunteered in a promotional contest. If he could kick a field goal, he'd win free rent. "He takes one step and puts it right down the center for the goal post. I mean, that's pressure. I figure it'd be easier to kick extra points after that," Leach remembered.

Leach sent an equipment manager to catch the contest winner. Williams joined the team and didn't miss an extra point since.

Leach is best known for quarterbacks, who have won six passing titles in nine years. This season, his most potent forces are quarterback Graham Harrell and wide receiver Michael Crabtree.

In their most famous play, they were losing to the number one team in the nation, the University of Texas, with eight seconds left on the clock.

"You know, I'm curious, you're about to lose to the number one team in the nation. What's Leach's demeanor in that moment? Is he all wrought up?" Pelley asked.

"No," Graham Harrell said.

Asked if he's angry, Harrell said, "He never gets all wrought up too much. He usually stays pretty calm. And he just turned to me and said 'Alright, let's go score.' Pretty much in that tone."

Harrell agreed it was good advice. "What else is he going to say? He said go score and that's what we did."

The Raiders scored a touchdown. The upset of the season has been described by some sportswriters as among the greatest, single, plays in the history of college football.

Leach uses five receivers. Sometimes it seems they're spread side line to side line.

Harrell goes through his choices so fast, you can't really see it. So 60 Minutes put a camera on his helmet and asked him to explain.

"Vertical to a crossing route to the two backs underneath to a dig," the quarterback said.

Turns out, it's pretty complicated. "But with the linebackers that deep it usually mean z is kind of the same level as y," Harrell said.

It took more than three minutes to explain what goes through his head in a single play. "Go x, y, f to the flat because no one is over there because they're all trying to stop this guy. And he runs right over and we complete the pass and we're about to get some yards there."

Asked in how many seconds he does that, Harrell said, "I don't know, two seconds?"

"It's funny, if you look at the way he runs his offense, it looks a little more like a basketball offense than a football offense. It's all about spacing. It's all about stretching the defense out. Even his line is stretched all the way across the field. Sometimes it's hard to tell they're an offensive line there's so much space in between them. The second thing he does is, there's kind of a socialistic impulse at the heart of his football offense. And when it comes to halftime during a game, the first thing he asks is how evenly distributed are the touches of the football across those people because he knows that if the defense doesn't know where the ball is going, it makes it much more confusing for the defense," Mike Lewis said.

Leach started coaching as a kid, but he seems to have worked pretty hard at giving up the profession. He left sports for law school.

Asked what kind of lawyer he thinks he was going to be, Leach told Pelley, "I wanted to do products liability, as in if that camera explodes all over that guy we'd sue the camera company and the insurance company."

Education matters to Leach - his teams have among the highest graduation rates in the nation. And he's still trying new pursuits himself - he was even a guest weatherman at a Lubbock TV station.

"My favorite weather pattern happens to be when it rains mud. Dust comes through. Rain on top of it. It rains mud. This weather report here, what do I know, I'm a football coach. I suggest you go out and do what I do, get out of bed, go outside, then you know," he said. "A lot of the throwing guys have all come out of nasty weather."

"In the great game of college football writ large, does Mike Leach matter?" Pelley asked Lewis.

"Mike Leach has had a huge intellectual influence on the sport already. If you look at a Big XII football game now, versus ten years ago, it's a completely different event. It's because everybody's watching Mike Leach's offense.

"What would you say someone who says 'This is all well and good but he's never won the conference championship, let alone a national championship?'" Pelley asked.

"I'd say first, he's young. Just wait. I'd say also, God help you if he gets hold of the sort of athletes they get at Texas or Oklahoma or USC. Nobody else will stand a chance," Lewis predicted.

And toward the end of our time with Leach, we learned that even this interview was part of his plan to get those athletes: "I hope the next Graham Harrell and Michael Crabtree are sitting in their living rooms. And they're, you know, kind of astute, studious guys in addition to being talented and they say, 'Say, hey, I know what. You know the game's over but I'm gonna watch 60 Minutes. Oh Texas Tech, 60 Minutes, yeah, that's me.' You know? And then they come here. So hopefully that'll turn out that way."

Produced by Shawn Efran and Catherine Herrick
Thanks for reading CBS NEWS.
Create your free account or log in
for more features.