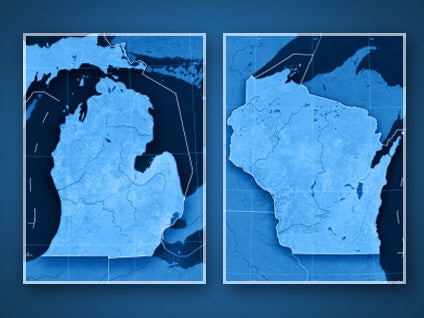 Michigan to Wisconsin: Don't steal our mitten
LANSING, Mich. - When it comes to a debate over whether Wisconsin or Michigan's Lower Peninsula most looks like a mitten, Alex Beaton of the Awesome Mitten website says the winner is Michigan, hands down.
Beaton spotted the knit mitten shaped like Wisconsin on the Travel Wisconsin website this week after it came to her attention during some lighthearted trash talking on Facebook about Michigan State's loss Saturday to Wisconsin in the Big Ten championship football game.
The 23-year-old Grand Rapids resident went on a bare-knuckled offensive against what she saw as a mitten impostor, and soon dozens of Michigan residents were tweeting comments such as, "Only one state has Mitten Mojo!"
"People in Michigan, we do identify ourselves so closely with the Mitten State," Beaton said. "We're America's high five!"
But Tom Lyons, who works in public relations in Neenah, Wis., said Michigan residents shouldn't be getting their yarn in a twist over Wisconsin's mitten theme for its winter tourism campaign.
"Wisconsin is the left mitten. Michigan is the right mitten. Even children know that one mitten doesn't cut it when it comes to Midwest winters," he said. Lyons formerly worked in Door County — Wisconsin's thumb — and said he often holds up his left hand when locating state places for others.
"We complement each other and it's not our fault that their thumb is smaller," he said, getting in a jab at his neighbor across Lake Michigan. "We're very similar and they should be flattered."
Michiganders have long held up a hand to show where they live, even getting both hands into play if they want to show the Lower and Upper peninsulas. Under former Gov. Jennifer Granholm, the state hired Michigan-based actor and playwright Jeff Daniels to promote the state's business opportunities by telling companies to come to Michigan and "give your company the Upper Hand."
Terri O'Brien and Lisa Burnia sell "Don't Mess with the Mitten" sweat shirts and T-shirts online and in southeast Michigan stores, and "M is for Mitten" is a popular children's book in the state. In west Michigan, there's the Wet Mitten Surf Shop in Grand Haven and Traverse City and the Mitten Bar in Ludington, a city connected by a summer car ferry to Manitowoc, Wis.
Wisconsin Department of Tourism spokeswoman Lisa Marshall said the intent of using a mitten shaped like the state for the winter tourism campaign wasn't to step on Michigan's toes — or fingers.
"We're not the Mitten State. Michigan, they can own that. We want to be known as the Fun State," she said. The department used a leaf shaped like Wisconsin for its fall tourism campaign and will move onto something new for spring, but for now, the mitten stays.
Dave Lorenz, manager of public and industry relations at Travel Michigan, said he was a little surprised by how many people wanted to take off the gloves to defend Michigan's mitten mastery. But he understands the impulse.
"We're not going to take this lying down," he said. "Wisconsin already took the Rose Bowl from us this year. They're not going to take the Mitten State status from us."
Lorenz said Wisconsin clearly is best known as the Cheese State, a point he hopes to illustrate by letting people vote Wednesday on the Travel Michigan website for which state they see as the "real" Mitten State.
The contest is being run in conjunction with the Wisconsin tourism department to "just basically to prove to our friends in Wisconsin — and they are our friends — that when it comes to iconic brand images like the Mitten State and the Great Lakes State and the Winter Wonderland State, we don't want them to trend on our brand," Lorenz said.
"Sometimes you got to put your foot down, or your mitten, so to speak," he added. "When it comes to the Mitten State status, there's no competition. Just look at the globe, look at the map. It's pretty obvious."
Thanks for reading CBS NEWS.
Create your free account or log in
for more features.