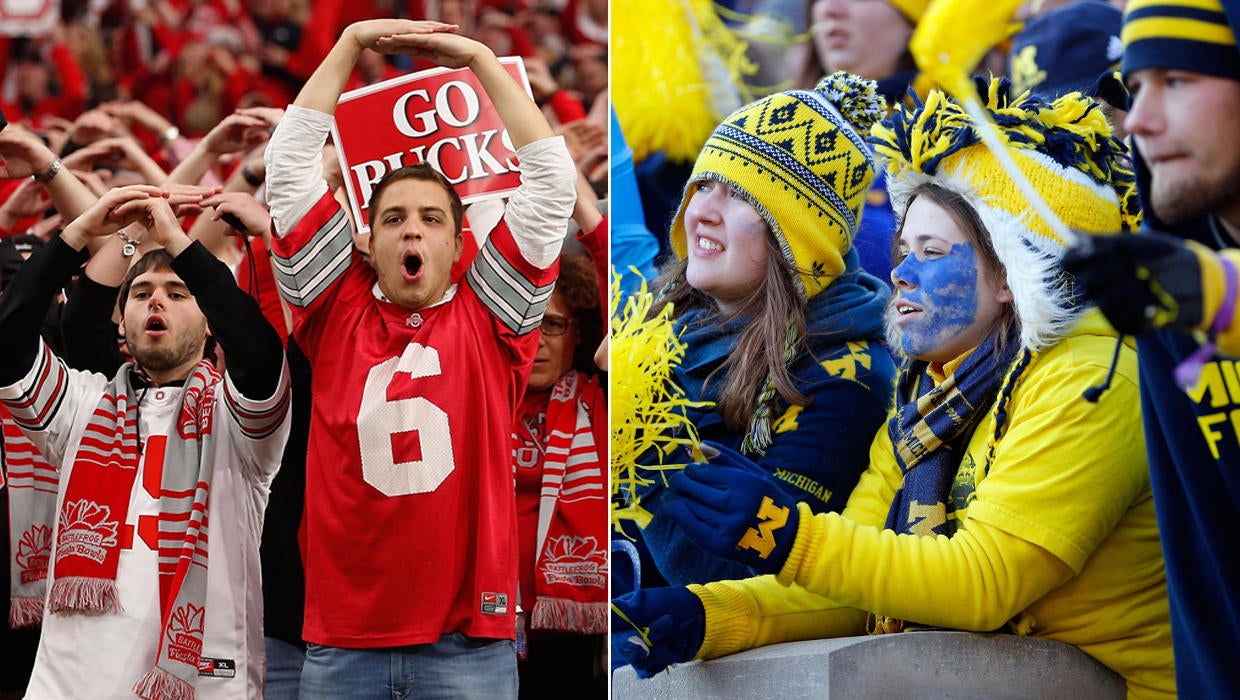 For love and football: A house divided
This year's big Michigan v. Ohio State football game is fast approaching, and normally I'd be pumped. I'm a proud University of Michigan alum with a closet full of maize and blue, and after years of embarrassing losses to the Buckeyes my Wolverines have a chance to exact some serious revenge.
But — dare I say it? — I'm torn. Deep in the back of my mind (deep, deep in a dark place that it's tough to even acknowledge) there's a slight chance I'm hoping for an Ohio State win.
Call this my confession. It's sacrilegious, I know. But before you take back my diploma, or call my sorority and order my name removed from the living room's alumni plaque, let me explain.
My boyfriend Michael went to Ohio State, class of 1999. He's not just a run-of-the-mill Buckeye fan; he is obsessed. And I fear an Ohio State loss would mean I could be in for a rough 364 days.
He came clean about it right away. It might have been our second date — over a glass of rose in the spring, months before the season's first kickoff — when he said he had to tell me about his one big vice [my heart drops]: Ohio State football. Ah, sweet relief. Drugs, gambling, hours spent searching Amazon for worthless junk… there are a lot worse things that could have followed that statement.
It didn't take long for me to recognize the depth of his obsession, and to realize that his love for Ohio State came with the mandatory hatred of its biggest rival, my beloved Michigan. And things had been going so well! Were we doomed?
Let's start with his car. It's red, of course, with a license plate that says BUCKNUTZ. A Bucknuts necklace from the 1975 season hangs from the front mirror. (Imagine how I feel when I occasionally borrow said car.)
Michael's dog is named Tressel. As in, former Ohio State head coach Jim Tressel, whose first stated objective as coach was to beat Michigan —or as he called us, the "team up North." When dog, Tressel, is walked, he doesn't just "poop," or "do his business;" Tressel makes a "Michigan." I once opened a drawer in Michael's bathroom and found a roll of toilet paper with the word "Michigan" printed all over it. Help me!
Let me state for the record now that aside from his Ohio State obsession, Michael is a very well-adjusted and productive person. He has a good job. He's thoughtful and loving and puts up with my crazy television-news schedule. He gets along with my family and is just an overall great guy. But…
Like Jimmy Fallon's character in "Fever Pitch," Michael's apartment is a shrine to his team, including a wall filled with framed Sports Illustrated covers from every edition that's featured Ohio State.
On game days, Michael wakes up with the excitement of a kid on Christmas. He meticulously chooses his outfit from an endless array of scarlet and gray jerseys, tees, hats and sneakers (Tressel also has his own Ohio State sweatshirt.) He listens to Columbus Sports Radio as he prepares for kickoff, and plays 97.1 the Fan while he watches the game on TV.
I must admit that some of Michael's enthusiasm has rubbed off on me. I've developed a respect for the deep Buckeye traditions, and for coach Urban Meyer. Call it "Ohio State appreciation by osmosis."
Before now, learning to appreciate Ohio State didn't seemed like a betrayal of my own alma mater. Until this game, our only real Ohio-Michigan tiff had come during a discussion of football stadiums when I mentioned the Big House. His response was: "It's not SO big. And it's definitely not loud." (Okay, Michael, those are fighting words.)
I am a Michigan girl. Although it's been more than a decade since I graduated, and I live in New York City now, my closest friends are the ones I made in college. My older brother also is a Michigan alum, so I was well-versed in Wolverine tradition before I even enrolled. Like other freshmen, I learned "Hail to the Victors" during orientation and still get the chills when I hear it. Fifteen years later, if I see someone (anyone!) on the street wearing a Michigan shirt, I instinctively yell "Go Blue!" I felt sadness watching the famed football program lose its esteem after Lloyd Carr left. And I take pride in watching coach Jim Harbaugh, a former Michigan quarterback, make Michigan a powerhouse once again.
But now Michigan and Ohio State are about to face off. It's a rivalry that dates back to 1897 — that's right: more than a century in the making. This year, both teams' playoff chances ride on "The Game."
Ohio State has only lost one game so far this season, to Penn State. Michael went through the five stages of grief: denial, bargaining, anger, depression and (eventually) acceptance. And he did it quicker than I had feared. But with a rivalry as heated as Michigan v. Ohio State, and with so much riding on a win, we could be stuck in that anger/depression stage for a long time. Michael has told me it would probably ruin sports for him until the spring.
So yes, of course I want Michigan to win. It's time. I just don't want Ohio State to lose. I know a loss would hurt Michael more than a win would please me. Maybe I'm maturing? In my mid-thirties, have I finally learned what unconditional love is?
I'm still not sure how I'll feel on Game Day. And I know we're not the only "house divided." I guess if this is our biggest problem, we're doing pretty well.
Thanks for reading CBS NEWS.
Create your free account or log in
for more features.