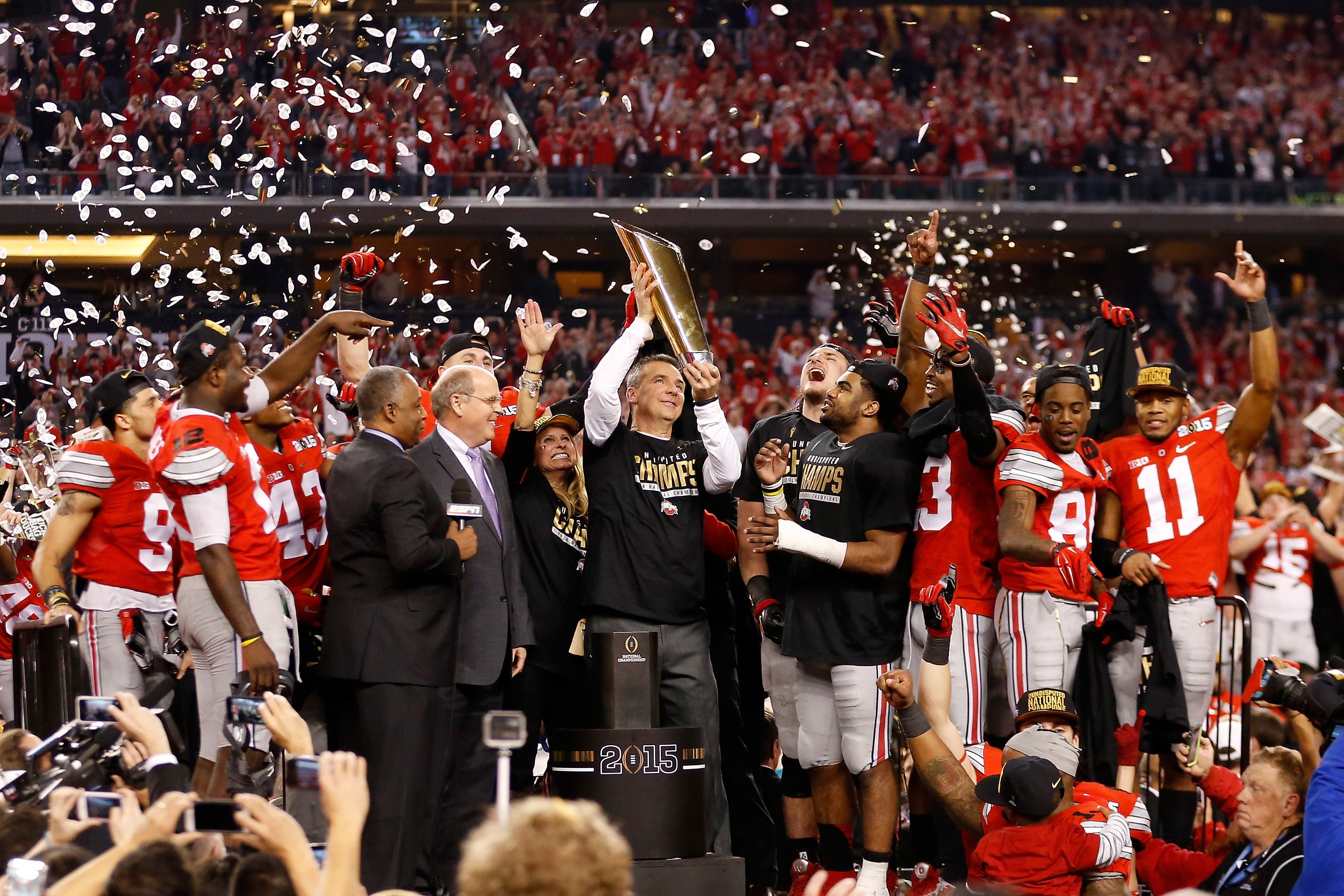 Ohio State wins college football's national championship
ARLINGTON, Texas -- Ezekiel Elliott rushed for 246 yards and four touchdowns and Ohio State won the first national title in college football's playoff era, running over Oregon, 42-20, Monday night at the $1.2 billion home of the Dallas Cowboys.
Elliott scored three straight times in the second half for the Buckeyes, seeded fourth in the four-team bracket, after the Ducks pulled within a point in the third quarter.
The Buckeyes overcame four turnovers to give Urban Meyer his first title in his third season at Ohio State after he won two championships at Florida under the old BCS system.
Meyer became only the second coach in college football history to win championships with two different schools. The other is Alabama's Nick Saban.
"The chase is complete," Meyer said. "It's done. It's over. They accepted their final mission, their final assignment and their final directive, and they did it. That was our whole mantra this last couple of weeks. A job well done, and we're very grateful."
Cardale Jones, who started the season as Ohio State's third-string quarterback, accounted for two scores as the Buckeyes won their fifth national championship.
Heisman Trophy winner Marcus Mariota threw a touchdown pass on the opening drive, but couldn't lead the second-seeded Ducks to their first national title.
His season ended without the honor that mattered to him most. Going into the game, Mariota said he would trade the Heisman Trophy he won this season for a national championship, because the team honor was more important to him that an individual award.
It may have been Mariota's final game at Oregon. The junior has until Thursday to decide if he will skip his senior season and declare for the NFL draft. Mariota, who has already completed his degree, is expected to be a top pick.
He said after the game he hasn't made up his mind, and would take a few days to discuss the decision with his family.
The game was a contrast in styles, writes CBSSports.com Bracketoloogy/Bowls Expert Jerry Palm. "Oregon came into the inaugural College Football Playoff championship game boasting speedy playmakers and a speedy offense, but Ohio State used a combination of its own speed and brute strength to dispatch the Ducks," he says.
Ohio State began the first major college football playoff as a team that faced questions about whether it belonged at all. It was a team that never would have had a chance to win a title under the old postseason system.
But there's no question about it now: Ohio State is the truest champion big-time football has ever crowned, showered by golden confetti as its band played "Hang on Sloopy" when the clock hit 0:00.
Meyer's Buckeyes overcame two injured Heisman contenders and one awful early season loss at home to Virginia Tech to win their first national title since 2002. Back then, the Bowl Championship Series decided the top team at the end of the season - usually. Before that, it was up to The Associated Press and coaches' polls to sort out which team was best, with a little help from the bowls. The Buckeyes have three of those championships, too.
And if there was any concern that fans wouldn't travel to the championship game in the new postseason system, the packed house at the home of the Dallas Cowboys, awash in Buckeyes' scarlet and Ducks' yellow, put that to rest. The crowd of 85,689 was as charged as any BCS national championship game.
Thanks for reading CBS NEWS.
Create your free account or log in
for more features.