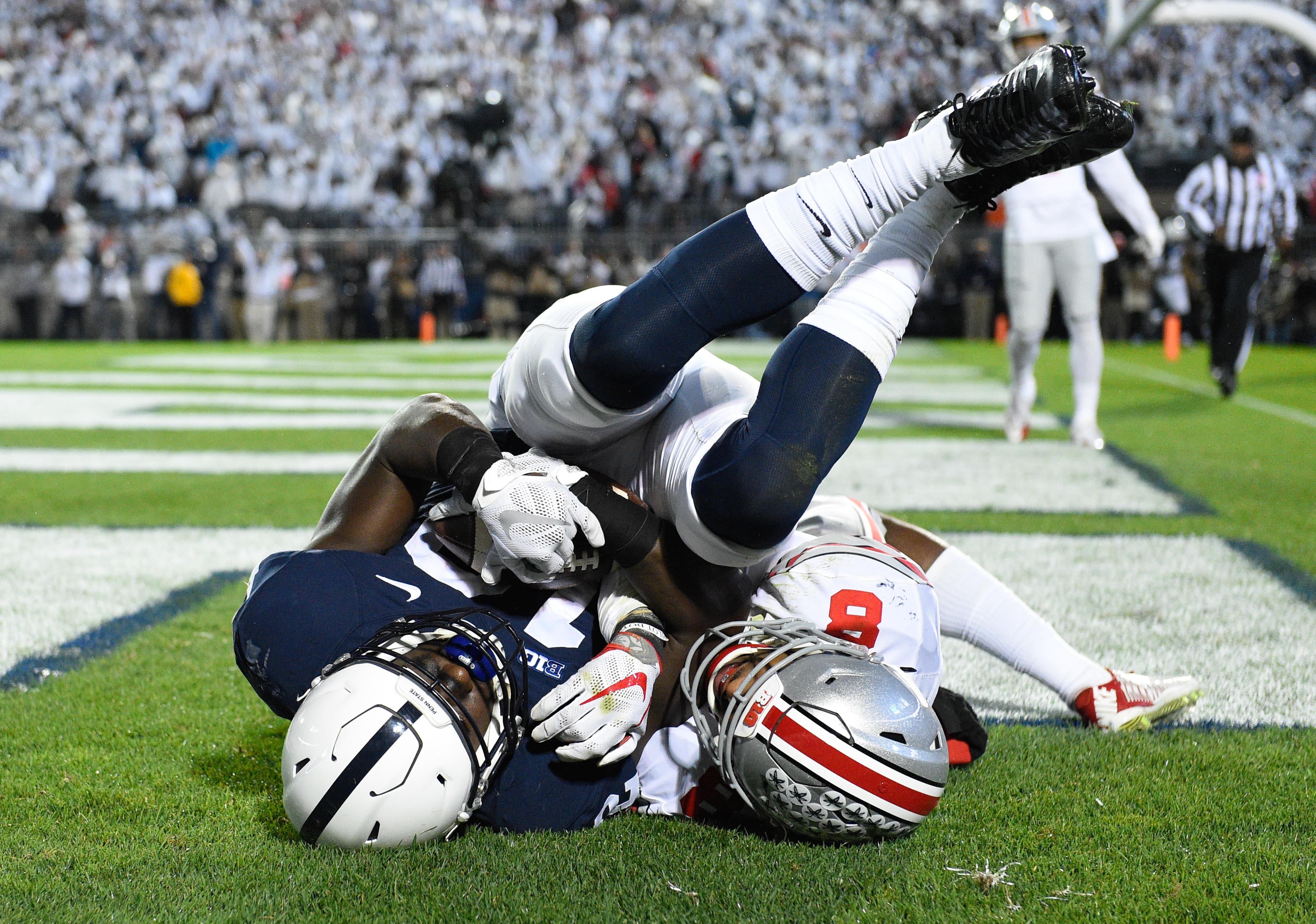 Penn State Nittany Lions stun No. 2 Ohio State Buckeyes; top 25 NCAA football roundup
STATE COLLEGE, Pa. - Grant Haley returned a blocked field goal 60 yards for a touchdown with 4:27 left and Penn State upset No. 2 Ohio State 24-21 on Saturday night for the Nittany Lions' biggest victory in the post-Joe Paterno era.
Penn State (5-2, 3-1 Big Ten) took its first lead when Marcus Allen leaped high to block Tyler Durbin's 45-yard attempt and Haley made the scoop and sprint to the end zone. The white-out crowd of 107,280 at Beaver Stadium went nuts and Penn State's defense closed out the Nittany Lions' first victory over Ohio State since 2011 with two sacks of J.T. Barrett.
The Buckeyes (6-1, 4-1) had their 20-game road winning streak snapped and the Big Ten East race that looked like an inevitable march toward an Ohio State-Michigan showdown on Nov. 26 just took a detour.
Trace McSorley cut Ohio State's lead to 21-14 early in the fourth quarter with a 2-yard touchdown run. On the next Ohio State possession, Cam Brown blocked Cameron Johnson's punt to set up Penn State at the Buckeyes 28. Penn State settled for Tyler Davis' 34-yard field goal with 9:33 that made it 21-17.
CBSSports.com's Tom Fornelli reports that the loss doesn't put Ohio State out of the national championship picture.
"It's still 3-1 in the conference, it's still going to be favored in the rest of its games, and it's still gets to play Michigan in Ann Arbor," Fornelli writes. "It's also incredibly talented. If it wins out it will be Ohio State going to Indianapolis, even if Penn State wins out. If the Buckeyes win there, we all know a one-loss Ohio State team will be selected for the College Football Playoff. So no matter how tempting it is, don't go thinking that just because Ohio State -- which was playing its second consecutive road game against an opponent coming off a bye -- is done, or it was a fraud. It's still very capable of winning the Big Ten and getting to the CFP."
SMU 38, NO. 11 HOUSTON 16
DALLAS - Ben Hicks threw three touchdown passes and ran for another score and SMU stunned Houston for its biggest victory since the pre-death penalty Pony Express era.
The Cougars (6-2, 3-2 American) lost for the second time after a 5-0 start that included a season-opening win over then-No. 3 Oklahoma that vaulted Houston into the Top 10.
The last time the Mustangs (3-4, 1-2) beat a team ranked 11th or higher, they were No. 4 and finishing off a near-perfect 1982 season (11-0-1) with a 7-3 victory over sixth-ranked Pittsburgh in the Cotton Bowl. SMU tied No. 7 Texas A&M in 1994.
Greg Ward Jr. couldn't shake a persistent SMU pass rush or find receivers for big plays, finishing with 241 yards passing - almost 100 below his average - and just 3 yards rushing on 17 carries thanks to seven sacks. One of the sacks was for an 18-yard loss to the Houston 22 when coach Tom Herman went for it on fourth down trailing 28-14 early in the fourth quarter.
Herman got conservative moments later, choosing a 19-yard field goal attempt on fourth down from the SMU 2. Ty Cummings hit the right upright for his second miss.
Hicks was 16 of 31 for 228 yards.
NO. 16 OKLAHOMA 66, TEXAS TECH 59
LUBBOCK, Texas - Baker Mayfield had seven touchdown passes and 545 yards to help Oklahoma beat Texas Tech in a game that broke the NCAA record for combined offensive yards with 1,708 yards.
Mayfield completed 27 of 36 passes and broke the school game touchdown mark of six held by Landy Jones. His TD passes went for 56, 49, 23, 23, 43, 34 and 15 yards.
Joe Mixon caught three touchdowns passes and Dede Westbrook had two for the Sooners (5-2, 4-0 Big 12). Mixon also ran for two touchdowns, a 46-yarder and a 42-yarder. He finished with 263 yards rushing and 114 yards receiving. He's the first Sooner ever to reach 200 yards rushing and 100 receiving in the same game.
Westbrook caught nine passes for 202 yards.
Pat Mahomes threw for five touchdowns and 734 yards for Texas Tech (3-4, 1-3). His passing yards total tied the NCAA record, matching Connor Halliday when Washington State played California in 2014.
The 125 points are the second-most in a game involving a ranked team. The record is 133 in then-No. 9 West Virginia's 70-63 victory over then-No. 25 Baylor on Sept. 29, 2012.
NO. 19 UTAH 52, UCLA 45
PASADENA, Calif. - Joe Williams rushed for a school-record 332 yards and four touchdowns in his second game back from retirement, and Utah held off pass-happy UCLA.
Cory Butler-Byrd returned the opening kickoff for a 99-yard touchdown on a day of stunning superlatives for the Utes (7-1, 4-1 Pac-12) in their second straight win at the Rose Bowl.
Williams, who quit football last month before returning last week, broke off TD runs of 3, 43, 64 and 55 yards in the most prolific rushing performance ever by a UCLA opponent.
Mike Fafaul also set UCLA records for pass attempts (70) and completions (40) while throwing for 464 yards, third most in school history. The former walk-on had five touchdown passes and four interceptions for the Bruins (3-5, 1-4). They have lost four of their last five games.
Williams ended his retirement after injuries decimated Utah's backfield depth. The senior has 511 yards rushing in two games since, including the biggest ground game in school history against UCLA's previously above-average defense. Williams broke Mike Anderson's Utah single-game record shortly before shredding Edgerrin James' record for a Bruins opponent on his fourth scoring run with 10:28 to play.
UCLA's Austin Roberts caught a TD pass with 4:38 left to trim Utah's lead to seven points. The Bruins got the ball back with 40 seconds left, but couldn't move.
NO. 1 ALABAMA 33, NO. 6 TEXAS A&M 14
TUSCALOOSA, Ala. - Jonathan Allen returned a fumble 30 yards for a touchdown late in the third quarter to help Alabama beat Texas A&M.
The Crimson Tide (8-0, 5-0 Southeastern Conference) moved on as the powerhouse league's last unbeaten team, getting yet another in a long string of defensive scores.
Allen, a lineman, scooped up the ball after Ryan Anderson knocked it loose from Keith Ford to finally build a cushion over the Aggies (6-1, 4-1), who led 14-13 well into the third.
It was 20-14 when Allen extended Alabama's streak to 10 games with a score on defense or special teams, half the duration of a winning streak now at 20 going into an open date.
Alabama's freshman quarterback Jalen Hurts then galloped 37 yards for another score, stepping out of a defender's grasp and making a nifty move to get past another. The Tide was rolling again, a powerful encore to easy wins over ranked Tennessee and Arkansas teams.
Alabama racked up five sacks of Trevor Knight, the quarterback who engineered Oklahoma's Sugar Bowl upset over Alabama as a redshirt freshman with a 348-yard, four-touchdown performance. He passed for 164 and ran for 24 in the semi-rematch.
Hurts passed for 166 yards and rushed for 93 more, throwing for a pair of touchdowns while getting intercepted twice. Damien Harris rushed 17 times for 126 yards.
NO. 3 MICHIGAN 41, ILLINOIS 8
ANN ARBOR, Mich. - Wilton Speight threw for 253 yards and two touchdowns in three quarters before watching Michigan finish off Illinois.
The Wolverines (7-0, 4-0 Big Ten) were leading 34-0 in the fourth quarter when Jim Harbaugh put backup quarterback John O'Korn in the game and rested Speight.
The Fighting Illini (2-5, 1-3) were relegated to starting their third-string quarterback with a familiar name. Jeff George Jr., son of the former Illinois and NFL quarterback, was 4 of 15 for 95 yards with a TD, an interception and a fumble in his first start. The redshirt freshman played because Wes Lunt and Chayce Crouch are injured.
Speight, who completed 16 of 23 passes, threw a 3-yard TD pass to Jake Butt and a 21-yard pass to Tyrone Wheatley Jr. for a score in the first quarter. Khalid Hill's ninth touchdown and De'Veon Smith's 4-yard run gave the Wolverines a 28-0 lead after their first four possessions.
NO. 5 WASHINGTON 41, OREGON STATE 17
SEATTLE - Jake Browning threw three touchdowns passes to give him 26 for the season, added another rushing TD, and Washington used a big first half to roll past Oregon State.
The Huskies (7-0, 4-0 Pac-12) won their 10th straight, a streak that started with a victory at Oregon State last season. It is Washington's longest win streak since winning 12 straight in 2000-01.
Browning was 14 of 28 for 291 yards. He threw touchdown passes of 19 yards to Aaron Fuller and 23 yards to Dante Pettis in the first quarter, and a 41-yarder to Pettis in the third quarter.
John Roos had 115 yards receiving, and Pettis added 112 - both with four catches. Myles Gaskin had 128 yards on 18 carries against the undermanned Beavers (2-5, 1-3).
NO. 7 LOUISVILLE 54, NORTH CAROLINA STATE 13
LOUISVILLE, Ky. - Lamar Jackson broke Louisville's single-season record with a hand in four first-half touchdowns, and the Cardinals had three interceptions.
Jackson threw three touchdown passes and had a 36-yard scoring run, giving him 34 TDs with five games to play. Dave Ragone and Brian Brohm each had 33.
Jackson had 359 of his 431 yards of offense by halftime. He threw TD passes of 74 yards to Jaylen Smith, 3 yards to Cole Hikutini and 16 yards to Jamari Staples.
Jeremy Smith had two 1-yard scoring runs for Louisville (6-1, 4-1 Atlantic Coast Conference) against the overmatched Tar Heels (4-3, 1-2).
Blanton Creque had four field goals and six conversions to set a single-game school scoring record for a kicker with 18 points.
NO. 8 NEBRASKA 27, PURDUE 14
LINCOLN, Neb. - Tommy Armstrong Jr. accounted for 303 yards of offense and two touchdowns, and Nebraska came back from a four-point halftime deficit to beat Purdue.
The Cornhuskers (7-0, 4-0 Big Ten) probably didn't convince the skeptics who say they aren't worthy of a Top 10 ranking, but they'll head to No. 10 Wisconsin next week with their best record since 2001.
Armstrong was 17 for 31 for 252 yards and ran 10 times for 51 yards.
Purdue (3-4, 1-3) managed only 94 yards in the second half in interim coach Gerad Parker's first game since taking over for the fired Darrell Hazell.
The Huskers lost 55-45 at Purdue last year, and Memorial Stadium was in a stunned silence as the Boilermakers pulled out to a 14-10 lead on David Blough's two touchdown passes to DeAngelo Yancey, the second one an 88-yard catch-and-run. But the Huskers scored on three straight possessions after going three-and-out on their first series of the second half.
NO. 10 WISCONSIN 17, IOWA 9
IOWA CITY, Iowa - Corey Clement ran for 134 yards and a touchdown and Wisconsin snapped a two-game skid.
Alex Hornibrook passes for 197 yards to help the Badgers (5-2, 2-2 Big Ten) win for the fourth straight time in Iowa City.
Backup Bart Houston threw a touchdown pass, and Clement's 1-yard run put the Badgers ahead 14-6 midway through the third quarter.
The Badgers allowed just 236 yards on 60 plays and held the Hawkeyes (5-3, 3-2) without a touchdown for the first time all season.
C.J. Beathard had 153 yards passing for Iowa. The Hawkeyes have lost three straight at home.
NO. 12 WEST VIRGINIA 34, TCU 10
MORGANTOWN, W.Va. - Skyler Howard threw four touchdown passes and West Virginia's improving defense held TCU scoreless in the second half.
West Virginia (6-0, 3-0 Big 12) is off to its best start since winning its first seven games in 2006.
Howard had first-half TD tosses of 10, 22 and 11 yards to stake West Virginia to a 21-10 lead. Howard finished 16 of 23 passing for 231 yards.
West Virginia used scoring drives of 11 and 15 plays in the third quarter to eat up most of the clock.
TCU (4-3, 2-2) had only five second-half possessions. Three ended in punts, Deante' Gray fumbled away a kickoff and the final possession ended on downs.
NO. 21 AUBURN 56, NO. 17 ARKANSAS 3
AUBURN, Ala. - Eli Stove broke free for a 78-yard touchdown run on Auburn's first play, giving the Tigers momentum they never lost in a surprisingly dominant victory.
Auburn held out starting running back Kerryon Johnson and still ran for 543 yards, a school record for a Southeastern Conference regular-season game. With former Auburn star Bo Jackson watching, Kamryn Pettway had 192 yards rushing with two touchdowns. Johnson ran well in pregame warmups but did not play after hurting his right ankle against Mississippi State on Oct. 8.
Auburn (5-2, 3-1) has won four straight.
The Tigers held Arkansas (5-3, 1-3) to 215 total yards. Rawleigh Williams ran for only 22 yards one week after he set a career high with 180 yards in a 34-30 win over Mississippi.
NO. 20 WESTERN MICHIGAN 45, EASTERN MICHIGAN 31
KALAMAZOO, Mich. - Zach Terrell threw for 398 yards and three touchdowns and Western Michigan had 569 yards of total offense.
Carrington Thompson had eight catches for 177 yards and two touchdowns, and Jarvion Franklin ran for 114 yards and a touchdown for the Broncos (8-0, 4-0 Mid-American). The game was the first at home as a nationally ranked team in school history.
Brogan Roback threw for 319 yards and a touchdown and ran for a score for Eastern Michigan (5-3, 2-2).
NO. 22 NORTH CAROLINA 35, VIRGINIA 14
CHARLOTTESVILLE, Va. - Mitch Trubisky threw three touchdown passes and North Carolina limited Virginia to one trick-play touchdown until the fourth quarter.
Trubisky hit Bug Howard for 40 yards on a trick play, Thomas Jackson for 10 yards and Austin Proehl for 46 yards for touchdowns for the Tar Heels (6-2, 4-1 Atlantic Coast Conference). North Carolina won its seventh straight in the series and ninth true road game in a row.
The Cavaliers (2-5, 1-2) got their first touchdown when they lined up for a field goal, had the entire line split out far to the left. Evan Butts snapped it 30 yards to his left to Matt Johns, the holder now acting as the quarterback, and he hit Butts for an 11-yard touchdown strike.
North Carolina's Elijah Hood ran for 107 yards and a touchdown.
NO. 25 LSU 38, NO. 23 MISSISSIPPI 21
BATON ROUGE, La. - Leonard Fournette broke LSU's single-game rushing record on just his first eight carries - scoring on three runs of 59 yards or more.
Fournette finished with 284 yards rushing in his first action since aggravating a left ankle injury on Sept. 24. The speed and force with which he carried the ball left little doubt about how good he feels now. His touchdowns went for 78, 76 and 59 yards. He averaged 17.8 yards on 16 carries.
The victory put LSU (5-2, 3-1 Southeastern Conference) at 3-0 under interim coach Ed Orgeron, who replaced Les Miles when the Tigers were 2-2.
LSU finished with 515 total yards against Ole Miss (3-4, 1-3).
NO. 24 NAVY 42, MEMPHIS 28
ANNAPOLIS, Md. - Will Worth rushed for a career-high 201 yards and three touchdowns, and Navy ran over Memphis for its 14th consecutive home victory.
Worth also completed three of four passes for 85 yards and two scores. The last Navy player to rush for 200 yards was Keenan Reynolds in 2014.
The Midshipmen (5-1, 4-0 American Athletic Conference) gained a season-high 447 yards on the ground, averaging 6 yards per carry.
The victory put Navy in sole possession of first place in the AAC West and served as a suitable encore for its 46-40 upset of defending league champion Houston two weeks ago.
Tony Pollard returned a kickoff 100 yards and Riley Ferguson completed 25 of 40 passes for 333 yards and two touchdowns for Memphis (5-2, 2-1).
Thanks for reading CBS NEWS.
Create your free account or log in
for more features.