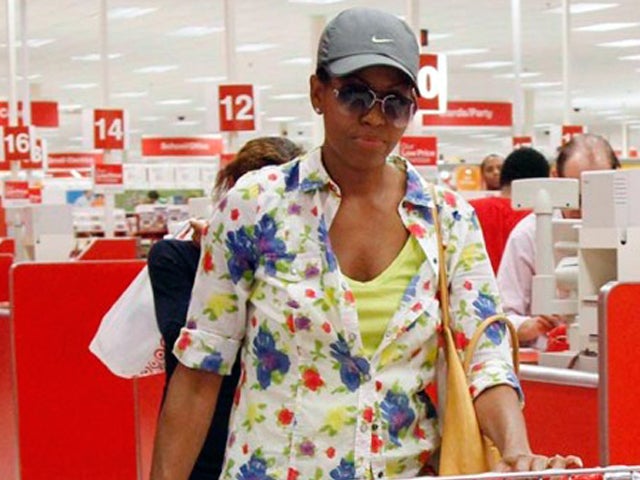 Michelle Obama shops incognito at Target (Photo)
AP photographer Charles Dharapak told CBS News he took pictures of the first lady at the Target on Route 1 in Alexandria, Virginia.
The first lady's office confirmed that the pictures showed Mrs. Obama, though it did not immediately respond when asked if it tipped off Dharapak.
Pictures: First in style
Pictures: Michelle Obama's European style
Pictures: Michelle Obama's best evening looks
"It is not uncommon for the First Lady to slip out to run an errand, eat at a local restaurant or otherwise enjoy the city outside the White House gates," said Kristina Schake, communications director for the First Lady.
In the photographs, the first lady is wearing a Nike baseball cap, sunglasses and a floral-print button-down shirt with a neon v-neck underlay. She is seen holding a pair of Target bags and pushing a shopping cart. You can see the two full-length photos below.

The pictures contrasts significantly with one taken two days ago by Dharapak showing the first lady at the White House in a sleek blue pencil skirt, high heels and a ruffled blouse.

The AP reported that Secret Service agents, dressed casually, arrived at the store 30 minutes before the first lady, who shopped with an assistant. She reportedly spent 30-40 minutes shopping and was only recognized by her cashier.
The first lady was seen wearing a dress from Target, which sells relatively low-cost clothing, in Phoenix in August 2009. She has also been seen wearing clothes from J. Crew and The Gap.
In the 2008 presidential campaign, Mrs. Obama proudly proclaimed herself "more of a Target shopper," saying she preferred the store to Wal-Mart.
Thanks for reading CBS NEWS.
Create your free account or log in
for more features.