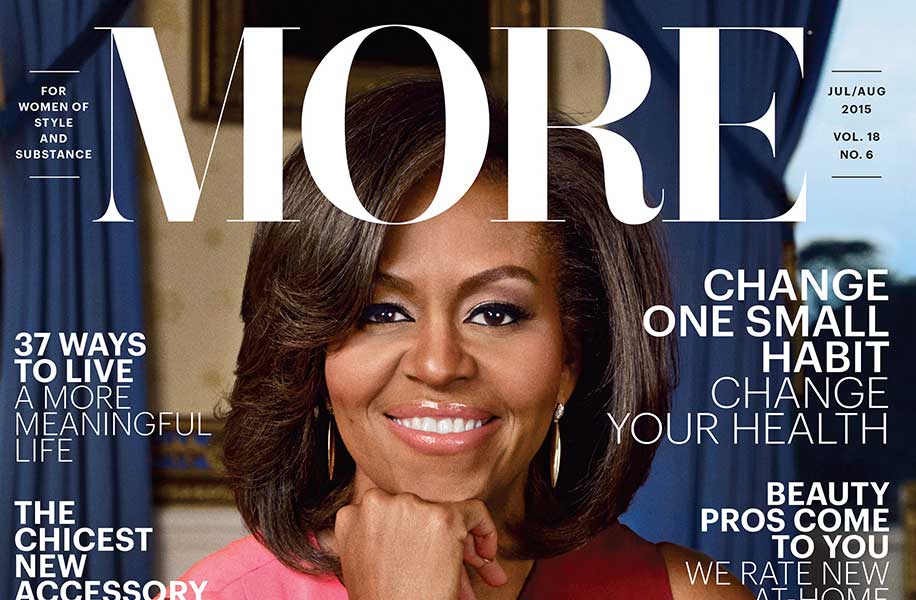 Michelle Obama: First lady and magazine editor
Michelle Obama will be adding another job to the portfolio of issues she handles as first lady: she has agreed to serve as the first-ever guest editor for MORE magazine.
The magazine announced Thursday that Obama would have editorial oversight of the July/August issue and grace its cover for the third time.
Guest-editing required first lady to pitch story ideas and write and approve copy, editor-in-chief Lesley Jane Seymour told the Associated Press. She said it allowed Obama to showcase several of the issues that she works on from the White House. That includes the Let's Move! initiative to curb childhood obesity; Reach Higher, which encourages young people to complete their post-high school education; Joining Forces, which supports service members, veterans and their families; and Let Girls Learn, a more recent project that focuses on worldwide education for girls.
Obama's own contributions, beyond editing duties, include a photo spread on candid behind-the-scenes photos shot at the White House and an essay entitled, "What Women Owe One Another."
"As First Lady, you can get lost in all the ceremonial responsibilities or find yourself pulled in a million different directions because there's so much important work to do," Obama said in a press release from MORE. "It's still a constant balancing act. Like everyone else, I'm calibrating and recalibrating day by day as my girls grow up and I continue to grow in my role as First Lady. But I couldn't be more honored to have this opportunity to serve our country."
The theme of the issue is "More Impact," which will be captured by a hashtag campaign that encourages readers to post photos of themselves making a difference on social media and suggestions for how they can get more involved with the world around them.
Seymour told the Associated Press that Obama was a very involved guest editor.
She "was reading every page and asking for changes up until the last minute," Seymour said. "She had to approve absolutely everything. She had to suggest various things, too."
Thanks for reading CBS NEWS.
Create your free account or log in
for more features.