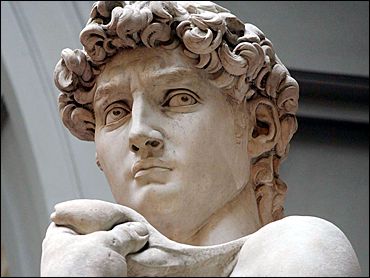 Michelangelo's David On The Move?
Michelangelo's heroic David could be on the move after 135 years in the museum designed to showcase the marble masterpiece.
The impact of mass tourism on Florence's city center is forcing officials to consider remedies, including one drastic proposal to move the 14-foot statue from the Galleria dell'Accademia to the edge of the city where a new theater is planned.
Just a few steps from the city's famed cathedral, the museum housing the David is one of the city's main draws, with long lines of tourists spilling onto the streets outside.
To help relieve the congestion, Tuscany's top cultural official, Paolo Cocchi, has proposed moving David to a theater to be built near the city's Leopolda Station.
Mayor Leonardo Domenici agrees that congestion is a problem, along with the deposits of chewing gum stuck to the building by idle tourists waiting to view the 500-year-old nude sculpture.
"We have to spend huge sums of money to remove chewing gum stuck on the outside walls of the Accademia," Domenici told reporters at the Foreign Press Association in Rome on Thursday. About 1.3 million people are estimated to visit the Accademia every year.
"I believe that the response to the problems of mass tourism requires study and analysis. Everything is up for discussion and everything has its time. I don't believe that the question of David will be among our immediate priorities."
Domenici said that the theater where David would be moved is not slated for completion until 2010-2011.
Moving the enormous marble statue would be a huge logistical exercise, not without risks. When the statue was completed in 1504, it took four days to move it from Michelangelo's studio to its original home on the Piazza della Signoria, where a replica now stands.
The statue has been under a cupola at the Accademia since 1873 when it was moved inside to protect it from the elements.
Inexpensive travel means tourists have flooded Florence.
Florence officials plan to put in three tram lines to reduce traffic to the city center as pollution and traffic vibration threaten some of the city's architectural treasures.
Thanks for reading CBS NEWS.
Create your free account or log in
for more features.