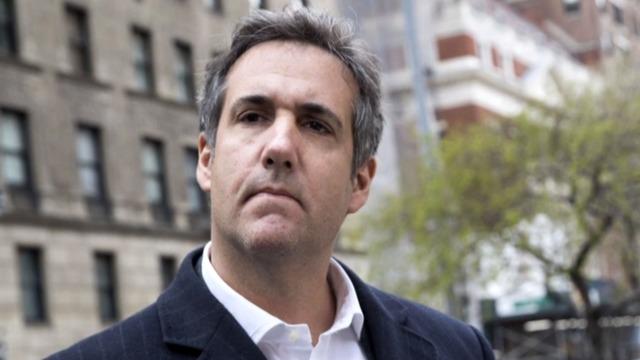 Michael Avenatti claims Michael Cohen received payments from firm controlled by Russian oligarch
Michael Avenatti, the lawyer for adult film actress Stormy Daniels, claims to have evidence of a series of payments made to a bank account in Trump lawyer Michael Cohen's name – including from a company linked to a Russian oligarch and two major corporations, AT&T and Novartis.
CBS News has reviewed financial documents that appear to support Avenatti's account of the transactions. Michael Cohen did not respond to CBS News' requests for comment.
Avenatti, who has been aggressively pursuing Cohen and President Trump, laid out the claims in a 7-page memo Tuesday evening.
Cohen established a corporation called Essential Consultants LLC in October 2016, just weeks before the presidential election, according to Avenatti.
Essential Consultants then opened a bank account at First Republic Bank. It was from this account that a $130,000 payment to a representative of Stormy Daniels was made, according to Avenatti.
The question Avenatti claims to answer is where that and other money ultimately came from.
He points to a series of alleged payments, including $500,000 from an American investment firm linked to Russian oligarch Viktor Vekselberg, who was made a target of U.S. sanctions last month.
That investment firm, Columbus Nova, is affiliated with the Renova Group, which is controlled by Vekselberg. In a statement, Vekselberg and the Renova Group said: "Neither Victor Vekselberg nor Renova Group has ever had any contractual relationship with Mr. Cohen or Essential Consultants."
In a separate statement, Columbus Nova said: " ... Contrary to recent reports, Columbus Nova LLC and Renova U.S. Management, LLC (operated under the Columbus Nova umbrella) are not now, nor have ever been, owned by any foreign entity or person. In fact, since its founding nearly 20 years ago, Columbus Nova has been and continues to be 100% owned by Americans."
Avenatti also listed other payments: $399,920 from Novartis, a Swiss pharmaceutical company; $150,000 from Korea Aerospace Industries; and $187,500 from Elliott Broidy, a former deputy finance chairman of the Republican National Committee.
According to Avenatti, AT&T paid Cohen's company a total of $200,000 over a series of four payments of $50,000, dating from 2017 to early this year.
In a statement Tuesday, AT&T said: "Essential Consulting was one of several firms we engaged in early 2017 to provide insights into understanding the new administration. They did no legal or lobbying work for us, and the contract ended in December 2017."
AT&T announced a bid to acquire Time Warner in October 2016, a deal that Mr. Trump was quick to speak out against. The Department of Justice filed suit to block the merger in November 2017 - a ruling is due this June.
It's unclear where Avenatti got these documents. Noah Shachtman, executive editor of The Daily Beast, said he had confirmed the payments. Shachtman told CBSN his source wondered aloud to him, "How the f did Michael Avenatti find out about this?"
The New York Times reported Tuesday that Vekselberg was stopped and questioned at a New York-area airport by investigators for special counsel Robert Mueller earlier this year. NYU law professor Ryan Goodman, who is a former special counsel for the Defense Department, told CBSN this seems to connect the dots back to Mueller's investigation into Russian influence in the 2016 election.
Novartis provided CBS News with a statement early Wednesday saying: "In February 2017, Novartis entered into a one year agreement with Essential Consultants shortly after the election of President Trump focused on US healthcare policy matters. The terms were consistent with the market. The agreement expired in February 2018.
"As already stated, the engagement of Essential Consultants predated Vas Narasimhan becoming Novartis CEO. Dr. Narasimhan had no involvement whatsoever with this arrangement.
"Novartis was contacted in November 2017 by lawyers from the Special Counsel's office regarding the company's agreement with Essential Consultants. Novartis cooperated fully with the Special Counsel's office and provided all the information requested. Novartis considers this matter closed as to itself and is not aware of any outstanding questions regarding the agreement."
A Novartis statement later on Wednesday said that the company entered into an agreement that would pay Essential Consultants $100,000 per month. It said that Novartis did not continue to engage after an initial meeting, but that payments continued because of the terms of the contract.
Korea Aerospace gave CBS News a statement early Wednesday saying, "As a service contract, KAI has received legal Advises from Essential Consultants, LLC for Cost Accounting Standards (CAS). The Monetary Transaction between KAI and Essential Consultants, LLC was indeed legal and rightful business transaction. This business transaction was part of company's effort to meet global standard by complying accounting provisions."
Thanks for reading CBS NEWS.
Create your free account or log in
for more features.