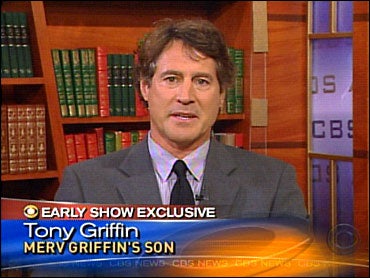 Merv Griffin's Only Child Discusses Loss
Merv Griffin was an entertainment industry giant. He was a singer, actor and longtime host of "The Merv Griffin Show." He created "Jeopardy" and "Wheel of Fortune," but to his only child, Tony Griffin, he was just dad.
Tony remembers his father, who passed away Sunday at 82 from prostate cancer, as a man with boundless energy who could command attention wherever he went. His month-long downward spiral was not only difficult for the family to watch, but also hard on Merv himself.
"You know, this is a guy who's never been sick in his life and just got hit," Tony told The Early Show co-anchor Julie Chen. "And that was it. That was it. The good news is I got to spend a lot of time with him in the hospital. And we — we just went over our lives. It was nice."
Mervyn Edward Griffin was born in northern California in 1925. As a young man, he became a singer on radio and in nightclubs and then went on to movies and TV. Soon he got his own game show, "Play Your Hunch." It was then that Merv, who loved puzzles, came up with the idea for a show called "Jeopardy!" Eventually NBC, then CBS, gave him a shot on TV with his own talk show where he interviewed everyone from a young Tom Cruise to Richard Nixon.
---

Photos: Merv Griffin

---
Later, Merv moved into the hotel business.

"This is a guy who, you know, he's 82 and he's running a company like he's, you know, 42 or 32," Tony said. "He just — it (cancer) devastated him. It wasn't something that he — it wasn't something that — it wasn't him. Everyone that knows him, he's the Energizer Bunny. He's a guy that gets up and goes and has fun and entertains. You know, this wasn't his type of ending, I don't think."

Although Tony said his father was bigger than life, he was also a very private man who appreciated simple things. He loved being on his boat and traveling. He loved his dog, Charlie Chan, and his grandchildren.

But, said Tony, his father also truly loved the work he did. His love of games started as a child when he would play hangman with his sister. That turned into "Wheel of Fortune," Tony said. He also loved music, so he wrote the theme songs to all his shows.

"He has a new game show out, believe it or not, that comes in September, which, unfortunately, he didn't get to see it filmed," Tony said. "Here's a secret nobody knows: Whenever he did a game show, he would be on that set from the moment it started till 4 or 5 in the morning rewriting it the first night. He did not get to do that with 'Merv Griffin's Crossword' that comes out in September. It's a great show."
Thanks for reading CBS NEWS.
Create your free account or log in
for more features.