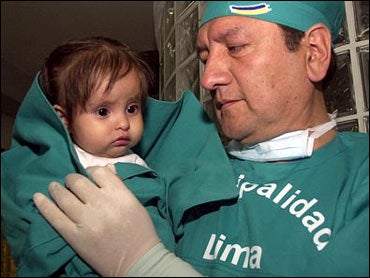 'Mermaid' Baby Surgery A Success
Doctors fully separated the fused legs of a baby girl known as Peru's "mermaid" early Wednesday, calling the delicate procedure a "true success."
Doctors performing the four-hour long surgery had planned to begin repairing the birth defect only up to the child's knees, but the procedure exceeded the expectations of the medical team.
"This is the final result that we have come to in this extraordinary surgical intervention," said Dr. Luis Rubio, holding up 13-month-old Milagros Cerron's legs in a V-shape, displaying the line of stitches extending up from her heels to her inner thighs. "We have mobility of the independent knee joints.
Due to a rare congenital condition, Milagros was born with her legs fused together from her thighs to her ankles.
National and international reporters assembled on a third floor mezzanine at Solidarity Hospital to watch television monitors as the surgery began late Tuesday in a small operating room on the first floor.
Hours before the surgery, Milagros giggled and played in her hospital bed while Dr. Luis Rubio, leader of the team of 11 surgeons performing the operation, looked on.
Milagros' father, Ricardo Cerron, 24, who was sitting with reporters watching the monitors, broke into tears as Rubio made the first incision. The baby's mother, Sara Arauco, 19, put her hand to her mouth as the surgery began. A nurse standing behind her chair put her hands on her shoulders.
Milagros, whose name means "miracles" in Spanish, was born with a rare congenital defect known as sirenomelia, or "mermaid syndrome," which occurs in one out of every 70,000 births. Her legs are seamlessly fused all the way to her heels.
There are only three known cases of children born with the affliction alive in the world today, according to Rubio.
The 11 doctors who performed the operation included plastic surgeons, pediatricians and heart specialists.
Rubio said the medical team decided to operate at night because the doctors wanted to perform the surgery when Solidarity Hospital, a public facility that serves 1,500 people daily, would be at its quietest.
Milagros weighs 14.75 pounds and is 25 inches long, about the size and weight of a normal 6-month-old.
Rubio said Milagros had suffered frequent urinary infections because her urinary tract, anus and genitals end in the same opening.
But her intellectual development has been remarkable, he said, as Milagros smiled, trying to grab a laser light Rubio used to show how her legs were connected by the same sheath of skin.
"She has extraordinary psycho-mental development. She communicates well with her surroundings. She babbles words that correspond to her age," he said, picking up Milagros and holding her over his head as she giggled.
In the last three months, doctors have inserted silicone bags filled with saline solution to stretch the skin so it will be able to cover her legs once they are cut apart.
Milagros has a deformed left kidney and a very small right one located very low in her body.
Rubio said Milagros would need up to 15 years of corrective surgeries to reconstruct and repair her sexual, digestive and other internal organs.
Her father made an eight-hour bus ride to Lima from a village high in the Andes to get Milagros help shortly after she was born on April 27, 2004.
"I'm a bit excited and also a little pained because of what my daughter is going through," Ricardo Cerron told The Associated Press on Tuesday, only hours before the operation. "But I have faith in the doctors. I have faith in God. I am putting everything in God's hands."
By Monte Hayes
Thanks for reading CBS NEWS.
Create your free account or log in
for more features.