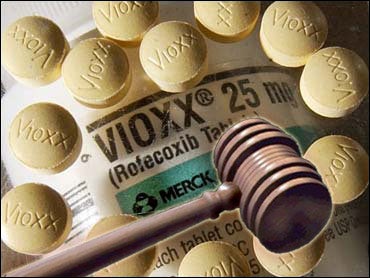 Merck To Fund $4.85B Vioxx Settlement
Merck & Co. will start cutting checks for former users of its withdrawn painkiller Vioxx next month after announcing Thursday that it will fund a $4.85 billion settlement expected to resolve roughly 50,000 lawsuits.
The decision marks the beginning of the end of the four-year legal saga, which began when cardiovascular side effects forced Merck to pull Vioxx off the market in 2004, triggering tens of thousands of lawsuits, sullying its once-spotless reputation and forcing out its then-chief executive.
The Vioxx case has cost Merck at least $6.38 billion, including more than $1.53 billion through March 31 on legal costs for defense research and individual trials, most of which it has won.
Vioxx, which was launched in 1999, brought Merck revenue of $2.5 billion at its peak in 2003and $1.3 billion in 2004. Merck has not been disclosing revenue from prior years.
On Thursday, Whitehouse Station, N.J.-based Merck said more than 97 percent of eligible claimants - 48,550 out of 49,960 - have enrolled in the settlement program, surpassing threshold levels the company required for the deal to proceed. Therefore, Merck said that on Aug. 4 it will waive its right to walk away from the deal reached with plaintiffs' attorneys last fall.
"I'm just glad that it's almost over," said Evelyn Irvin Plunkett of Palm Coast, Fla., who sued Merck in 2003 over the May 2001 heart attack death of her first husband, Richard "Dickie" Irvin. "It's just been a long, hard fight."
Plunkett's family had gone through a mistrial, then lost to Merck at a retrial and won the right to a third trial before being allowed to join in the settlement. She does not know how much she will receive.
Settlement amounts can run from the minimum of $5,000 up to a few million dollars. Payments will be decided by a complicated formula that factors in how serious a claimant's injury was, how much Vioxx was taken and how many other risk factors the person had.
"Long-term users of Vioxx who had a very severe injury will be well compensated," said lawyer Andy Birchfield, who served on the plaintiffs' steering and negotiating committees.
He said the number of plaintiffs participating shows the settlement is a good one.
"This is a great day for the plaintiffs injured by Vioxx who will within weeks begin to receive compensation for their injuries," said lawyer Chris Seeger, a member of the plaintiffs steering committee coordinating the massive litigation. "I couldn't be happier for my clients."
"We're very pleased to be reaching this milestone because we feel it confirms the program is a good one and a fair one," said Ted Mayer, Merck's chief Vioxx lawyer.
Roughly 700 more plaintiffs are considering participating, so Merck has extended the deadline for them to enroll until Oct. 30, he said. About 700 more have not been located by their attorneys.
Former Vioxx users, or their survivors, are eligible for part of the settlement if the patient suffered a heart attack, stroke or death. They must have had pending lawsuits or tolling agreements, which suspend the statute of limitations, as of Nov. 9, 2007, the date the settlement was reached.
To ensure that the settlement ended the bulk of the lawsuits, the company had required participation from at least 85 percent of eligible claimants in four groups: those who had used Vioxx for more than 12 months, had a heart attack, had an ischemic stroke or died.
Merck will put $4.85 billion into the settlement fund over time, with the first $500 million payment scheduled for Aug. 6. The company took a charge for the full $4.85 billion last year.
Eligible claimants who enrolled by March 31 and allege a heart attack or sudden cardiac death could then receive an interim payment, expected to be made by the end of August.
Interim payments to people alleging Vioxx caused an ischemic stroke are to begin in or after February 2009.
Mayer said several thousand additional claimants don't have injuries eligible for the settlement and have been ordered by judges to produce expert reports supporting their claims.
"We expect to be making motions to dismiss a large number of those claims during the coming weeks and months," he said.
Merck also faces about 260 potential class-action suits, alleging either harm or financial losses related to Vioxx, that still must be resolved.
Merck withdrew Vioxx from the market on Sept. 30, 2004, after its own research showed the once-blockbuster arthritis pill doubled the risk of heart attack and stroke.
U.S. District Judge Eldon E. Fallon in New Orleans, who has been coordinating much of the litigation, said it's one of the country's biggest multidistrict litigation cases - those assigned to one federal judge for pretrial purposes and possible settlement.

Thanks for reading CBS NEWS.
Create your free account or log in
for more features.