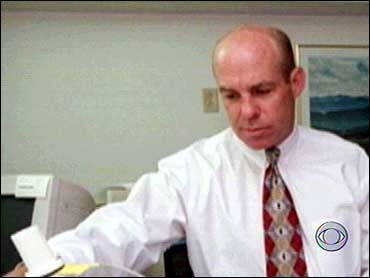 Menopause Doc Fudged Data
Millions of women have taken hormone therapy, only to learn in recent years that its health benefits were never proved and there were risks involved instead.
Now it turns out a key researcher who touted the benefits of hormone replacement is facing a five year jail term, reports CBS News Correspondent Sharyl Attkisson.
Dr. Eric Poehlman was renowned for his groundbreaking research on women and menopause. He theorized that menopause makes women lose muscle and gain fat, and causes health problems hormones could help fix.
His work was considered so significant it prompted doctors to prescribe hormones for years - a treatment now called into question because of its health risks.
"Dr. Poehlman was a mentor to me in many ways," said Walter DeNino, Poehlman's research assistant at the University of Vermont.
But he discovered a dark side to his mentor, Attkisson reports.
It turns out menopausal women weren't deteriorating the way Poehlman thought they would in his study.
"In some cases, some patients improved in terms of heart disease risk and energy expenditure," DeNino said. "After menopause."
But the idea of healthier women after menopause jeopardized the foundation of Poehlman's work, so he did the unthinkable: he fabricated the data to make it fit his theory.
DeNino confronted him and turned him in to the university; they found it wasn't the first time.
Once Dr. Poehlman's fraud was exposed, the horrible implications were clear. Years of research which doctors relied on to treat menopausal women were now in serious doubt.
The case was referred to U.S. Attorney David Kirby.
"I think the scope of the wrongdoing in the case made it criminal," Kirby told Attkisson.
It was also criminal because Poehlman had used $2 million in government grants – taxpayer money - for studies to perpetrate his fraud.
Susan Real was in one of those faked studies. Back then, she was a bodybuilder entering menopause and, by volunteering for Poehlman's research, was hoping to "make a difference." Now, she knows she didn't.
"I was outraged. I felt exploited. And I was really amazed that anyone would be doing something like that," Real said.
Dr. Poehlman pleaded guilty to a criminal charge and faces up to five years in prison.
As for his one-time protégé, he's applying to medical school.
"I would like to think Dr. Poehlman is more or less an isolated case," DeNino said.
DeNino wants to become a researcher in his own right - he just no longer hopes to follow Poehlman's path.

Thanks for reading CBS NEWS.
Create your free account or log in
for more features.