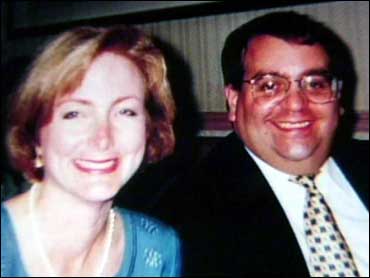 Produced By Patti Aronofsky, Katherine Davis and Mead Stone
This broadcast first aired on Nov. 4, 2006. It was updated on March 28, 2009.
During the early morning hours of Nov. 15, 2004, Peter and Joan Porco were brutally attacked by an axe-wielding intruder in their bedroom. Peter Porco was murdered, his wife left for dead.
Miraculously, she was clinging on to life when investigators and medics arrived at the crime scene hours later. Suffering from severe injuries, police say Joan Porco indicated to them who the killer was with a nod.
But as Peter Van Sant reports, she says she has no memory of that. And she says she never would have implicated the person who faced trial for the murder of her husband.
Detective Chris Bowdish couldn't believe what he was seeing. Minutes after discovering the body of Peter Porco, he was certain he was about to learn the identity of the killer from Peter's dying wife Joan.
"And I said to her, 'Can you hear me?' And she nodded her head yes. I then started feeling that this woman knows what's going on," he says.
Although Bowdish had only been in the house for minutes, he also felt he knew what was going on. "I could see there was no break in. There was no forced entry," he explains.
Instead of a broken lock, there was a house key in the front door. It was a spare key that was usually hidden in a flower pot by the front entrance.
"The house wasn't what we call 'tossed.' The drawers weren't pulled out, they weren't dumped," Bowdish says. In the dining room was Joan's purse and its contents, all undisturbed. Bowdish says he felt it was an inside job.
But who would want to harm the Porcos? Married 30 years, the couple lived in Bethlehem, N.Y., a bedroom community just outside of Albany. They had two sons, 23-year-old Jonathan, in the Navy in South Carolina, and 21-year-old Chris, a student at the University of Rochester.
In a strange coincidence, Det. Bowdish had met the Porcos two years earlier, when they reported the theft of laptops during a burglary. He also learned they had two sons. At the crime scene, he was wondering about the whereabouts of Jonathan and Christopher.
As the paramedics struggled to get Joan oxygen, Bowdish approached her. "I said, 'Did a family member do this to you?' And she nodded her head up and down clearly, yes. Now everybody in the room's standing there at this point, I've got witnesses."
First responders Kevin Robert, Jim Regan, and Dennis Wood couldn't believe it. "I've never seen anybody with this massive of facial and head trauma and still be alive and actually able to communicate like she was," says Wood.
Joan had been following directions like "straighten your arm" and "stop moving your legs." But this was different. Before their eyes, Joan was about to identify the killer. The paramedics watched as she nodded her head in response to the detective's questions.
"And I said to her 'Did Jonathan do this to you?' And she clearly shook her back and forth, 'no.' At this point I knew she could hear me. I knew she understood the answers to the questions," Bowdish remembers. "And I said to her, 'Did Christopher do this to you?' And she then shook her head up and down. She nodded. Yes he did."
Within minutes, Joan was rushed to the hospital - and police began looking for Christopher.
More than 200 miles away, Christopher says he didn't know police wanted to talk to him. He says he was in his dorm room when he got a phone call from a local reporter.
"She asked me if I had any comment on my parents being killed that day. I kind of dropped the phone and was completely shocked, and you know disbelief," he recalls. "I called the Bethlehem Police Department."
When he called police, Christopher asked whether the operator had any information about his parents; the operator asked about his whereabouts.
"The woman on the phone said she couldn't tell me anything but they would call me back. So I sat in my room and waited," Christopher says.
Within the hour, police confirmed his father was dead. Christopher's brother Jonathan learned the devastating news at his Navy base, as an uncle rushed Christopher to his mother's bedside at the hospital.
"I saw her - she was swollen and covered in tubes. And my reaction was I burst into tears. I fell on the floor right there," Christopher says.
As Joan underwent emergency surgery, Christopher agreed to go to the police station where he was questioned for six hours. "I wanted to be as helpful as I could. I knew that in cases like this, you know, the quicker the better. So I wanted to give them what they needed to figure out who did it," he says.
Asked if he carried out the deadly attack, Christopher says, "You know, I can't say enough, absolutely no. I would never do anything like that to anyone let alone my parents who I love dearly."
Bowdish's number one priority was finding out where Christopher was at the time of the attack.
Some 16 hours after Joan identified her son as her attacker, detectives were knocking on doors at Christopher's dorm. It quickly became clear that none of his frat brothers could back up Christopher's alibi that he was asleep on the couch in the dorm lounge.
"It just so happened that some guys were up and we stayed up until like 3:30 a.m. It's a square room and some couches and TV - it's not like maybe he was there and we overlooked him. He wasn't there," one of the frat brothers says.
Detectives searched his room, taking clothes and a computer; they even impounded his car, a bright yellow Jeep Wrangler.
Back at Albany Medical Center, Joan remained unconscious, clinging to life and undergoing many hours of surgery.
Former youth minister Joe Catalano rushed to Joan's bedside to comfort Christopher. He was struck by Christopher's odd behavior. Asked if he sensed any bit of grief with Chris, Catalano says, "None whatsoever."
By now, Christopher was the prime suspect in the murder. But police had to figure out how he could have done it.
Chris was at the university the morning his parents were discovered, more than 200 miles from the crime scene. And while his fraternity brothers hadn't seen him the night before, another student did see him out jogging the next morning. The case appeared to have hit a wall - until investigators decided to check several campus security cameras. What they saw changed everything.
Christopher had told investigators he never left campus. But prosecutor Mike McDermott says surveillance video shows Chris is lying. Caught on tape was Chris' bright yellow Jeep driving through a campus parking lot around 10:30 p.m., just hours before the attacks.
At 10:36 p.m., that same yellow Jeep was captured by a surveillance camera on the roof of an off-campus medical center, headed east. From this moment, prosecutors developed a theory for how they believe he committed the crime.
At 10:45 p.m., New York State Thruway toll collector John Fallon thought he remembered handing a ticket to a young man driving a yellow Jeep with big tires. And at 1:51 a.m., another toll collector believes she may have seen a yellow Jeep driven by a young white male speeding into her lane at Exit 24 in Albany. The Porco home is just nine miles away from the exit.
Prosecutor David Rossi thinks Christopher got into the house by using a spare key that was kept under a pot in front of the front door.
At 2:14 a.m., police believe Christopher deactivated the burglar alarm using the master code. "Later he smashed the alarm keypad in an attempt to hide that," Rossi says. "The information is stored on a box in the basement, which we believe Chris probably didn't know that. So smashing the keypad did nothing."
Investigators believe Chris then grabbed an ax from the garage, crept upstairs, and savagely attacked his parents in bed.
At 4:54 a.m., phone company records show that the phone line was cut. "Before he left, he staged the house so it appeared that an outsider was the one who entered, cut the phone line," Rossi says.
At 5:12 a.m., Christopher re-enters the New York State Thruway, investigators say, heading back towards Rochester. And finally, at 8:30 a.m. a yellow Jeep is again captured by cameras on the roof of a medical center, headed back in the direction of the campus.
To McDermott, "It all fits perfectly." But how are prosecutors so certain it's Chris' Jeep? McDermott acknowledges cameras didn't capture a license plate or the driver.
But investigators do have decals, and a telltale mud stain. "The same mud stain. It's better than a fingerprint," McDermott says.
On Nov. 4, 2005, Christopher was charged with the murder of his father, and attempted murder of his mother.
Chris admits that it was his Jeep on the surveillance video, but says he was just moving it to park off-campus. By the time he returned to the dorm lounge, he says his frat brothers had gone to sleep.
"The surveillance cameras on campus don't show me going to the Thruway they don't show me going home. They show me going off-campus," Christopher says. "If I wanted to do something like this, if I wanted to sneak home on the Thruway, why would I take a big yellow car? I mean, that makes no sense to me."
"You've got that surveillance video. But all that tells you is that he left campus. It doesn't tell you where he went," Van Sant tells McDermott.
But McDermott says there was an eyewitness, Marshall Gokey, who saw the Jeep in the Porcos' driveway at 4 a.m.
Gokey, a neighbor, says he was driving past the Porco home on his way to work on the day the bodies were discovered, when he spotted a familiar yellow Jeep in the driveway. "I have no doubt in my mind whatsoever that was Chris Porco's Jeep," he says.
"You couple Marshall Gokey with the surveillance videos with the toll takers with the fact that the alarm was deactivated by someone who knew the master codes, then Marshall Gokey just fits like the jewel on top of the crown," McDermott says.
But a stunning development would threatening to topple the prosecution's entire case and it involved their star witness: Joan Porco herself.
Joan, now recovered from the attack but severely scarred, said she had no memory of anything that happened that night, and no recollection of ever indicating by nodding that her son was the attacker. And Joan went on the offensive, publicly claiming that her son was innocent.
A month after he was charged, Christopher was free again, out on bail posted by a large circle of family and friends, all of whom are convinced of his innocence. Until trial, he would be living with Elaine LaForte, a veterinarian who Chris had worked with for years, and who says Chris is like a son to her.
"I'm aware of evidence that they did find at the crime scene that makes me believe that it was not Christopher," says LaForte.
That evidence is a lone fingerprint Chris' attorney Laurie Shanks says was found just inches from where the telephone wire was cut.
Shanks, a professor at Albany law school and her law partner and husband Terry Kindlon say the police cooked up a flimsy circumstantial case against Chris.
"What links Christopher to this crime is the malignant imagination of the police department which decided within the first, we think, five minutes that Christopher was the person who killed his father and attacked his mother," says Kindlon.
But he says that rush to judgment is based on their misguided belief that Joan knew what she was doing when police say she identified her son as the killer with a nod.
But McDermott doesn't think Joan's movements were made by a woman in shock. "I think she was able to meaningfully communicate," he says.
"It is certainly quite possible that she would be able to follow simple commands. But being able to follow a simple instruction doesn't require memory," says Dr. Mary Dombovy, one of the most respected neurologists in Rochester. She has been treating Joan and would be testifying for the defense at trial.
"You're saying Joan could have followed commands, raise your arm, and she'd raise her arm. But if they're asking questions of memory, that's a different part of the brain?" Van Sant asks.
"Very different function," she says. "And that is universally what is disrupted after a traumatic brain injury. She could simply have been responding to the name Christopher."
The defense believes prosecutors are relying on Joan's nod because there's a major flaw in their case - not a shred of forensic evidence links Chris to the crime.
Kindlon says there was no bloody foot or fingerprint that linked Chris to the crime scene and that no forensics evidence was found on his Jeep.
As far as the surveillance video is concerned, Kindlon says, "We don't think it's a problem at all. The fact is that Christopher's Jeep was parked off campus."
After parking his car, Shanks and Kindlon say Chris wandered around until sometime after 3:30 a.m. when he returned to the dorm lounge and fell asleep
Kindlon says he knows why the Porcos alarm was disabled using the master code: "Peter Porco had the habit of shutting down the alarm to let the dog go out and neglecting to put the alarm back."
And, Shanks says, it was most likely Peter, barely conscious and bloodied, who put the key in the front door. "It may very well be that he believed that he was locked out and used that key to get back in his disoriented state," she says.
And as for neighbor Gokey's Jeep sighting," Klindon says it might be a case of false memory. "We think he was desperately trying to help the police. There were two yellow Jeeps that normally parked and traveled through the neighborhood."
The real killer, Chris' lawyers say, may be the person who left a fingerprint on a telephone box in the backyard just inches from where the phone line was cut.
What's more, just weeks before the attack, Chris' attorneys say Joan Porco saw a stranger in her driveway. "Joan had told more than one person she was very frightened. A stranger was there and ran when the light came on," Shanks says.
And Chris' lawyers have another theory: they think the mob may have been targeting the Porcos in retaliation for the alleged snitching by Peter's distant relative, Frankie "The Fireman" Porco, a convicted member of New York's mafia.
But Prosecutors say they've checked out all these possibilities and none of them lead anywhere. "There was a slow painstaking, methodical investigation to reveal every scintilla of proof that he committed this crime before he was charged," says McDermott.
And they dispute the defense notion that Christopher was a sweet innocent young man. Police discovered it was Chris who stole his parents' laptops, and later sold them on eBay.
"Christopher Porco has shown one face to his friends and family and has shown another face that we've uncovered during the course of this investigation," says McDermott.
Chris even deceived his fraternity brothers, inventing a phony life as a rich kid.
"He said his grandmother was a wealthy landowner, owned much of the land in Fairfield County, Connecticut," one frat brother said.
But in reality, prosecutors say, Chris was flunking out of school and deeply in debt. His extravagant lifestyle was pure fantasy. And in the days leading up to attack, Chris' father discovered that his son had forged his signature to obtain a car loan and a $31,000 loan to pay for school. Peter Porco sent Chris a series of angry e-mails, calling his son "out of control."
And Joan wrote Chris, "Your father and I are extremely upset with your lies…. Dad is about to have a nervous breakdown."
Prosecutors say Chris was broke and desperate. That's when, they say, he hatched a plan that would solve all his problems. "They're only worth $60,000 alive. Dead, they're worth $1.1 million," McDermott says.
But Christopher calls the money motive "absurd." "I could never trade money for my parents' lives," he tells Van Sant.
And Chris' attorneys say they have proof that the relationship between Chris and his parents was on the mend. "The very last e-mail he sends his son says 'I've paid for your school for the fall. And we'll talk about the spring when you come home for Thanksgiving,'" says Shanks.
Nineteen months after the savage attack that left her husband dead and her life forever disfigured, Joan Porco walked side by side into court with the man accused of the brutal crime - her own son.
For seven weeks, the prosecution and defense battled over the bloody details of this circumstantial case. More than 80 witnesses took the stand.
Paramedics Kevin Robert and Dennis Wood testified that they saw Joan Porco nod when asked if Chris was her attacker. But Joan's neurologist Dr. Mary Dumbovey told jurors it was unlikely, given Joan's severe injuries, that she understood what she was being asked.
Prosecutors attacked Chris's alibi, calling nine of his frat brothers to the stand.
"We marched in everybody who was in that lounge that night and they all said, Porco wasn't here," Rossi testified.
Prosecutors told the jury that's because Christopher was on his way to commit murder. Their key piece of evidence is that surveillance video. But defense attorneys told jurors the tape merely showed Chris leaving campus, not driving to his parents' house.
"There's no question he left at 10:30. He wasn't allowed to park on campus," Shanks says. "But it doesn't prove anything about where he was between 10:30 when he had to leave campus and the next morning when he parked legally."
But jurors heard from the two toll collectors who remembered seeing a yellow Jeep like Chris' on the night of the murder. And neighbor Marshall Gokey told his story that he saw Chris' Jeep on the morning of the attack.
Meanwhile, the defense called into question the prosecution's entire case, suggesting it was the real killer who left that unidentified fingerprint on the telephone box. And forensic pathologists reminded the jury that not one drop of blood from the crime scene was found on Christopher.
But prosecutors have an answer for that. "First of all, we don't believe he got a lot of blood on him when he committed the crime," says Rossi. "Number two, Christopher had plenty of time in the house to change his clothes," McDermott points out. "And number three, Christopher works in a veterinary hospital. He's been trained how to avoid contamination."
Defense attorney Shanks disagrees. "It defies common sense. If you hit someone 15 or 20 times with an ax, and you're pulling back, and you hit somebody and you hit somebody and you hit somebody. You're going to have blood on you. And the reason Christopher didn't have blood on him is because he didn't do it."
Jurors, who also heard from Chris' brother Jonathan, also would hear testimony from Joan Porco, who hoped to convince jurors that her nod meant nothing.
With grace and determination, displaying the scars of her attack, Joan told the jurors she had no memory of that night. But she was certain of one thing: her son Christopher did not commit this terrible crime.
"Joan told the jury that her son was a kind, loving compassionate person who reminded her of her husband Peter," says Shanks.
Joan Porco has never spoken in public about the case and turned down 48 Hours' numerous requests for an interview. But during a break in the trial, she did allow 48 Hours to film Christopher's 23rd birthday party.
Asked how he feels the trial is going, Christopher tells Van Sant, "As far as guilt or innocence, I'm very optimistic about how things are going and how they will go."
As his attorneys prepared for closing statements, Chris who chose not to take the stand, wanted to send a message to the jury. "To not jump to conclusions. And to look at everything," he says. "If you look at the whole picture it's pretty clear that things just don't add up."
In closing arguments, which the judge allowed 48 Hours to videotape, Shanks attacked the entire police investigation which began, she said, with a false premise. She asked jurors to remember that not a shred of forensic evidence linked Chris to the crime.
Besides the Joan Porco's nod, prosecutor McDermott said there was more than enough circumstantial evidence to find Chris guilty. "Using the master code to disarm the alarm when he went to his parent's house that morning, ladies and gentlemen, was like dropping his wallet at the crime scene."
After a seven-week trial, both sides in this murder case expected the jury to be out for a long time; but it took jurors less than six hours to render a unanimous verdict: guilty.
When the verdict was read, Christopher was emotionless. Asked why, he says, "Well, definitely it was, you know, the shock of it, of course. But also Laurie told me that whatever the outcome, I should just not really show much emotion. "
The verdict came so suddenly, Joan wasn't there in time to hear her son's fate.
"Christopher's first words to me when we sat down was, 'Will you please be the one to tell my mother,' and he was very upset. By the time we got back to the hotel, someone had already called her and so I was with her within minutes and she hugged me and was just devastated," Shanks says.
Ultimately, jurors say, the prosecution's timeline proved devastating for Christopher and his alibi just wasn't convincing.
But remarkably, the one thing jurors want Joan Porco to know is that her nod played absolutely no role in their verdict. "We believe that she didn't know what she was nodding to. That she had no idea what the question was. We threw that out. We dismissed that completely," one juror explained.
"You know, it's one thing for a juror to say that on TV, but it's another thing for them to actually believe that," Chris says. "It would not have been possible for me to do this with the lack of evidence there was. It's just not possible."
"Do you still say today that the real killer is out there somewhere?" Van Sant asks.
"There's no doubt in my mind," he replies. "I know they're out there. At this point I have little confidence that they'll ever be caught."
"Chris, he thinks he's smarter than everybody else. He thought he was smarter than everybody else that night. He thought he committed the perfect crime. He didn't," says prosecutor David Rossi. "While Mrs. Porco may not think so, and while the verdict brought more tragedy to her life, justice was absolutely served by a guilty verdict."
Christopher Porco was sentenced to 50 years to life in prison. He filed an appeal in February 2009.
Joan Porco frequently speaks to Christopher by phone and visits often.
Thanks for reading CBS NEWS.
Create your free account or log in
for more features.