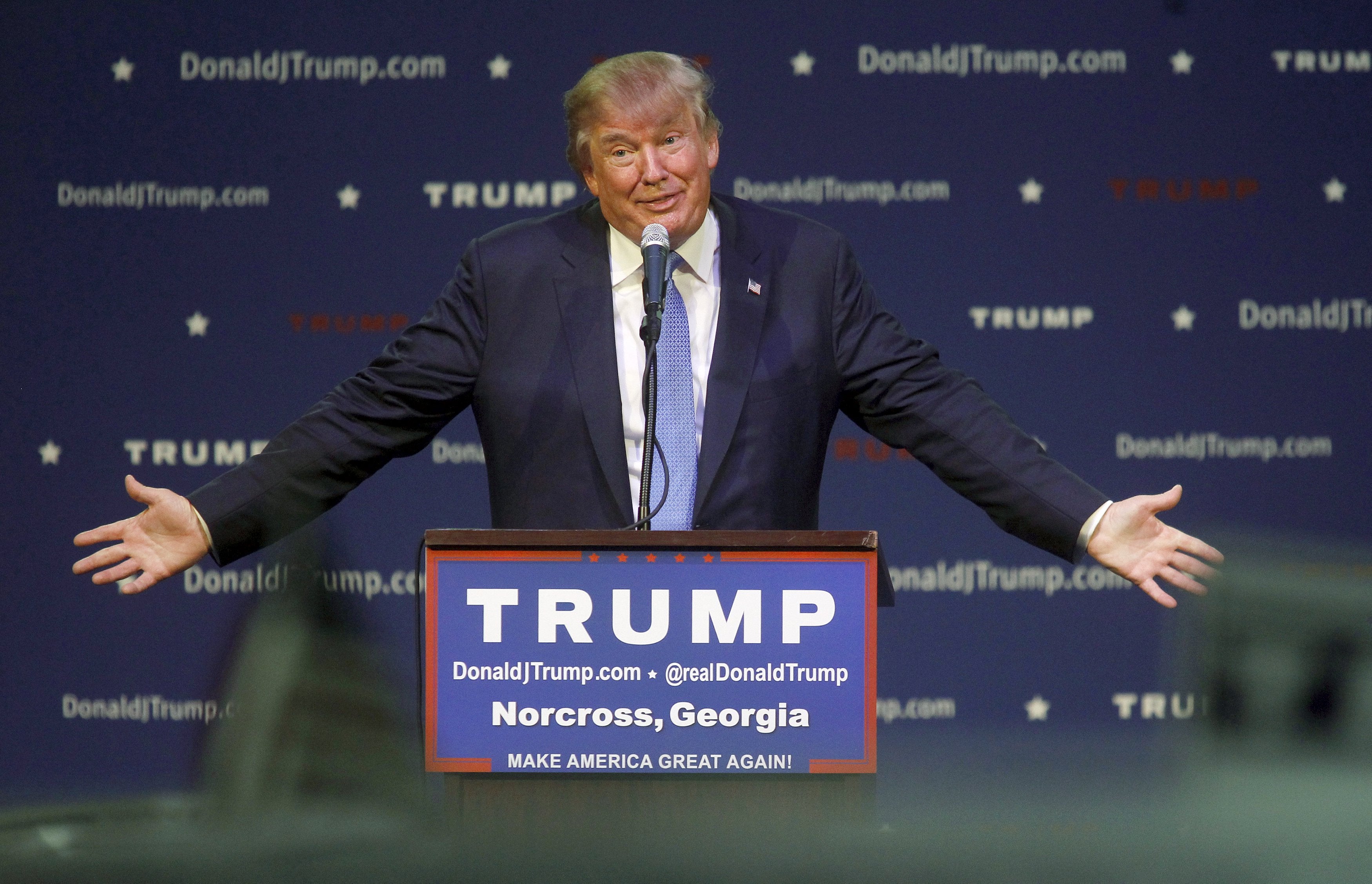 Meet the people donating to Donald Trump
WASHINGTON -- Donald Trump likes to boast about his enormous wealth and how he doesn't need anyone else's money to pay for his presidential campaign. That hasn't stopped tens of thousands of people from chipping in with checks as small as $10 to let the Republican candidate know they're behind him.
Trump has taken in 73,942 contributions, a total that surpasses several of GOP rivals, despite the billionaire businessman's regular declarations on the campaign trail that, "I'm self-funding my campaign."
GOP frontrunner and real estate mogul Donald Trump has made this a hallmark of his stump speeches and interviews in his quest for the nomination. It gets the loudest cheers at his speeches from crowds all over the country. And yet, according to the latest Federal Election Commission filings, Trump is no longer a self-funder. He is getting too many donations for that - especially for someone who is going out of his way not to ask for money.
Financial reports filed last week show that more than 70 percent of the $3.9 million he raised from July through September came from people giving $200 or less. That rate of small-donor contributions is second only to Vermont Sen. Bernie Sanders, who's in the Democratic race.
The average Trump contribution was $50.46, his campaign said.
The contributors are in small towns, suburbs and big cities. He's raised money from hundreds of retirees, ranchers, dentists, physicians, real estate executives and financial consultants.
For Ansley Pascoli, 64, a retiree in Sandy Springs, Georgia, the money is intended as a symbol of support. She gave the Trump campaign $25 and bought several hats and T-shirts, one of which she was wearing Friday.
"One of my reasons for wanting to support him is that even though I know that he does have a lot of money, I don't feel that it's right for him to have to bear the burden," she said in a telephone interview when asked why she was giving money to someone who has bragged about not needing campaign cash.
"And even though my contribution was small, I want him to have the feeling that there are other people that are behind him," she said.
It was a sentiment expressed by many of those who appear on Trump's contributor list and is evidence of the passion he has elicited from voters angry over the country's direction and craving a political outsider.
Pascoli said she was drawn to Trump because of his hard-line stance on immigration, his business background and the fact he's not a product of the political system.
"I really think we are in a pivotal time for the country and we need somebody who has the type of skill set that he has," she said.
Stephan Robinson, a commercial real estate broker in Pearland, Texas, said he contributed $250 because he felt an obligation to help.
"If you support a candidate, it shouldn't matter how much money he's got," Robinson said. "He shouldn't have to spend all his money."
Robinson went on: "I know he doesn't need my money and the little bit of money I've sent, it's not going to make a big difference. But I just feel in good conscience, that if you support somebody, you should contribute to help offset some of his costs." Robinson also offered to volunteer and provide office space if the campaign wants to come to town. He's given money to another Republican in the race - Texas Sen. Ted Cruz.
Illinois retiree Beverly Perlson, who's from a military family, said she was immediately drawn to Trump because of his attention to veterans' issues and his promise to overhaul the Department of Veterans Affairs.
The first time she heard him speak about the issue, she said, "I absolutely fell in love with Donald Trump at that moment."
Her recent $100 contribution was intended to say thank you. "My heart rejoiced because he's honestly the first person who stood up for our troops, our veterans," she said.
While Trump originally denounced the idea of contributions, he appeared to warm to the idea over the summer. His campaign now makes it easy to give, with a prominent "Donate" Button" on his website. The site also offers an online store full of campaign gear, such as $30 hats with Trump's "Make America Great Again" slogan and $50 sweatshirts.
The latest filings show that the vast majority of Trump's campaign expenses in the last quarter were financed by contributions, not by Trump himself.
Trump's campaign manager Corey Lewandowski said in August that the campaign had received tens of thousands in small-dollar donations, but contributions would remain "a very small portion" of the campaign's funds. He did not respond to questions Friday about the extent to which the campaign's calculus had changed.
Many of the logged contributions reflect purchases from the website. Elle Koch, a semiretired business owner from Cincinnati, Ohio, made a hooded sweatshirt and bumper sticker purchase.
Koch, a frequent phone-banker, would like an eventual role with the campaign. She said she wasn't surprised by the large number of contributions.
"This is one of the things you can do right now to show your support," she said.
Thanks for reading CBS NEWS.
Create your free account or log in
for more features.