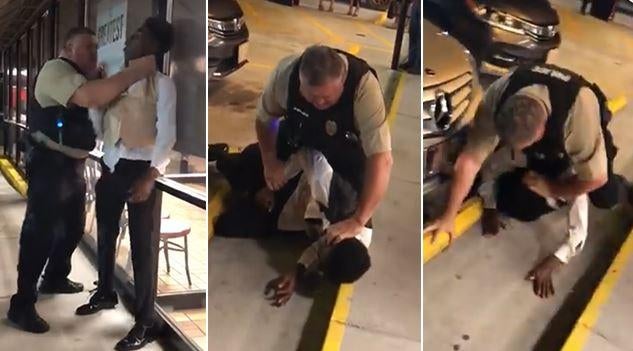 MLK's daughter calls for a Waffle House boycott after controversial incident
Dr. Bernice King, the youngest daughter of civil rights icon Martin Luther King Jr., is calling for Americans to boycott Waffle House after a video posted to social media showed a young black man in prom attire being choked by a police officer and slammed to the ground outside one of the chain's locations in Warsaw, North Carolina, this week.
Twenty-two-year-old Anthony Wall, the tuxedo-clad man seen in the video, told local TV station WTVD that he took his 16-year-old sister to prom Saturday evening and then the siblings went to Waffle House. Police were reportedly called to the restaurant after Wall got into an argument with employees there.
"I was pretty much trying to scream for air and to breathe, because he was holding my throat, and that's when I got aggressive with him because you are choking me," Wall told the station.
This now-viral video comes just weeks after another controversial incident involving an African-American customer at a Waffle House in Alabama.
On April 22, a black woman named Chikesia Clemons was wrestled to the ground by three white police officers in a disturbing encounter that was also caught on video.
"What are you doing?" Clemons asks in the video.
"I'm about to break your arm, that's what I'm about to do," one of the officers responds. During the scuffle, Clemons' top comes down, exposing her breasts to the restaurant.
Her mother, Chiquitta Clemons-Howard, told AL.com that the incident stemmed from a dispute between her daughter and an employee who tried to charge her 50 cents extra for plastic utensils. When police arrived, witnesses reportedly told them that Clemons indicated she might have a gun and might shoot people.
Now, in the aftermath of the latest incident, Bernice King is calling for people to boycott Waffle House until the company commits to a more in-depth discussion on racism.
"Family, let's stay out of @WaffleHouse until the corporate office legitimately and seriously commits to 1) discussion on racism, 2) employee training, and 3) other plans to change; and until they start to implement changes," she wrote in a tweet.
If Waffle House were to heed that call, the company would be following in the footsteps of another U.S. corporate giant, Starbucks, which recently seized the moment of a racially-charged public relations crisis to open a wider discussion into company culture. Starbucks apologized last month after an employee at a Philadelphia shop called police on two black men who were waiting for a colleague.
On May 29, Starbucks plans to close all of its stores nationwide for an afternoon of racial bias training.
Thanks for reading CBS NEWS.
Create your free account or log in
for more features.