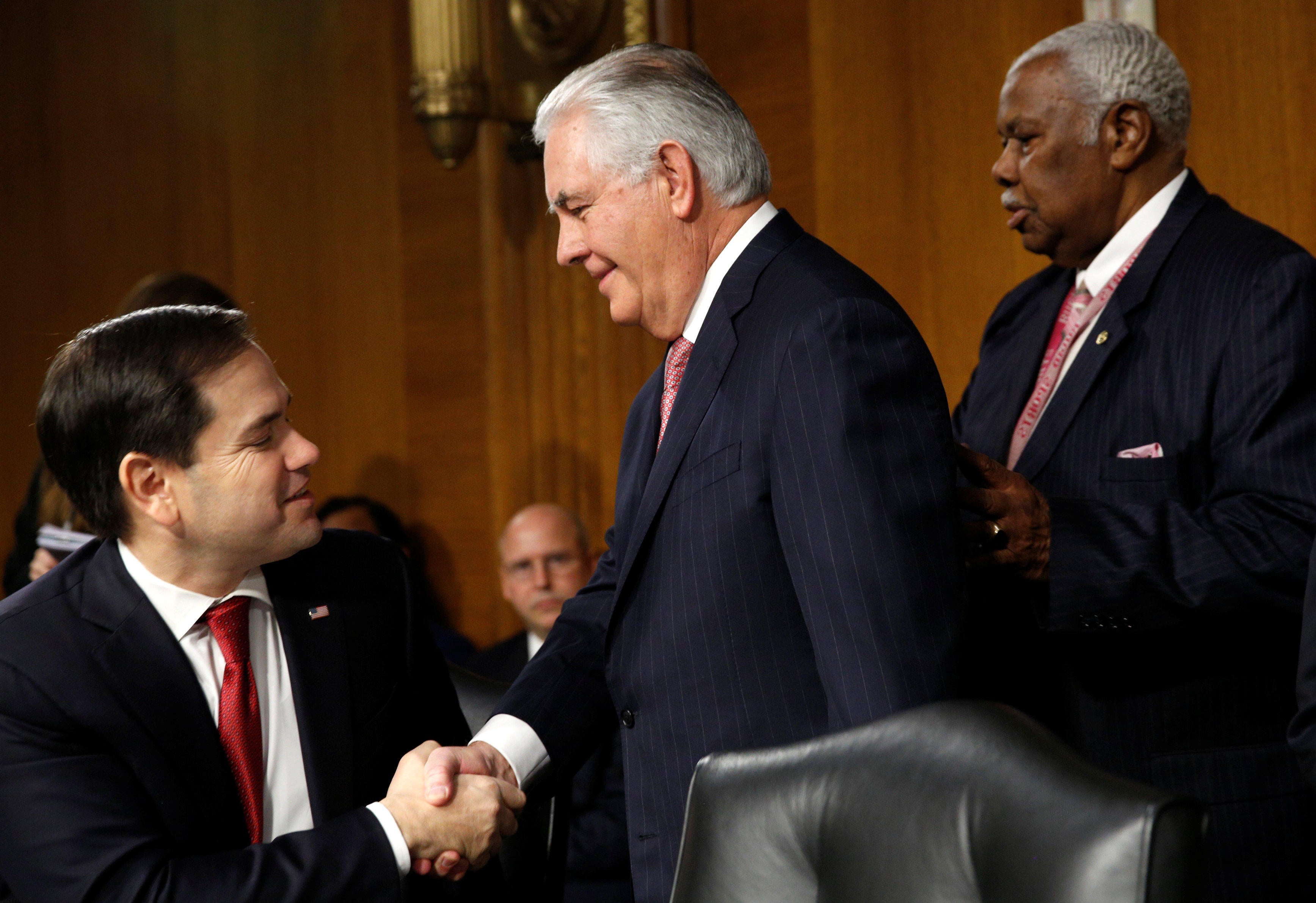 Marco Rubio announces he'll vote for Rex Tillerson for secretary of state
Ahead of a critical vote Monday, Sen. Marco Rubio announced that he would support Rex Tillerson to serve as President Trump's secretary of state despite his reservations.
"Given the uncertainty that exists both at home and abroad about the direction of our foreign policy, it would be against our national interests to have this confirmation unnecessarily delayed or embroiled in controversy. Therefore, despite my reservations, I will support Mr. Tillerson's nomination in committee and in the full Senate," Rubio wrote in a lengthy Facebook post Monday morning.
The Senate Foreign Relations Committee will vote Monday afternoon on Tillerson's nomination.
In his evaluation of Tillerson, Rubio said he focused on whether Tillerson would, as secretary of state, "make the defense of liberty, democracy and human rights a priority." Rubio said he was "encouraged" by a number of answers Tillerson provided throughout the confirmation process.
"He acknowledged that Russia conducted a campaign of active measures designed to undermine our elections. He stated that Russia's taking of Crimea was illegal and illegitimate," Rubio wrote. "He affirmed that our NATO 'Article V commitment is inviolable.' He endorsed the Magnitsky Act. He accurately characterized the conflict in eastern Ukraine as a Russian invasion, and he supports providing defensive weapons to Ukraine."
But Rubio also found Tillerson's answers to other questions "troubling." Tillerson, for example, did not condemn Russia's violations of the Minsk II agreement, Rubio said, and he refused to say that Russian President Vladimir Putin had committed war crimes. Rubio clashed with Tillerson at his confirmation hearing earlier this month, and said that he was undecided on his nomination following his testimony.
The Florida senator, a former rival of Trump's, was the one senator to watch Monday since he could have held up Tillerson's nomination in the Foreign Relations Committee. Tillerson's nomination is likely to advance to the floor, given that Sen. Lindsey Graham, R-South Carolina, who also had reservations about Tillerson, said Sunday that he would support him.
A number of Democrats, however, are expected to oppose Tillerson's nomination. Sen. Ben Cardin, D-Maryland, the top Democrat on the Foreign Relations panel, announced Monday that he would vote against him.
"After long and careful consideration, I believe Mr. Tillerson's demonstrated business orientation and his responses to questions during the confirmation hearing could compromise his ability as Secretary of State to forcefully promote the values and ideals that have defined our country and our leading role in the world for more than 200 years. I will therefore not be supporting his nomination with my vote in Committee or on the Senate floor," he said in a statement.
Thanks for reading CBS NEWS.
Create your free account or log in
for more features.