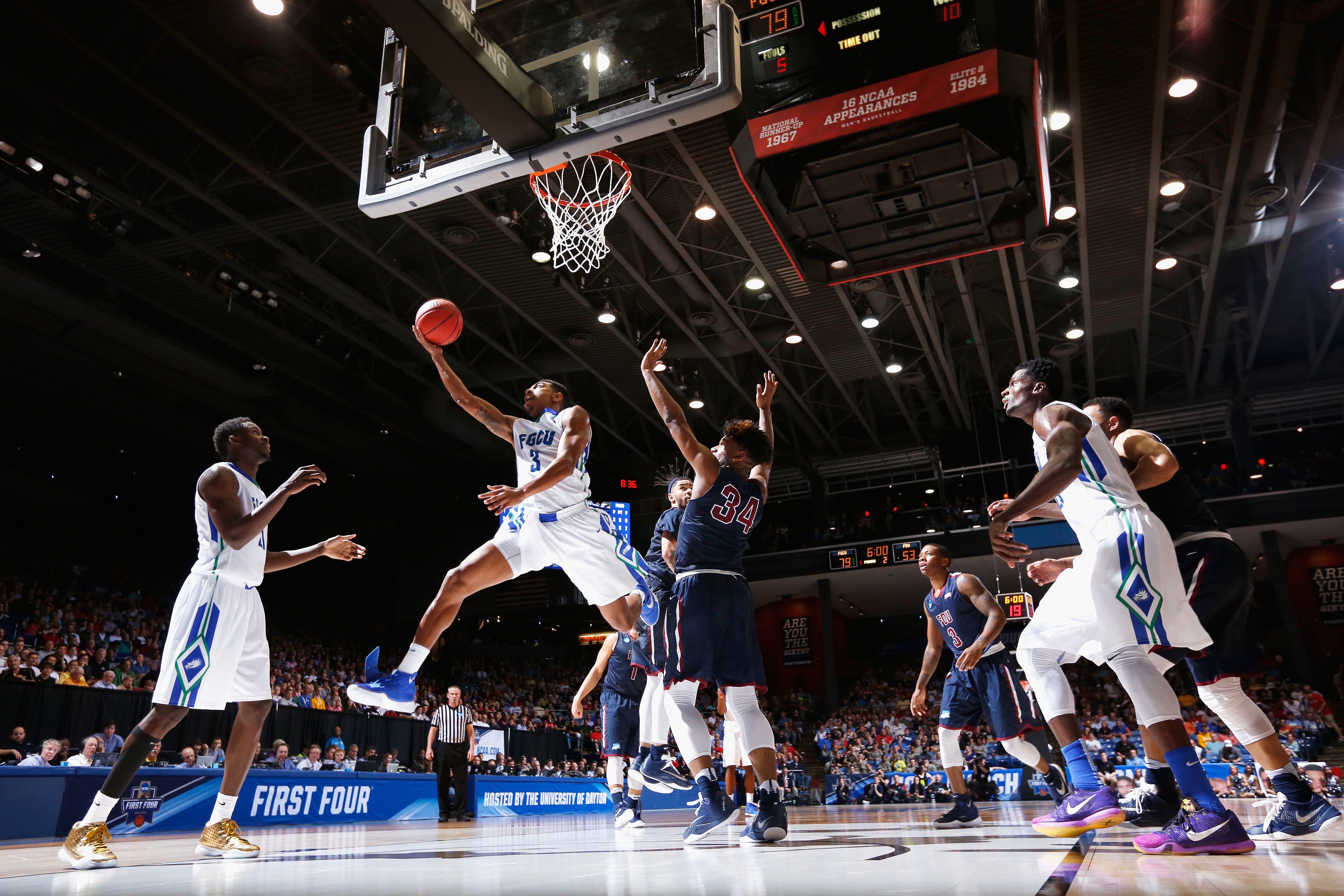 First 2 NCAA tournament "First Four" games are blowouts
Florida Gulf Coast 96, Fairleigh Dickinson 65
DAYTON, Ohio -- Marc-Eddy Norelia scored 20 points and Florida Gulf Coast coasted to a 96-65 win over an overmatched Fairleigh Dickinson team in a First Four game Tuesday night.
Norelia opened the game with a dunk and the Eagles (21-13) never relinquished the lead, going on a 23-6 run in the first 10 minutes and opening a 40-19 lead at the half.
Fairleigh Dickinson got some looks but couldn't get much to fall, shooting just 33 percent from the field while playing thoroughly lackluster defense throughout.
Florida Gulf Coast wasn't the "Dunk City" gang that made the terrific tournament run to the Sweet 16 as a No. 15 seed three years ago, instead outmuscling its opponent's big men inside and spreading the ball around.
Julian DeBose and Christian Terrell both added 14 for the Eagles, and Demetris Morant added 10. After Norelia's opening slam, Brian Greene Jr. closed the scoring with a dunk for FGCU.
Norelia was 10 for 11 from the field while grabbing 10 rebounds. FGCU outrebounded the smaller Fairleigh Dickinson squad 52-33 while dominating on the defensive boards.
Earl Potts Jr. led Fairleigh Dickinson (18-15) with 16 points despite sitting a good chunk of the second half with four fouls. Marques Townes added 13.
Florida Gulf Coast will play top-seeded North Carolina on Thursday in Raleigh, North Carolina.
Wichita State 70, Vanderbilt 50
DAYTON, Ohio -- Wichita State's guards let their Final Four experience make the difference in a defense-dominated First Four game.
Fred VanVleet and Ron Baker led a surge at the start of the second half that put the Shockers on pace for a 70-50 victory over Vanderbilt Tuesday night, making the big shots in a game with very few uncontested ones.
The seniors who were part of the Shockers' 2013 Final Four team led the way. VanVleeet - the two-time Missouri Valley player of the year - scored 14 points despite a cut on his head that sent him to the bench in the first half. Ron Baker also had 14. Together, they scored all of the points in a decisive 11-0 run that opened the second half.
"Fred and I hit a couple of 3s to get us going early on," Baker said. "The momentum shifted slowly and we kind of grasped it and kept on rolling."
The Shockers (25-8) play Arizona Thursday in Providence, Rhode Island.
Vanderbilt (19-14) couldn't take advantage of its pronounced size advantage on offense and never led in the second half. Joe Toye and Riley LaChance had 10 apiece. The Commodores shot 30 percent from the field, went 3 of 19 from beyond the arc, and were 15 of 26 on free throws.
"They're a very good defense and they play really physical," LaChance said. "We did get some open looks and nothing happened to fall."
The Shockers returned three starters from the team that knocked off Indiana and Kansas to reach the Sweet 16 last year, drawing a No. 10 ranking in the preseason poll. A lot of early injuries - including VanVleet's pulled hamstring - forced the Shockers to reinvent themselves.
They got yet another setback on Tuesday when VanVleet left to get treated for a cut on the right side of his forehead only a few minutes into the game. He gave the Shockers a pep talk during the next timeout but stayed on the bench.
"It didn't hurt at all," said VanVleet, who had a bandage on the wound. "I didn't even know it was bleeding. I was just hoping it wouldn't need stitches. I hate to get stitched. He patched me up real quick."
VanVleet got back into the game with 13:13 left in the half and hit a baseline jumper for his first points.
He and Baker let their tournament experience show at the start of the second half, scoring all the points in an 11-0 run for a 41-30 lead - the biggest by either team up to that point. Baker hit a 3, and VanVleet made a pair from beyond the arc during the spurt.
Vanderbilt cut the lead to one point, but Wichita State dug in and hit back-to-back 3s that pushed it to 57-48 and left the Shockers in control.
Back in health, they're moving on in the tournament, getting the better of a defensive game.
There were few open shots in a choppy first half that ended tied 30-30 - about what was expected. Wichita State and Vanderbilt ranked sixth and seventh in field-goal defense. The Shockers get pressure with their guards, while the Commodores used their front-line size to redirect shots.
Seven-foot center Damian Jones missed both of his shots and all of his four free throws in the first half as Vanderbilt failed to take advantage of its size on offense. He finished with five points.
Thanks for reading CBS NEWS.
Create your free account or log in
for more features.