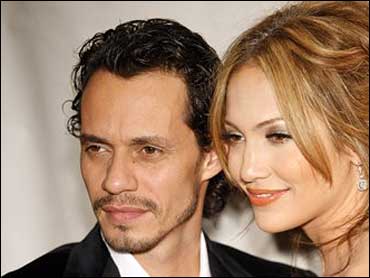 Marc Anthony "Shocked" By Unpaid Taxes
Salsa star Marc Anthony says he was shocked to learn his personal and business taxes have gone unpaid for years.
An investigation by the Manhattan District Attorney's office revealed that three of Anthony's companies failed to file and pay corporate city and state taxes and that Anthony's personal income tax returns were not filed from 2000 to 2004.
Anthony's touring company, Ari Enterprises, Ltd., and music publishing company, Bolero Records, Ltd., along with two managers, have pleaded guilty to tax crimes including failure to file New York State and City corporate tax returns and pay the associated taxes.
Marc Anthony and his management company, Marc Anthony Productions, will not be prosecuted.
---

Photos: J. Lo: Her Life and Loves

---
Manhattan District Attorney Robert Morgenthau said his office did not prosecute Anthony, 38, because a professional accountant prepared his tax returns and the entertainer apparently thought the returns had been filed and any due taxes had been paid.

"We have to be able to show intent" to cheat on taxes, Morgenthau said.

Morgenthau's chief of investigations, Assistant District Attorney Daniel Castleman, said Anthony and his wife, actress-singer Jennifer Lopez, 37, do not file jointly so she was not implicated in the investigation.

He said Anthony had relied on professional accountants in the past and there were no problems. He said the delinquencies began when Anthony changed accountants.

A state Department of Taxation computer drew attention to Anthony, whose real name is Marco Antonio Muniz, when it kicked out his state return because of discrepancies, said Peter Farrell, an assistant deputy commissioner of the department.

Anthony has agreed to pay a total of $2.5 million in back taxes, interest and penalties.

"Our client was shocked to learn, as a result of the District Attorney's investigation, that his corporate and personal taxes had not been filed or paid in several years," Anthony's publicist, Blanca LaSalle, said in a statement. "This revelation was especially surprising considering the fact that he specifically engaged a business management company, at significant cost, to prepare and file those tax returns, and to pay any tax due, during the period of time covered by the investigation."

Anthony's brother, Bigram Zayas, pleaded guilty on Tuesday to a class E tax law felony. Zayas was general manager of Bolero, Ari, and Marc Anthony Productions from 2000 to early 2003. He also failed to file his federal and state personal income tax returns from 2000 through 2004 and did not pay taxes on approximately $2.4 million of taxable income.

Zayas will be sentenced on June 12, 2007, to a conditional discharge once he's paid roughly $400,000 in back taxes, interest and penalties as well as a criminal fine of $50,000.

Accountant Philip Sarna, who was the business manager for Anthony and his three companies, also pleaded guilty to a class E tax felony for failing to file federal and state personal income tax returns as well as New York City unincorporated business taxes for 2002, 2003, and 2004.

He will be sentenced on June 13 to a conditional discharge once he pays $43,000 in back taxes, interest and penalties and a $50,000 fine.

Both Zayas and Sarna are required to file federal tax returns prior to their sentencing.

In addition to being the biggest-selling salsa artist of all time, Marc Anthony has appeared as an actor in films like "Man on Fire" with Denzel Washington and "Bringing Out The Dead" with Nicholas Cage. He appears in the title role, opposite Lopez, in the upcoming film "El Cantante."

Thanks for reading CBS NEWS.
Create your free account or log in
for more features.