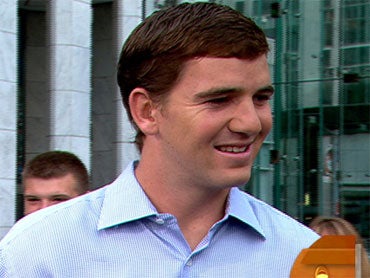 Manning Family Pens Children's Book
Former NFL star Archie Manning and his two sons, Indianapolis Colts quarterback Peyton and Eli Manning, N.Y. Giants signal-caller, wrote their first book together, a children's book called "Family Huddle."
Eli joined Early Show co-anchor Harry Smith in New York and Peyton joined in from Indianapolis to talk about the book, which is set in New Orleans and Mississippi when Eli was 8, Peyton 13, and their brother Cooper, 15.
According to the Manning brothers, besides their love of their game, the "Family Huddle" has a larger message, which is to hit the books.
"You have to read. Your education is so important," Eli said. "From a young age getting off to a great start. And I think athletics and sports are important in building character and hard work, but a lot of these things carry into schools and doing your school work and learn to go read. And I think that's so important in a child's life."
The book is part of "Classrooms Care," a program motivating kids to read, that will donate up to a million books to participating schools when classrooms reach the 100 book a classroom quota for reading books.
Click here to read an excerpt from "Family Huddle".
To hear more about the Mannings' inspiration for the "Family Huddle," click the Play button below.
Thanks for reading CBS NEWS.
Create your free account or log in
for more features.